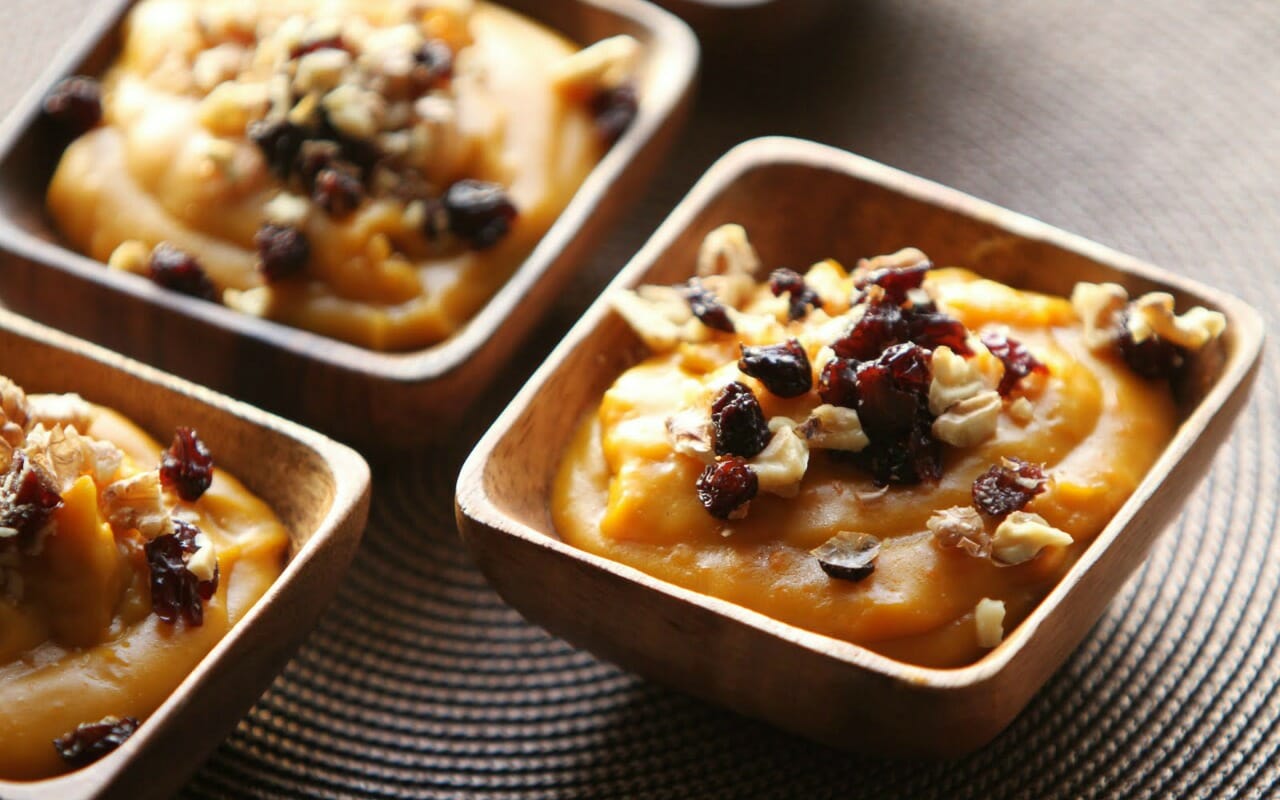 4 serving
15 minutes, plus time to chill
Easy
print
share with a friend
Carrot Pudding
Don't be fooled by the title of this recipe, our carrot pudding more closely resembles a rich butterscotch custard. Kids won't even know that they are eating a veggie based dessert! We like to use fresh squeezed juice, but if you don't own a juicer, store bought will work just fine.
The 2 tbsp of grated carrots are an optional addition in this recipe. If you are serving this dish to finicky eaters, it is fine to omit them.
Ingredients
1 cup raw cream

1/2 coconut cream*

1/3 cup maple syrup

pinch sea salt

1/2 tsp vanilla extract

1/2 cup fresh squeezed carrot juice, strained of pulp

1 tbsp arrowroot

4 pastured egg yolks

2 tbsp finely grated carrots, optional**

2 tbsp roughly chopped walnuts

2 tbsp roughly chopped raisins
Instructions
In a small pot, over medium heat, combine the raw cream, coconut cream, maple syrup, vanilla extract and sea salt.
Stirring frequently, heat liquid to a near simmer. Liquid will be hot to the touch and beginning to steam. Use caution not to scald the mixture.
While warming cream mixture, in a small bowl, combine carrot juice, arrowroot and egg yolks. Whisk until well combined.
When cream mixture is very warm, add well-whisked carrot juice mixture to the cream. Whisk constantly, until thickened, approx. 5 minutes.
Remove from heat, and if desired, stir in 2 tbsp finely grated carrots.
Immediately pour 1/2 cup servings into 4 small dishes or ramekins. Chill in the refrigerator for at least one hour. When ready to serve, garnish evenly with the chopped walnuts and raisins.
Notes
*Coconut cream is the thick white cream at the top of a chilled can of coconut milk. The remaining liquid in the can be saved and added to smoothies.
** To finely grate carrots, use the smallest holes of a boxed grater.
---
https://www.apricotlanefarms.com/recipe/carrot-pudding/
Copyright © 2022 Apricot Lane Farms. All rights reserved.