Chester Cookies
Chester Cookies are a recipe featured in Molly and her Mother's book Back to Butter, and as the name suggests, these cookies have been a staple in the Chester house through the years.  These "cookies" are so healthy they can literally be eaten for breakfast, and Molly fed these cookies to their son Beaudie as his first cookie.  They were a hit!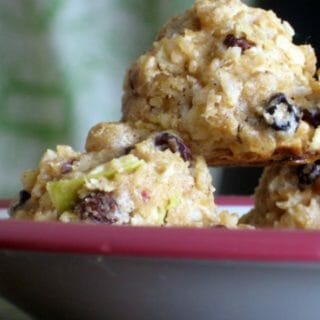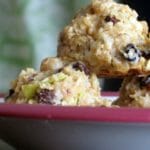 Chester Cookies
A traditional soaking technique is introduced below, so make sure to read the instructions carefully.  The oats will be fermented overnight, which greatly increases their digestibility.  Cool completely before storing in an airtight container.  Chester Cookies are even better the second day!
3 1/2 dozen cookies
12 hours inactive / 20 minutes active
Moderate
Ingredients
2 cups (160 g) rolled oats

1 cup (235 ml) plain kefir

5 tablespoons (70 g) butter, softened

2 eggs

3/4 cup (195 g) almond butter

1 teaspoon cinnamon

1 teaspoon sea salt

1 teaspoon green powdered stevia

1 ½ cups (225 g) small diced green apple

1/2 (75 g) cup currants

1/2 cup (75 g) chopped walnuts

1/2 cup (40 g) unsweetened coconut, optional

1/2 cup (88 g) soy-free carob chips, optional
Instructions
The night before baking, place the oats into a clean, glass bowl. add the kefir and stir until fully combined. Cover with a clean tea towel and set aside until morning, or 12 hours.
Place the butter in a small-size bowl to soften, cover, and go to bed!
When ready to bake, preheat the oven to 350ºF (180ºc, or gas mark 4). Line 3 cookie sheets with parchment paper
To the kefir-oat mixture, add the eggs, softened butter, almond butter, cinnamon, sea salt, and stevia. With a hand mixer, beat until fully combined.
Add the apple, currants, walnuts, coconut, and carob chips and beat again until just combined.
Using a 1½-inch (3.8 cm) cookie scoop or two spoons, drop cookies onto the prepared cookie sheets, leaving 1 inch (2.5 cm) between each (these cookies don't spread much in the oven).
Bake for 12 to 14 minutes, or until the bottoms are beautifully brown--the crunchy bottom is important.
Serve warm or cooled.
---
https://www.apricotlanefarms.com/recipe/chester-cookies/
Copyright © 2019 Apricot Lane Farms. All rights reserved.