Coconut Banana Muffins – Gluten Free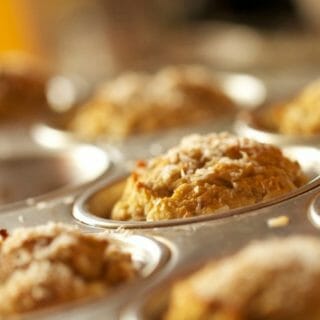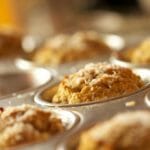 Coconut Banana Muffins – Gluten Free
Try these delicious muffins spread with softened butter or coconut oil.  They only improve with age, making them a great muffin to make on Sundays for quick weekday breakfasts.  They also freeze nicely.
12 muffins
30 minutes
Moderate
Ingredients
butter, softened for greasing pan

6 pastured eggs

1/3 cup coconut milk

2 tbsp raw honey or 1/3 cup coconut sugar*

1/2 tsp sea salt

¼ tsp coconut extract (optional)**

¼ cup butter, melted

¾ cup coconut flour

2 tsp baking powder

1 tsp baking soda

1 cup mashed ripe bananas (approx. 3 bananas)

1/2 cup chopped soaked walnuts (optional)

unsweetened shredded coconut, for garnish
Instructions
Preheat oven to 400˚.
Using a paper towel, grease a 12 cup muffin tin with butter.
In a large bowl, combine egg, coconut milk, honey, sea salt and coconut extract. Whisk to combine.
Once whisked, add melted butter. Whisk to combine and set aside.
Set a fine mesh strainer on top of a medium bowl. Add coconut flour, baking powder and baking soda to the strainer.
Tap the sides to allow the dry ingredients to sift into the medium bowl. If clumps of coconut flour will not sift through the holes, use clean fingers to break apart the clumps.
Once sifted, add dry ingredients to the wet ingredients. Whisk vigorously, until no lumps remain.
Using a spatula, fold in banana and walnuts until well combined.
Using a large ice cream scoop, add one level scoop to each cup of the muffin tin.
Sprinkle each muffin with a pinch of shredded coconut.
Bake for 18 minutes (stoneware muffin pans may require an additional 2 - 4 minutes); shredded coconut will be lightly brown and muffins will spring back when gently pressed.
Once baked, cool for 10 minutes. After cooling, run a knife along the edge of the muffin before removing from the pan. Muffins are even better the second day!
Recipe Notes
*If you prefer a sweeter muffin, substitute 1/3 cup maple sugar for the 2 tbsp honey
**If coconut extract isn't readily available, try vanilla extract.
---
https://www.apricotlanefarms.com/recipe/coconut-banana-muffins-gluten-free/
Copyright © 2020 Apricot Lane Farms. All rights reserved.