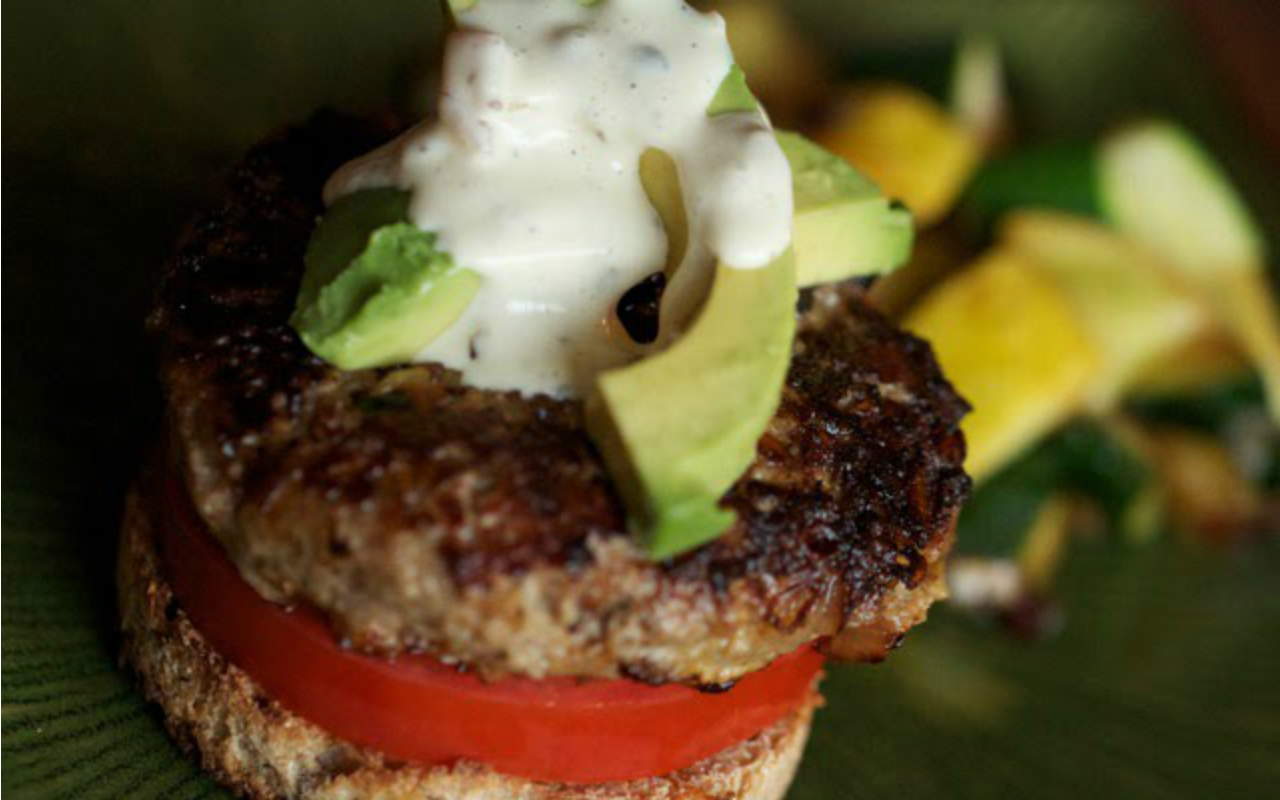 print
share with a friend
Cumin Lamb Burgers with Caramelized Onion Mayonnaise
John and Molly's first animals on the farm were nine Dorper sheep.  At that time, they would bring the sheep in and out of the barn every day using a small red bucket filled with homemade sweet feed, which the sheep adored.  Nowadays, there would be no way all of the sheep (closer to 100 at any given time) would be shuttled in and out of the barn every day, but it is fun to think back on those initial nine.  We adore our sheep, who we raise for meat, and with total respect for the cycle of life, we work hard to make sure these beautiful animals have only one bad day.
Some people find lamb meat to be too gamey. This recipe utilizes a large amount of onions and garlic to transform the flavor of the meat into a palatable burger and the addition of an egg yolk, helps to keep the patty moist.
Ingredients
1 tbsp butter

2 cups 1/4" diced yellow onions (approx 1 large)

1 1/2 tsp + pinch sea salt, divided

3/4 tsp + pinch fresh cracked pepper, divided

1 tbsp minced garlic (approx 3 cloves)

1 lb grass-fed ground lamb

1 tbsp + 1 tsp Dijon mustard, divided

1 pastured egg yolk

3 tsp fresh-squeezed lemon juice, divided *

1 pinch lemon zest

2 tsp cumin

1 tbsp ghee

1/2 cup mayonnaise

pinch powdered green stevia **

1 large 1/2" sliced tomato, for garnish

1 large 1/2" sliced avocado, for garnish ***
Instructions
In a large saute pan over, medium heat, melt butter until foaming. Add onion, 1/2 tsp sea salt and 1/4 tsp pepper.
Slowly saute for 20 minutes, stirring occasionally; onions will have softened and caramelized.
Add 1 tbsp garlic, stirring for 1 minute; garlic will be fragrant.
Turn off heat. Remove 2 tbsp onion mixture and set aside in a small bowl for the Caramelized Onion Mayonnaise.
In a medium bowl, combine remaining onion mixture, ground lamb, 1 tbsp Dijon mustard, egg yolk, 2 tsp lemon juice, pinch lemon zest, cumin, 1 tsp sea salt and 1/2 tsp pepper.
Using clean hands, gently mix. Avoid over-mixing, which can toughen the burgers.
Divide the meat into three equal discs.
Flatten the disc to about 1" around the edges and 3/4" in the center. Making the center of the burger slightly thinner than the edges prevents the burger from puffing up in the center.
Heat a cast-iron skillet or heavy bottomed saute pan to medium-high heat.
Add ghee and heat until fully melted. Tilt pan to cover bottom with ghee.
Set the burgers into the hot pan, and immediately turn the heat down to medium. Allow burgers to cook for 3-minutes on each side for medium.
While burgers are cooking, in the small bowl reserved for the Caramelized Onion Mayonnaise, add mayonnaise, 1 tsp Dijon mustard, 1 tsp lemon juice, a pinch of powdered green stevia, a pinch sea salt and a pinch pepper. Stir well with a spoon.
When the burgers are cooked, remove from heat and allow to rest for 5 minutes.
Place each burger on top of a tomato slice and garnish with with Caramelized Onion Mayonaise and avocado.
Notes
* Make sure to zest the lemon before juicing. Also, organic becomes very important when using the zest of a fruit.  A stronger concentration of pesticides is found on the skin.
** 1 tsp raw honey may be substituted
*** Avocado will brown once sliced, unless an acidic medium is added to it.  Either cut the avocado right before service, or squeeze a bit of lemon overtop to prevent browning.
---
https://www.apricotlanefarms.com/recipe/cumin-lamb-burgers-with-caramelized-onion-mayonnaise/
Copyright © 2021 Apricot Lane Farms. All rights reserved.