French Cut Green Beans with Bacon
In Nourishing Traditions, a book that served as inspiration for Molly on her journey to understand Traditional Foods, Sally Fallon introduces this technique of using a food processor to create French-cut green beans. John, who does not like the texture of regular green beans, loves them when they are prepared this way!  A throw-back to the 80's, this style of preparation is also very popular with kids.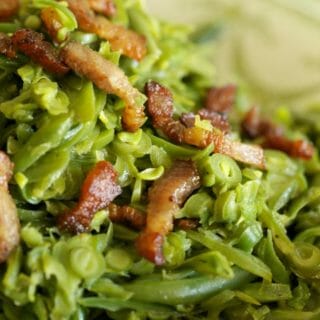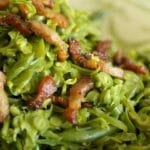 French Cut Green Beans with Bacon
Sea salt can be added to the stock when cooking the beans. It greatly enhances the taste of the final dish.
4 cups
20 minutes
Moderate
Ingredients
6 oz pastured bacon, chopped width-wise into ½" strips

1½ lb green beans

2 cups homemade chicken stock

1½ tsp sea salt, divided

1 1/2 tbsp pastured butter

¼ tsp fresh cracked pepper
Instructions
Snip the vine-end tail from the green bean.
In a large cast-iron or heavy-bottomed skillet over medium heat, cook the bacon uncovered, stirring frequently, until crispy.
Remove bacon with tongs and place on a paper towel-lined plate. Pour drippings into a heatproof ceramic or glass container and set aside.
Assemble a food processor with the slicing attachment. Lay the beans into the shoot horizontally, this will create a consistent cut. The processed beans will be reminiscent of the diagonal French-cut green beans that we used to eat from the can!
Pour sliced beans into a large pot with stock and 1 tsp sea salt.
Cook over high heat, maintaining a rolling simmer for 10 minutes.
Once cooked, pour into a large colander and strain well.*
While the beans are straining, return the pot to the stovetop over low heat.
To the pot, add 2 tbsp reserved bacon drippings (the rest may be stored tightly covered in the fridge for other uses), butter, remaining ½ tsp sea salt and ¼ tsp pepper.
Once the butter has melted, add strained beans and bacon to the pot and use tongs to coat the beans in the seasoned fat. Serve warm.
Recipe Notes
*A strainer can be placed over a large bowl in order to catch the discarded chicken stock.  Pour it into a mug and sip on it while you finish making dinner.
---
https://www.apricotlanefarms.com/recipe/french-cut-green-beans-with-bacon/
Copyright © 2020 Apricot Lane Farms. All rights reserved.