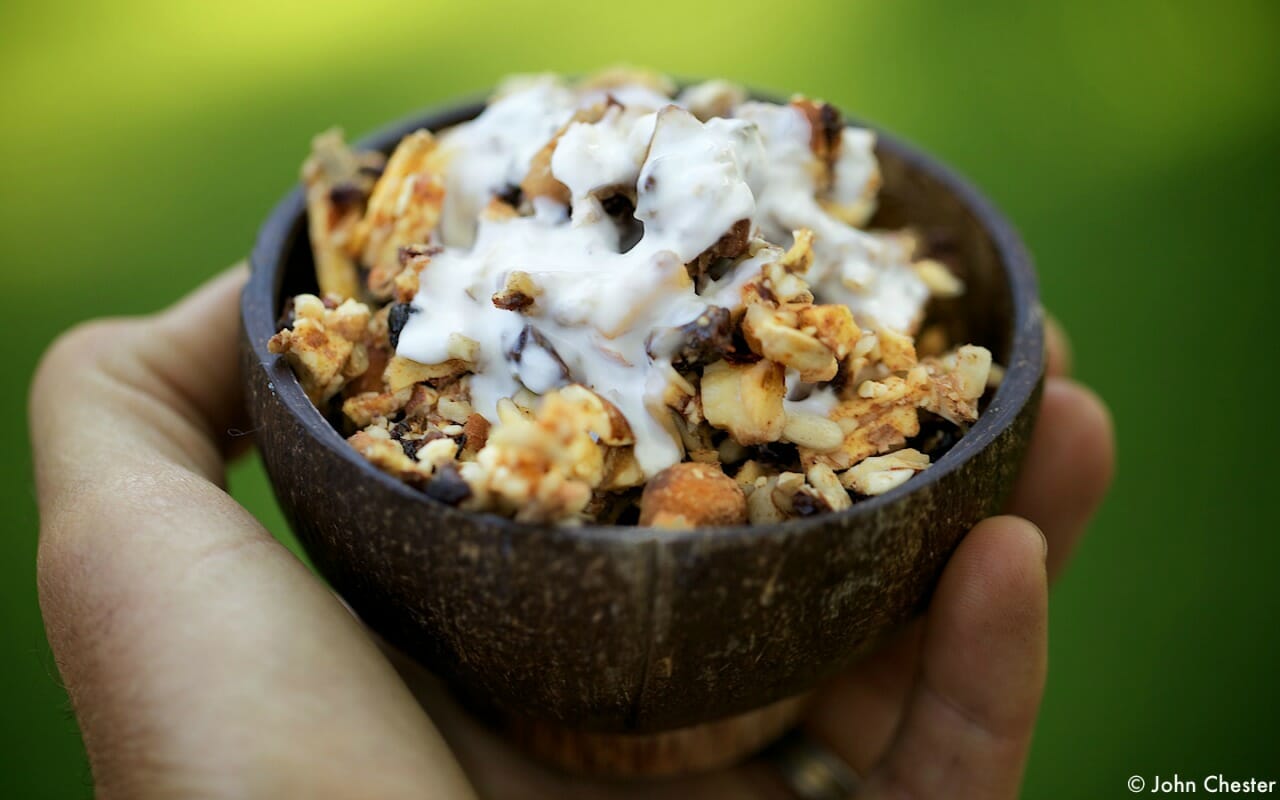 7 cups granola
15 min active / 6 hrs inactive
Moderate
print
share with a friend
Grain-free Granola
Molly is forever on the quest to build the gut health of her family, and while on this journey, she followed a food protocol called Gut and Psychology Syndrome for several years.  This fascinating and transformative diet is based on the elimination of all disaccharides, which are found in grain amongst other foods.  Any restriction in a diet creates a wonderful creative energy, which in this case, became a lovely grain-free granola that doesn't make you miss the oat version at all!  In a similar way, farming with a restriction, for example adhering to a choice not to use harsh chemicals, also produces a creative energy, which has been the catalyst for so many wonderful opportunities on the farm.
Be sure the pear is nice and ripe before beginning this recipe.  The texture of the ripe pear helps hold the granola together.  This snack stores well in the freezer and is delicious drizzled with a bit of almond or coconut milk.
Ingredients
2 apples, peeled and diced

2 ripe pears, peeled and diced

2 tbsp fresh-squeezed orange juice

1½ soaked walnuts, roughly chopped

1½ soaked almonds, roughly chopped

1 cup soaked sunflower seeds

1 cup currants

2 tsp cinnamon

½ tsp sea salt
Instructions
In a large bowl, combine apple, pear and orange juice.
Toss with a spatula to coat fruit with juice, which will keep it from browning.
Add walnuts, almonds, sunflower seeds, currants, cinnamon and sea salt.
Toss with a spatula until well combined.
In an even layer, spread the granola onto the mesh inserts of two dehydrator trays. *
Dehydrate at 150˚ for 6 hours or until fruit is dried, but still a little squishy, not hard as a rock.
Once fully cool, store the granola in airtight glass containers at room temperature for up to two weeks.
---
https://www.apricotlanefarms.com/recipe/grain-free-granola/
Copyright © 2022 Apricot Lane Farms. All rights reserved.