Grilled Zucchini and Onion with Warm Italian Vinaigrette
A joke amongst farmers living in the country is that you don't leave your doors unlocked because a neighbor will fill your kitchen with zucchini.  The reason is that zucchini plants are so productive!  Molly has faced a bag of zucchini and dinner-time many times, and this recipe evolved from one of those nights.  Zucchini is so beautiful, when grilled, and carrying over the grill heat with a warm dressing makes this dish accessible and yet, special.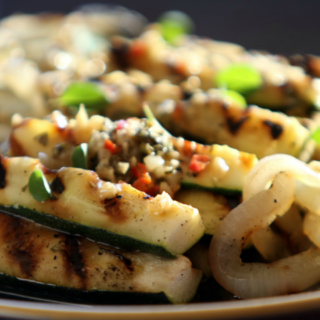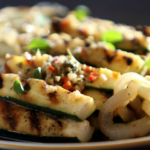 Grilled Zucchini and Onion with Warm Italian Vinaigrette
If you happen to not share Molly's recent obsession with Fresno peppers, they can either be omitted or substitute 1/4 tsp crushed red pepper flakes for a slightly spicier end result.
2-4 people
25 minutes
Moderate
Ingredients
1 tbsp melted ghee

1 medium sweet onion

2 medium zucchini

4 tbsp extra virgin olive oil

2 tsp minced garlic (approx. 2 cloves)

2 tbsp minced sweet onion *

1 tsp Fresno pepper, minced

1/2 tsp + pinch + 1/2 tsp sea salt, divided

1/4 tsp + pinch + 1/4 tsp fresh cracked pepper, divided

1 tbsp apple cider vinegar

1 tsp Dijon mustard

1/2 tsp local honey

1 tbsp chopped fresh basil

1 tbsp chopped fresh oregano, plus leaves for garnish
Instructions
Over medium heat, warm a grill-pan.
While preheating, lightly brush the pan with melted ghee and then, prepare onion and zucchini.
For the onion - Cut off the top and bottom of the sweet onion. Peel.
Using the center chunk of onion, slice width-wise to create 4 - 1/4" rounds of sweet onion.
Brush both sides with ghee and sprinkle with a pinch of salt and a pinch of pepper.
For the zucchini - Cut the top and bottom off the zucchini. Slice in half, width-wise, then slice both pieces in half, length-wise. Make one additional slice length-wise, resulting in 8 - approximately 4" spears of zucchini.
Repeat with the second zucchini, resulting in 16 total spears.
Place in a medium bowl, and add remaining ghee (approx. 1 1/2 tsp), 1/2 tsp sea salt and 1/4 tsp pepper. Toss to coat.
Once grill-pan is preheated, add onions to the pan. Make sure to grill the onions first because the zucchini is best served warm.
Grill the onions for 5 minutes on each side, using a spatula to turn gently, which allows the rings of onion to stay nestled together.
Remove and set aside on a clean plate to wait for the zucchini. Grill all three sides of the zucchini for 3 minutes each, using tongs to gently turn.
While vegetables are grilling, in a small saucepan, combine extra virgin olive oil, garlic, minced sweet onion, Fresno pepper, sea salt and pepper. Stir to combine.
Warm over medium-low heat until gently simmering. Simmer for 2 minutes.
Reduce heat to low and whisk in apple cider vinegar, Dijon and honey. Vinaigrette will remain broken, without fully emulsifying.
Maintain a low heat until vegetables are ready.
Once all vegetables have been grilled, pile neatly onto a serving plate.
Whisk chopped basil and oregano into the broken vinaigrette and pour over the grilled vegetables.
Garnish with oregano leaves and serve warm.
Recipe Notes
* Use the leftover top & bottom from creating the onion rounds to create 2 tbsp minced onion.
---
https://www.apricotlanefarms.com/recipe/grilled-zucchini-and-onion-with-warm-italian-vinaigrette/
Copyright © 2019 Apricot Lane Farms. All rights reserved.