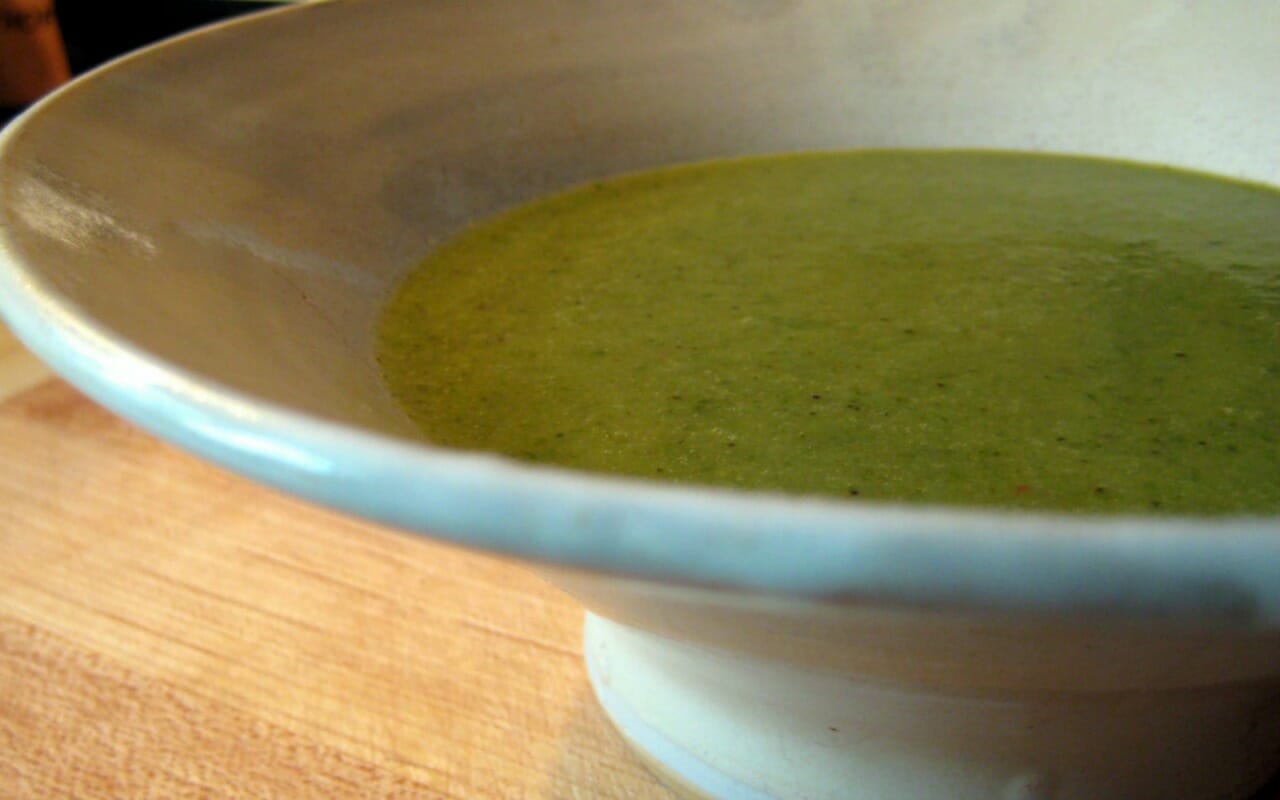 4 servings
30 minutes
Easy
print
share with a friend
Healing Soup
Ahh…. healing soup.  This soup is so incredibly simple and it is the first thing Molly craves when she is recovering from anything.  She swears it even heals a bad day. Try it!  It works!
If you don't have fresh vegetables on hand, frozen organic broccoli, asparagus and spinach will work just fine.  Typically, vegetables are frozen when they are in peak season, so they are really second best when fresh is not an option.
Ingredients
1 tbsp unrefined coconut oil

2 cups diced yellow onion (approx. 1 medium)

1 tbsp minced garlic (approx. 3 cloves)

1 cup chopped asparagus (approx. 1 bunch)

2 cups spinach leaves

3 cups chopped broccoli (approx. 1 large head)*

¼ tsp crushed red pepper flakes

2 tsp sea salt

½ tsp fresh cracked black pepper

6 cups homemade chicken stock
Instructions
In a large heavy-bottomed pot, over medium heat, warm coconut oil until glistening.
Add onion and sauté for 5 minutes, stirring frequently until soft.
Add garlic and sauté for 1 minute, stirring constantly; garlic will be fragrant.
Add asparagus, broccoli, red pepper, sea salt, black pepper and chicken stock.
Bring to a boil, cover and reduce to a simmer. Simmer for 20 minutes.
Turn burner off. Add spinach, stir and allow to cool for 5 minutes.
Puree the soup in a blender in small batches OR use a puree stick to blend.
Notes
* Both the florets and the stalk of the broccoli may be used.  Simply cut off the bottom 1″ of the stalk and peel the outer layer with a vegetable peeler.  Chop and add to the soup with the florets.
---
https://www.apricotlanefarms.com/recipe/healing-soup/
Copyright © 2022 Apricot Lane Farms. All rights reserved.