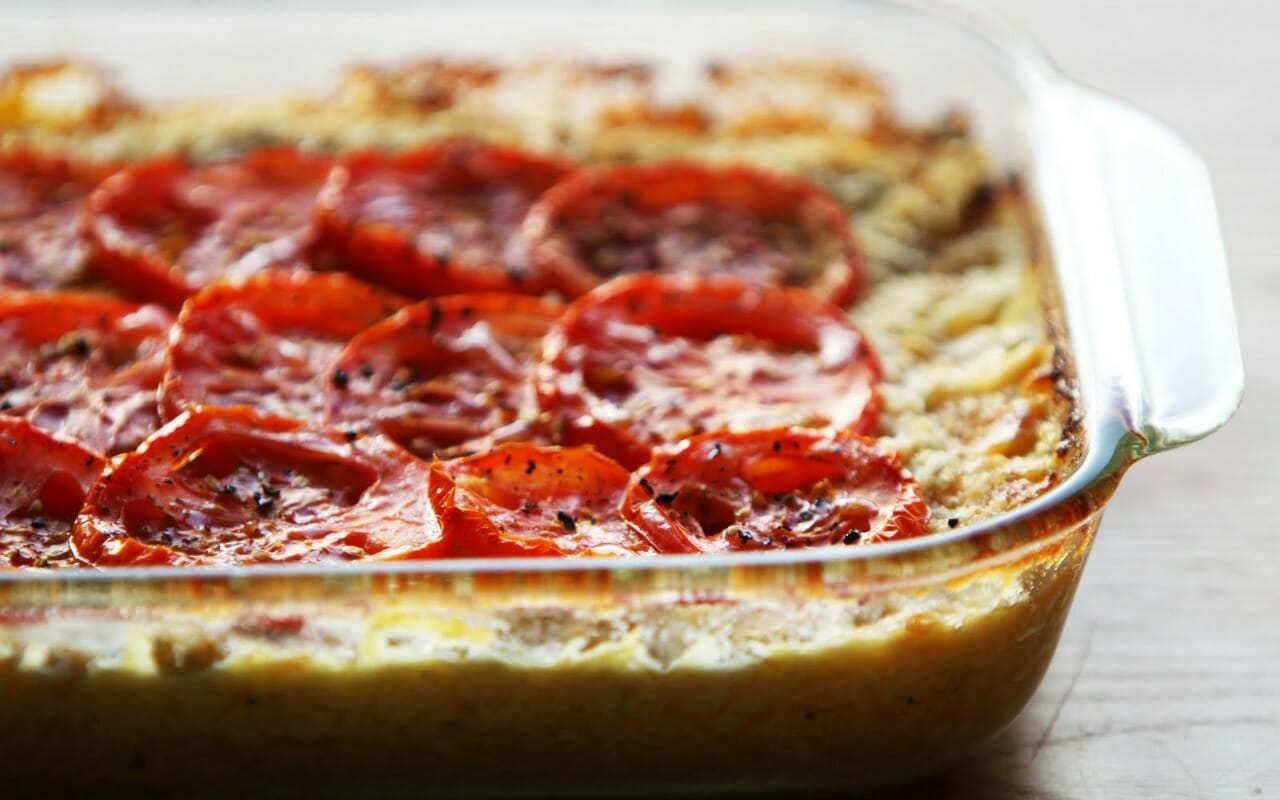 Serves 4-6
1 hour
Moderate
print
share with a friend
Kid's Squash Cheese
This recipe is such a hit with kids.  It tastes like Mac n' Cheese, yet the base is Spaghetti Squash, which is a great way to incorporate more vegetables into your family's diet.  We highly recommend purchasing grass-fed cheese, if possible.  Cows that graze on grass, produce milk that has increased fat-soluable vitamins, which are so important for growing children.
Though this recipe was designed to please the palate of little ones, big kids like it too!  If you are feeding a finicky eater, feel free to leave off the Roma tomatoes.
Ingredients
5 cups cooked spaghetti squash *

3 tbsp butter

1/2 cup grass-fed cream

1 1/2 tsp sea salt

3/4 tsp black pepper

dash cayenne

dash nutmeg

1 1/2 cup shredded grass-fed white cheddar cheese

1/2 cup finely grated Parmesan

2 Roma tomatoes, 1/8" thinly sliced

2 tsp extra virgin olive oil
Instructions
Preheat oven to 350˚.
In a medium bowl, add spaghetti squash and set aside.
Set aside an 8 x 11 inch glass baking dish.
In a small pot, over medium heat, warm the: butter, cream, 1 tsp sea salt, 1/2 tsp pepper, cayenne and nutmeg, stirring occasionally. Use caution not to scald the cream.
When very lightly simmering, add white cheddar cheese, stirring constantly until melted. Remove from heat.
Pour cheese sauce over spaghetti squash and stir to combine.
Pour the squash mixture into the glass pan and spread evenly with a spatula.
In a small bowl, combine breadcrumbs, Parmesan and remaining salt and pepper. Toss with fingers to combine and spread evenly across the top of the cheesy squash.
In three even & slightly overlapping layers, arrange sliced tomatoes on top of breadcrumbs.
Evenly drizzle olive oil across the top of the casserole to brown the top of the dish.
Bake for 50 minutes; tomatoes will be roasted and visible breadcrumbs will be toasted.
Rest for 5 minutes and serve warm.
Notes
* To bake squash, preheat oven to 400˚.  Locate either a roasting pan with a rack or a cookie sheet with a rack set inside of it.  Cut the spaghetti squash from vine stump to butt-end.  With a spoon, scoop out the seeds.  Place squash on the rack, cut-side down, and fill pan with water until almost reaching the rack.  Prick the skin of the squash with a fork 10 times each.  Place squash in the hot oven for 1 hour, skin should be pierce-able with slight effort and the flesh under the skin should receive the fork nicely.  Skins may be browned.  It is important not to overcook the squash.
---
https://www.apricotlanefarms.com/recipe/kids-squash-cheese/
Copyright © 2021 Apricot Lane Farms. All rights reserved.