Lemon Vinaigrette
Living on a farm filled with fragrant lemon trees never gets old! This vinaigrette is a simple example why. In Molly's case, she can easily collect the main ingredient on the 50-yard "commute" from her office to the kitchen. Sure beats running to the grocery store!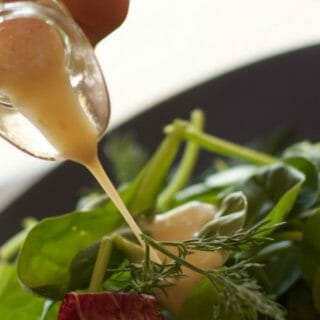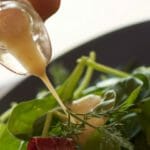 Lemon Vinaigrette
The Medjool dates offer a depth of sweetness to what would otherwise be a tart vinaigrette. They also act as an emulsifier, which binds and thickens the dressing.
Yield: 1 1/2 Cups (355 ML)
10 minutes
Easy
Ingredients
3/4 cup (180 ml) extra-virgin olive oil

1/2 cup (120 ml) fresh lemon juice (about 2 large)

1/4 cup (60 ml) apple cider vinegar

3 pitted Medjool dates, roughly chopped

1/2 teaspoon sea salt

1/2 teaspoon freshly cracked pepper
Instructions
Place all the ingredients in a blender. Blend until combined.
Use immediately or refrigerate if not using the same day.
Allow refrigerated dressing to warm to room temperature for 10 minutes before serving. Shake well before pouring.
---
https://www.apricotlanefarms.com/recipe/lemon-vinaigrette/
Copyright © 2019 Apricot Lane Farms. All rights reserved.