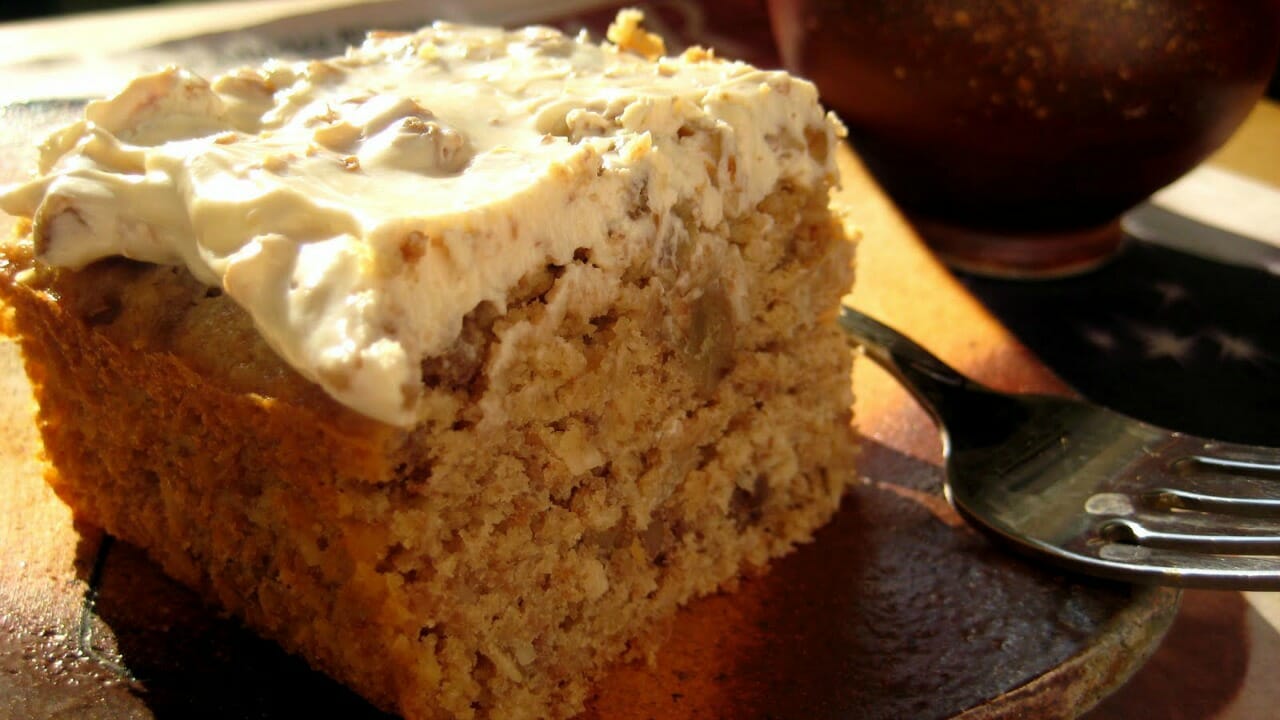 8 servings
12 hours prep time
45 minutes cook time
Moderate
print
share with a friend
Maple Walnut Cake with Cream Cheese Frosting
Kitchen warning! Although many of our recipes here at Apricot Lane Farms call for sprouted flour, this recipe will not work with sprouted flour. Sprouting and soaking are two different techniques used to release mineral-blocking phytic acid from whole grains.
This cake is much better the second day. Bring to room temperature before serving. Note that there is a minimum of 12 hours of advance prep time.
Much like Chester Cookies this cake utilizes the technique of soaking grains overnight for improved digestion. It is so easy, and it makes you feel like you are mid-science experiment as you head to bed.  The cream cheese frosting can sit on the counter for up to 8 hours. After that, the frosted cake should be placed in the refrigerator.
Ingredients
For Cake:

1 cup (235 ml) kefir

1 1/2 cups (180 g) fresh-milled whole-wheat pastry flour (unsprouted)*

1/2 cup (40 g) rolled oats

1/2 cup (112 g) butter

1 1/4 cup (150 g) maple sugar**

2 eggs

2 teaspoons (10 ml) vanilla extract

1/2 teaspoon sea salt

2 teaspoons (9 g) baking powder

1/2 cup finely chopped crunchy walnuts

1/2 cup unsweetened shredded coconut

For Frosting:

1 cup (225 g) yogurt cream cheese, softened***

3 tablespoons maple syrup

1/2 teaspoon vanilla extract

1/2 cup (75 g) finely chopped crunchy walnuts
Instructions
TO MAKE THE CAKE:
The night before or 12 hours prior to baking, combine the kefir, flour, and rolled oats in a glass bowl. Stir, cover with a thin dishcloth, and set aside in a warm spot for 12 hours.
Additionally, unwrap and put the butter in a medium-size bowl to soften, cover, and allow to sit at room temperature
Twelve hours later, preheat the oven to 325ºF (170ºc, or gas mark 3). Butter a 7 x 11-inch (17.8 x 28 cm) glass dish.
Add maple sugar to the bowl containing the softened butter. Beat with a hand mixer on medium speed until creamy.
Add the eggs, vanilla, and sea salt and beat to combine.
Add the soaked flour mixture and baking powder.
Beat on medium speed for 30 seconds and on high for 1 minute; the mixture will be well combined, with some lumps.
Add the walnuts and coconut. Beat to combine
Pour into the prepared dish and bake for 35-40 minutes, or until until a toothpick inserted into the center of the cake comes out clean.
Cool completely before frosting.
TO MAKE THE FROSTING:
In a medium-size bowl, combine the cream cheese, maple syrup, and vanilla. Beat well with a hand mixer on high speed.
Add walnuts and beat on low speed until just combined.
Frost and serve.
Notes
*Whole wheat pastry flour is a variety of whole wheat flour that has less gluten and imparts a soft texture to baked goods.  It can be found in most natural foods stores or Whole Foods Market.  If unavailable, regular whole-wheat flour may be used for a denser and heartier texture.
**This recipe can be made with as little as 3/4 cup of sugar, for a less sweet version.
*** For those that do not prefer the "tang" of yogurt cream cheese, regular cream cheese, softened, works equally well.  If a high quality raw cream cheese is available, nutrition will not be sacrificed. There is high quality nutrition in authentic raw cream cream cheese because of the milk fat contains beta-carotene, which is a beneficial fatty acid.
---
https://www.apricotlanefarms.com/recipe/maple-walnut-cake-with-cream-cheese-frosting/
Copyright © 2021 Apricot Lane Farms. All rights reserved.