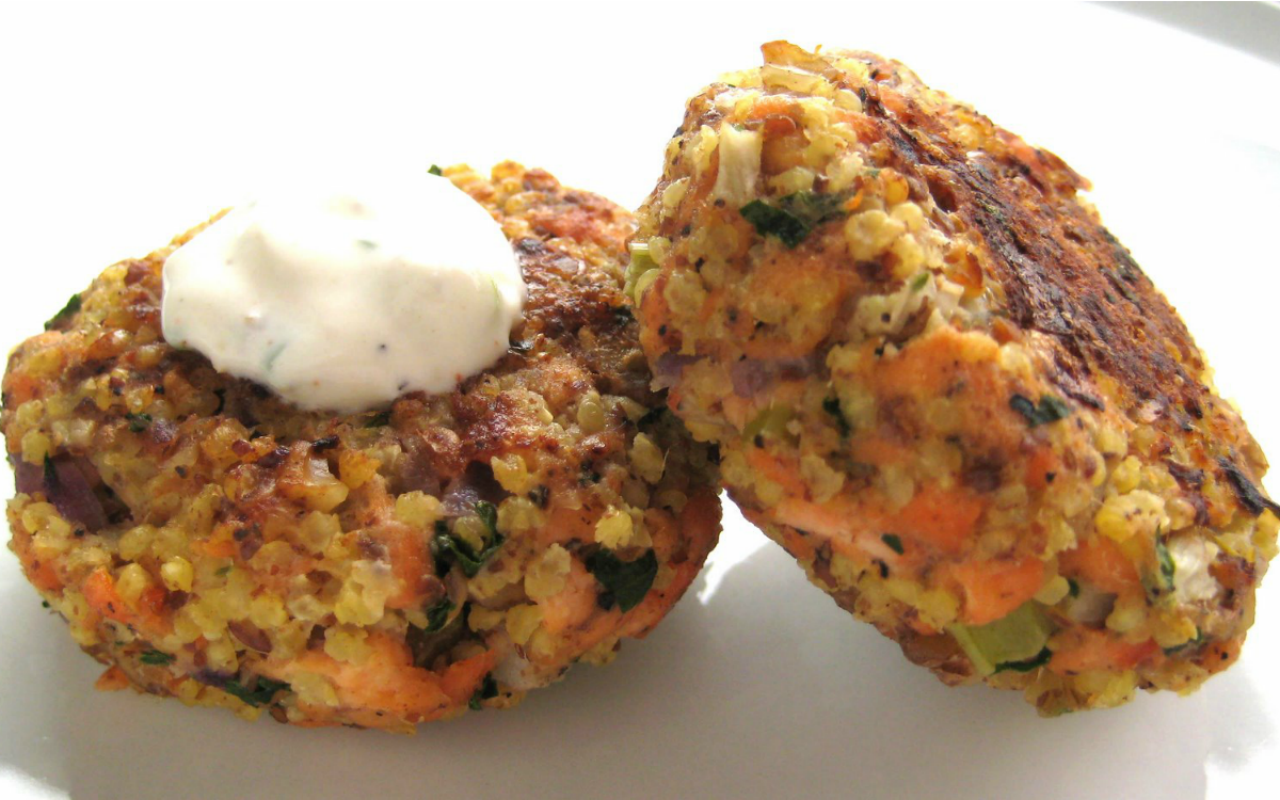 Yield: 4-6 Servings
with 1 cup (225g) sauce
60 minutes
Moderate
print
share with a friend
Millet Salmon Cakes with Creamy Dipping Sauce
Store-bought salmon cakes are often made with bread crumbs, making them off-limits for those with a wheat or gluten allergy. Millet is a welcome grain alternative and works perfectly in these cakes. It can be found in health food stores and even some regular grocery stores. And if you wind up with any leftover cooked grain, it is delicious warmed with butter, cinnamon, berries, honey, and raw milk for breakfast.
Those who have a tough time digesting wheat find millet a welcome alternative. It can be found in all health food stores and even some regular grocery stores.
Ingredients
For Salmon Cakes:

7 tablespoons (98 g) butter, divided

1/2 cup (80 g) finely diced red onion

1/2 cup (80 g) finely diced fennel

1/2 cup (60 g) finely diced celery

1/4 cup (15 g) chopped fresh flat-leaf parsley

1 pound (454 g) salmon, skinned and steamed or poached*

2 cups (370 g) cooked millet**

1/4 cup (32 g) ground flaxseed***

1/2 cup (55 g) chopped crunchy walnuts

2 teaspoons sea salt

1 teaspoon black pepper

1 teaspoon lemon zest

1 tablespoon (11 g) Dijon mustard

3 eggs

For Dipping Sauce:

1 cup (225 g) Homemade Crème Fraîche

1/4 cup (25 g) thinly sliced scallion, both white and green parts

1/4 teaspoon lemon zest****

2 tablespoons (30 ml) fresh lemon juice

1/4 teaspoon Dijon mustard

1/2 teaspoon sea salt

1/4 teaspoon black pepper

1/2 teaspoon cayenne pepper, or to taste
Instructions
TO MAKE THE SAUCE: Combine the sauce ingredients in a small size bowl, mixing until well blended. Refrigerate until chilled and ready to serve.
TO MAKE THE SALMON CAKES: Preheat the oven to 350ºF (180ºC, or gas mark 4).
In a large-size cast-iron skillet over medium heat, melt 2 tablespoons (28 g) of the butter.
Add the onion, fennel and celery. Sauté for 5 minutes, stirring occasionally, until softened.
Remove from the heat, stir in the parsley and set aside to cool for 5 minutes.
Using clean fingers, flake salmon into a large-size bowl, being careful to remove any bones. Set aside.
In a separate bowl, toss the cooked millet with ground flaxseed until the millet is coated.
Add millet mixture, walnuts, and cooled sautéed vegetables to the salmon, without mixing, and set aside.
In a small-size bowl, whisk together sea salt, pepper, lemon zest, Dijon mustard, and eggs. Pour over the salmon mixture and gently toss together with a fork to combine.
Using 1 /3 cup (80 g) measurement, measure out and form 12 salmon cakes, wetting your hands to prevent sticking, if necessary. Set aside.
Line a regular sheet pan with parchment paper. Melt 2 tablespoons (28 g) of the butter and brush evenly onto the parchment paper. Set aside.
In the same large-size cast-iron skillet used for the vegetables (no need to clean it), melt 2 tablespoons (28 g) of the butter over medium heat.
Add 6 salmon patties to the pan and sauté for 4 minutes, until the bottoms are lightly browned.
Using a spatula and clean fingers (on the side of the cake that's still cool!), gently flip the cakes, browned side up, onto the buttered sheet pan and set aside.
Repeat with the remaining 6 cakes and the remaining 1 tablespoon (14 g) butter. Add those, browned side up, to the sheet pan as well.
Bake cakes for 10 minutes.
While cakes are baking, mix together the yogurt dipping sauce.
Serve warm with the chilled sauce on the side.
Notes
*I ask my fishmonger to skin and steam the salmon for me, which makes this a perfect weeknight meal.  However, poaching fish at home is easy, too.  First remove the skin, then fill a large-size pot halfway with water and 1 tablespoon (18 g) sea salt.  Bring the water to barely a simmer; occasional bubbles will float to the surface, but the water will not be bubbly.  Add the salmon, maintain a low simmer, and cook for 25 minutes.  Remove the fish and drain well in a colander.
** How to cook millet: Soak 1 cup of millet overnight in water to cover by 2″ and 1 tbsp Yoghurt Cream Cheese Whey (optional) for 12 – 24 hours.  After soaking, in a fine mesh strainer, rinse millet well.  In a medium saucepan with a lid over high heat, bring 1 1/2 cups homemade chicken stock and 1/4 tsp sea salt to a boil.  Once boiling, reduce to a simmer and cover.  Simmer for 20 minutes.  Turn off heat.  Take off lid and let sit for 10 minutes.  Fluff with a fork and proceed measuring 2 cups for use in this recipe.  Store the remainder in the fridge to serve with beans or with cinnamon and raw milk for breakfast.
*** To preserve the delicate oils in the seed from going rancid, flax seeds should be bought whole and ground at home just before use in a clean coffee grinder.  Store whole seeds in the freezer.
**** Make sure to zest the lemon before juicing.  It is impossible the other way around!  Also, organic becomes very important when using the zest of a fruit.  A stronger concentration of pesticides is found on the skin.
---
https://www.apricotlanefarms.com/recipe/millet-salmon-cakes-with-creamy-dipping-sauce/
Copyright © 2021 Apricot Lane Farms. All rights reserved.