Molly's Spaghetti and Meatball Dinner
Everybody has their own Spaghetti and Meatball recipe, right?  Well, Molly does, too.  And, here it is!  The recipe calls for optional fresno peppers, which we occasionally grow in our garden.  When we have them, she uses them to add a fresh dimension to the dish.  Otherwise, the recipe is just fine without them!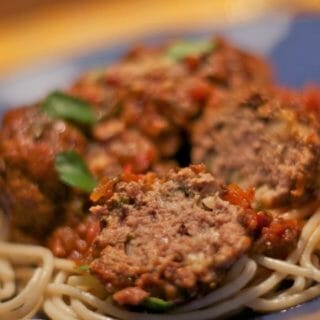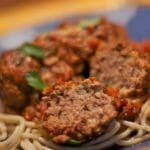 Molly's Spaghetti and Meatball Dinner
Don't be scared off by fermented fish sauce, which is a traditional seasoning used in Southeast Asian cuisine and available in most grocery stores.  Worcestershire can definitely be substituted.  Molly is simply allergic to soy, a common ingredient in Worcestershire sauce, so she often uses fish sauce as a substitute.
6 people
1 hour 15 mins
Moderate
Ingredients
2 lbs grass-fed beef

1/2 cup Parmesan cheese

2 egg yolks

2 tsp fish sauce

1 3/4 cup chopped sweet onion, divided

2 tbsp minced garlic, divided

4 tbsp chopped fresh flat-leaf parsley, divided

3 tbsp chopped fresh oregano, divided

2 tsp + 2 tbsp sea salt, divided

1 tsp pepper, divided

3 tbsp butter

2 tbsp extra virgin olive oil

2 portabella caps, gills removed & 1/4" diced

1 cup red wine

6 cups marinara (2-32 oz jars)

1 fresno pepper, seeded & very thinly sliced into rings (optional)

2 packages brown rice spaghetti
Instructions
In a large bowl, combine beef, breadcrumbs, Parmesan, egg yolk, fish sauce, 3/4 cup sweet onion, 1 tbsp garlic, 1 tbsp parsley, 1 tbsp oregano, 1 tsp sea salt and 1/2 tsp pepper. Mix carefully with your fingers. Be careful; over-mixing creates tough meatballs.
Using a 2-1/4" ice cream scoop, form the mixture into flat scoops to create 16 - 18 meatballs, slightly larger than a golf ball. As formed, place meatballs on a clean plate.
Meatballs will be browned in two batches. In a 4-quart stockpot with a lid over medium-high heat, melt butter and extra virgin olive oil until glistening.
Tilt the pan to cover the bottom with melted fat. Place half the meatballs into the hot oil, spaced out evenly.
If the fat is beginning to brown and sizzle aggressively, turn down to medium and saute meatballs 2 minutes per side, until nicely browned.
When properly browned, meatballs turn easily using a spoon, spatula or tongs. If meatball will not turn, it is not ready to be turned. If it is still sticking after additional cooking, use a kitchen spoon to gently scoop under the meatball and dislodge the meat from the pan. If this happened, the heat was too high.
When meatballs are browned, remove them with tongs onto a clean plate. Continue with the 2nd batch. No additional oil will be needed in the pan, which will have plenty of fat by now.
Add browned second batch to the plate with the 1st, do not discard pan drippings and turn off heat.
Using the same stockpot (without cleaning) over medium heat, add the remaining 1 cup sweet onion and mushrooms.
Saute for 5 minutes, while stirring occasionally; onions and mushrooms will have softened.
Add garlic, and saute, while stirring, for 1 additional minute.
Add wine. Boil for 1 minute, while using a wooden spoon to scrape the browned bits off the bottom of the pan.
Add marinara, 2 tbsp parsley, remaining 2 tbsp oregano, 1 tsp sea salt and remaining 1/2 tsp pepper. Stir to combine.
Nestle browned meatballs into the sauce and gently stir to combine.
Bring to a boil, reduce to a simmer and simmer, covered, for 30 minutes.
While sauce is simmering, bring a very large pot of water to a boil with remaining 2 tbsp sea salt for cooking pasta.
After 30 minutes of simmering sauce, remove cover, stir and simmer, uncovered, for an additional 10 minutes.
During the sauce's last 10 minutes of cooking, add pasta to the cooking water and cook according to package directions.
Once pasta is ready, add remaining 1 tbsp parsley and thinly sliced fresno peppers to sauce. Serve family-style.
---
https://www.apricotlanefarms.com/recipe/mollys-spaghetti-and-meatball-dinner/
Copyright © 2019 Apricot Lane Farms. All rights reserved.