Nourishing Beef Stock
Both ox tails and short ribs are excellent choices for bone-in cuts of meat. Many grocery stores already have knuckle and marrowbones packaged in the freezer section for purchase. If not, ask a favorite butcher to save them for you. Better yet, seek out grass-fed beef from a local farmers' market; it will be a much less expensive option.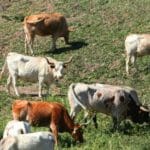 Nourishing Beef Stock
Feel free to change out the vegetable ingredients based on what's available in your fridge, but steer clear of broccoli, cabbage and cauliflower, they will cause stock to taste bitter.  Also avoid red beets, which will color the stock blood red!
Yield: About 4 Quarts (3.8 L)
12 to 24 hours
Easy
Ingredients
6 quarts (5.4 L) cold water

2 pounds (908 g) beef bone marrow and/or knuckle bones

2 tablespoons (30 ml) apple cider vinegar

2 pounds (908 g) bone-in cuts of meat

1 teaspoon sea salt

1 teaspoon freshly cracked black pepper

3 cups (360 g) carrots cut into 2-inch (5 cm) pieces

3 cups (300 g) celery cut into 2-inch (5 cm) pieces, leaves left on

2 fresh or dried bay leaves

10 whole black peppercorns

1 large onion, peeled and quartered

2 cloves garlic, whole and unpeeled

8 sprigs parsley
Instructions
Preheat the oven to 400˚F (200ºC, or gas mark 6).
In a 12-quart (11 L) stockpot, combine the water, bone marrow, and apple cider vinegar. Allow the bones to soak in the solution for 1 hour, to draw out calcium from the bones.
Reserving the soaking solution in the stockpot, place the meaty beef bones on a sheet pan. Sprinkle evenly with sea salt and pepper.
Roast in the oven for 40 to 60 minutes to produce a crispy, brown exterior, which will ultimately help flavor the stock. Note that some cuts, such as oxtails, require less cooking time.
While bones are browning, combine the carrots, celery, bay leaves, peppercorns, onion and garlic in a medium bowl and set aside. Reserve parsley for the last 10 minutes of cooking.
Once the bones brown, remove them from the oven. Using tongs, add them back to the stockpot. Bring the water to a boil over high heat, uncovered.
A foamy scum may develop on the surface of the stock once a rolling boil is reached. If you like you can skim this and discard. The foam is natural coagulated lipoprotein. It's not harmful but it isn't pretty either and may cloud the stock.
Add the remaining ingredients, except the parsley, to the pot (this will be added at the very end of cooking), cover and reduce the heat to low, maintaining a gentle simmer. It's important to keep the stockpot covered, as this allows the stock to bubble away for hours without fear of the liquid evaporating.
Simmer for anywhere from 12 to 24 hours, depending on how much time you have, adjusting the heat up or down as needed. A long cooking time allows more digestion-enhancing gelatin to be released from the bones into the stock and enhances its flavor. If you have time for the 24-hour stock, occasionally check to ensure the meat is covered with liquid, adding more water as needed.
Ten minutes before removing the stock from the heat, add the parsley.
Once done, remove from the heat and cool uncovered for 10 minutes.
Using a pair of tongs remove large bones and discard.
Strain stock with a chinois or large strainer.
The stock may be used immediately. However, when fully cooled in the refrigerator, any fat will rise to the surface and congeal. Use a slotted spoon to carefully scoop off the fat and set aside for reuse (it's great for sautéing vegetables or frying eggs). This step allows the cook to control the amount of fat in the final dish.
Recipe Notes
Store stock in a glass container in the fridge for up to a week, or stock may also be pressure canned to remain shelf-stable for up to a year.  Stocks may be stored in the freezer for several months.  To freeze, add stock to a 1-quart (1 L) glass Mason jar, making sure to allow 3 inches (7.5 cm) of room in the jar for the liquid to expand in the freezer.  Resist boiling the jar in a pot of water to thaw; the glass jar can break.  Instead, defrost on the counter, in the fridge, or in a pinch, in a bowl of warm water.
---
https://www.apricotlanefarms.com/recipe/nourishing-beef-stock/
Copyright © 2021 Apricot Lane Farms. All rights reserved.