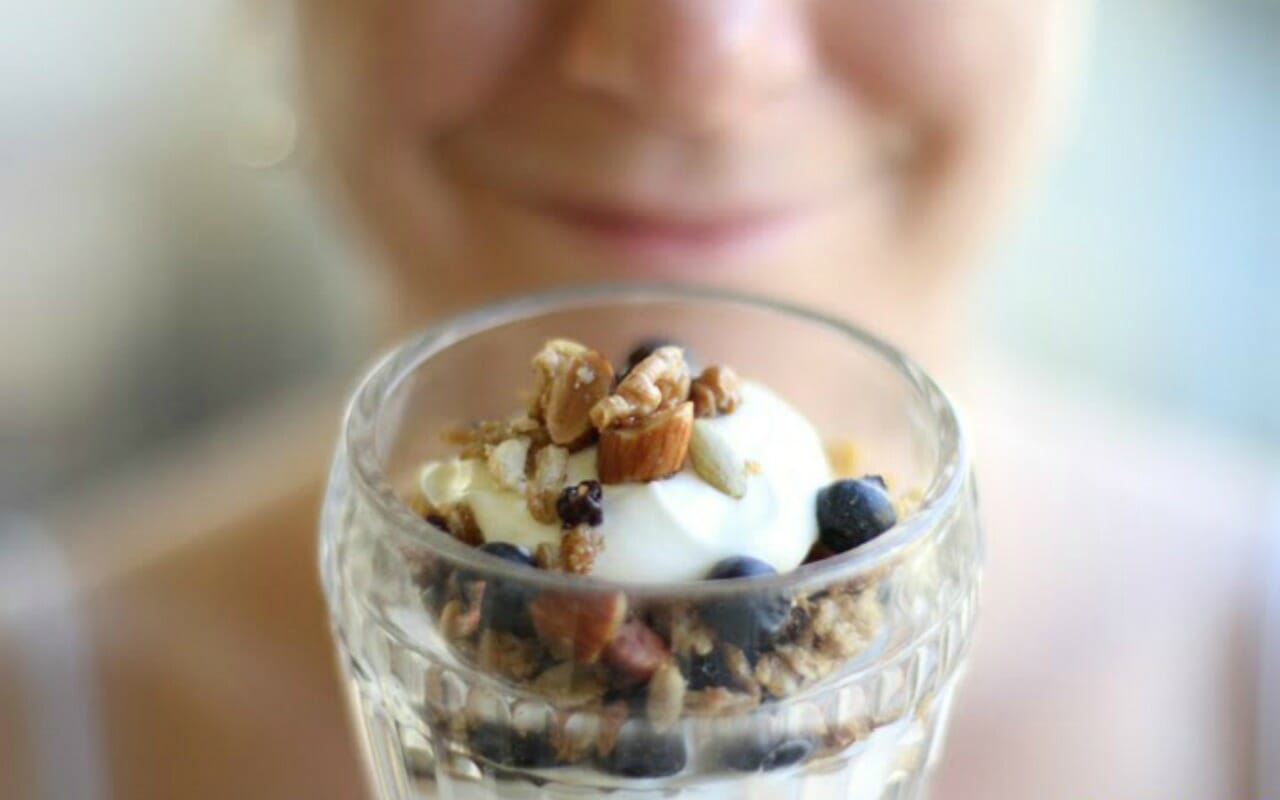 6 cups
Inactive: 36-48 hours
Active: 1 hour
Moderate
print
share with a friend
Really Healthy Granola
This recipe is such a great substitute for store-bought granola. In addition to honey, it uses a sweetener called stevia. The white powdery stevia that has become popular as a sugar substitute is actually very refined from its natural form. Nature's stevia is a green, leafy plant, and it's subsequent sweet powder should optimally be green, reflecting it's natural state. We grow it in our greenhouse and dry it on the farm, but it is available in many health food stores with a bulk spice section. Even green stevia can have a flavor that some people don't like, but if you formed your opinion based on the white stuff, we encourage giving the green version a try. However if green powdered stevia is not available or not desired, simply increase the amount of honey to 1/2 cup. Molly combines honey and stevia in this recipe. It enhances the sweetness, while still maintaining the overall flavor profile of the honey.
This recipe uses a piece of equipment called a dehydrator.  We can no longer apologize for this inclusion because it simply has become such an important part of our kitchen that we feel you would benefit from having one, too.  If you aren't ready, this same technique can be performed in the oven, but it will tie up the oven for a good long while.  Also, be sure to check out the notes below.  They give several variations that you may find useful.
Ingredients
4 cups rolled oats

4 cups warm filtered water

8 tbsp whey or lemon juice

1/2 cup butter

1/4 cup raw honey *

1 tsp cinnamon

1 tsp powdered green stevia **

1 tsp sea salt

1 cup soaked walnuts, roughly broken with hands ***

1 cup soaked almonds, roughly chopped

1/2 cup soaked sunflower seeds

1/2 cup soaked pumpkin seeds

1 cup unsweetened coconut flakes

1/2 cup dried currants
Instructions
Soaked Oat Instructions: Two days before - In a large bowl, combine rolled oats, warm water and whey or lemon juice. Stir gently to combine.
Cover with a kitchen towel and set in a warm place for 24 - 36 hours.
In a fine mesh strainer, rinse well.
Gently spread soaked oats evenly onto a dehydrator tray lined with a mesh insert. Dehydrate at 150˚ for 12 hours, until thoroughly dried. Remove and cool.
Once cool, granola may be made immediately, or oats may be stored in an airtight container for several days, ready and waiting for granola preparation.
Granola Instructions: Preheat oven to 350˚. Line a non-stick sheet pan or a regular sheet pan with parchment paper.
In a small saucepan over medium heat, melt butter. Once nearly melted, add honey, cinnamon, stevia and sea salt. Whisk well to combine.
While butter is melting, crumble oats onto the prepared sheet pan. No big chunks should remain. Add walnuts, almonds, sunflower seeds, pumpkin seeds and coconut flakes.
Pour the honey-butter mixture evenly over the oat mixture.
Using a spatula, stir until well combined; ensure every piece of dried oat gets a light coating of butter.
Spread evenly and bake for a total of 20 minutes, stirring occasionally to uniformly toast the granola.
Remove and immediately stir in currants until well combined.
Cool completely before storing in an airtight container at room temperature for up to a week. Or transfer to the freezer for several months.
Notes
* Typically, regular store-bought honey has been pasteurized, which means it has been heated and strained to obtain a clear product that is easier to pour.  Unfortunately, during this pasteurization process, many of nature's beneficial enzymes are destroyed.  "Raw" (unpasteurized) honey still contains most of those valuable enzymes.  However, when a recipe is going to be baked or heated in any way, the enzymes will be destroyed regardless.  In this case, we still recommend purchasing and cooking with raw honey, if possible.  We find the overall quality of the honey to be more consistent, and we prefer supporting farmers who choose less refinement in their practices.  If raw honey can't be found, regular honey may be substituted in equal measurements.
** Grocery store powdered white stevia is a refined product.  Nature's stevia is a green, leafy plant, and it's subsequent sweet powder should optimally be green, reflecting it's natural state. Frontier brand green stevia powder can be purchased at many local health food stores or found on-line from companies such as Frontier Co-Op.  Stevia tinctures can be used when the green hue of this natural sweetener affects the color of a recipe. However, it is not an issue in the granola recipe.  If green powdered stevia is not available or not desired, simply increase the amount of honey to 1/2 cup.
*** Any combination and variety of nuts, in approximately the same quantity, will be delicious.
---
https://www.apricotlanefarms.com/recipe/really-healthy-granola/
Copyright © 2022 Apricot Lane Farms. All rights reserved.