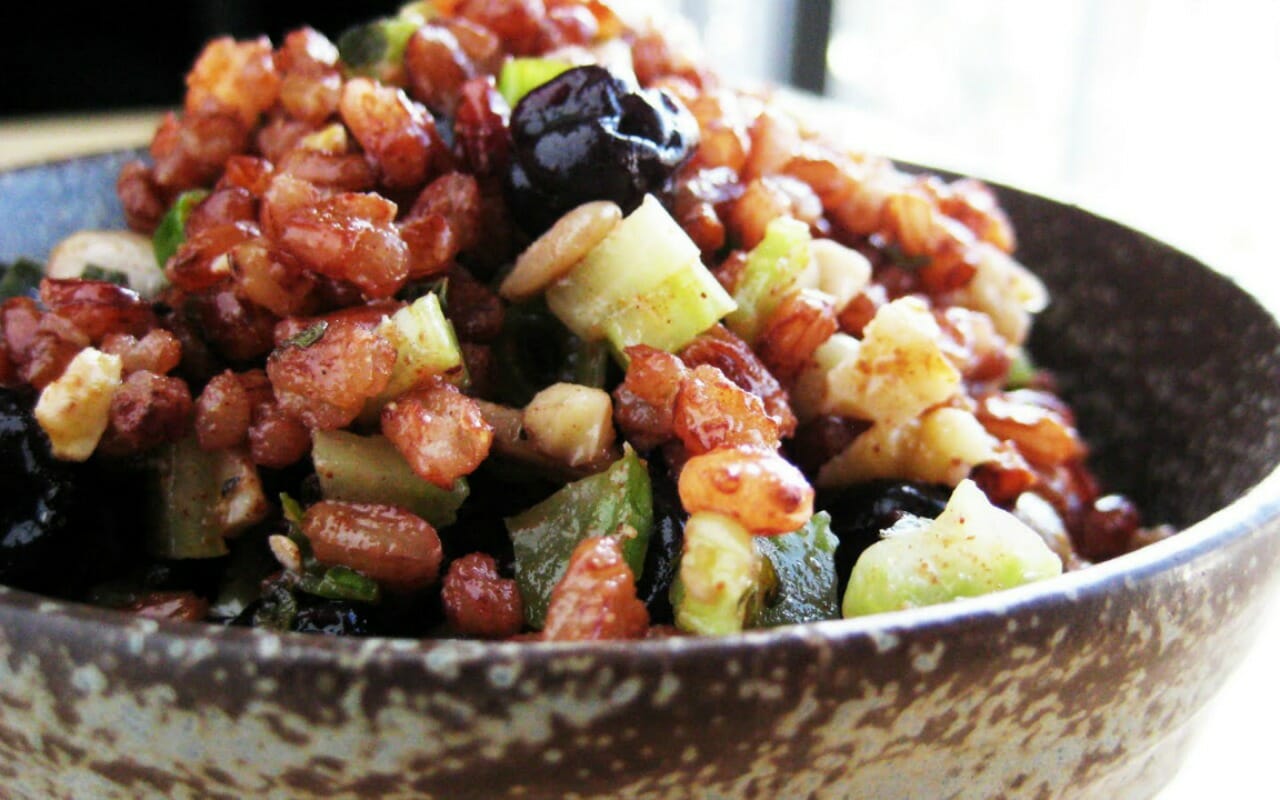 4-6 servings
20 min, plus chill 1 hr
Easy
print
share with a friend
Red Rice Salad with Cumin Dressing
This salad evolved from a recipe that Molly's mom used to make when she was younger. The heirloom red rice is a new addition to the old recipe, which really makes the salad stand out both nutritionally and visually, and when it is springtime, we have been known to substitute fresh blueberries, which is also nice. When shopping for honey, look for "raw" honey, which hasn't been pasteurized, therefore maintaining the natural enzymes, vitamins and minerals in the food. We have a few beehives on the farm, so our farm lunches feature gorgeous raw farm honey…a real treat!
Several varieties of red heirloom rice are available in large grocery stores today, but if you can't get your hands on it, substitute short or long grain brown rice.  However, the color and texture of red rice is really lovely.  If using dried blueberries, we prefer the berries that have been sweetened with apple juice, rather than cane sugar, which seems to cause less of a blood sugar crash!
Ingredients
For Dressing:

1/4 cup (60 ml) extra-virgin olive oil

1 tbsp apple cider vinegar

2 tbsp, plus 2 tsp (30 ml) fresh lemon juice

2 tbsp (40 g) raw honey

1 tsp cinnamon

1 tsp cumin

¼ tsp nutmeg

1 tsp sea salt

¼ tsp freshly cracked black pepper

For Salad:

3 cups (495 g) cooked red rice

1/2 cup (55g) coarsely chopped soaked walnuts

1/4 cup (36g) crunchy sunflower seeds

1/2 (72g) cup dried blueberries*

¾ cup (90 g) finely diced celery

1/3 cup (35 g) thinly sliced scallion, both white and green parts

2 tbsp (12 g) chopped fresh mint
Instructions
TO MAKE THE SALAD: In a medium-size bowl, combine all the salad ingredients. Toss gently and set aside.
TO MAKE THE DRESSING: In a small-size bowl or jar, combine all the dressing ingredients. Whisk well or shake.
Drizzle the dressing over the mixed salad and toss gently to incorporate. Chill for at least 1 hour before serving.
Notes
*Look for dried blueberries that have been sweetened with apple juice concentrate rather than cane sugar.  If dried blueberries can't be found, substitute currants, raisins, or dried cranberries.
---
https://www.apricotlanefarms.com/recipe/red-rice-salad-with-cumin-dressing/
Copyright © 2022 Apricot Lane Farms. All rights reserved.