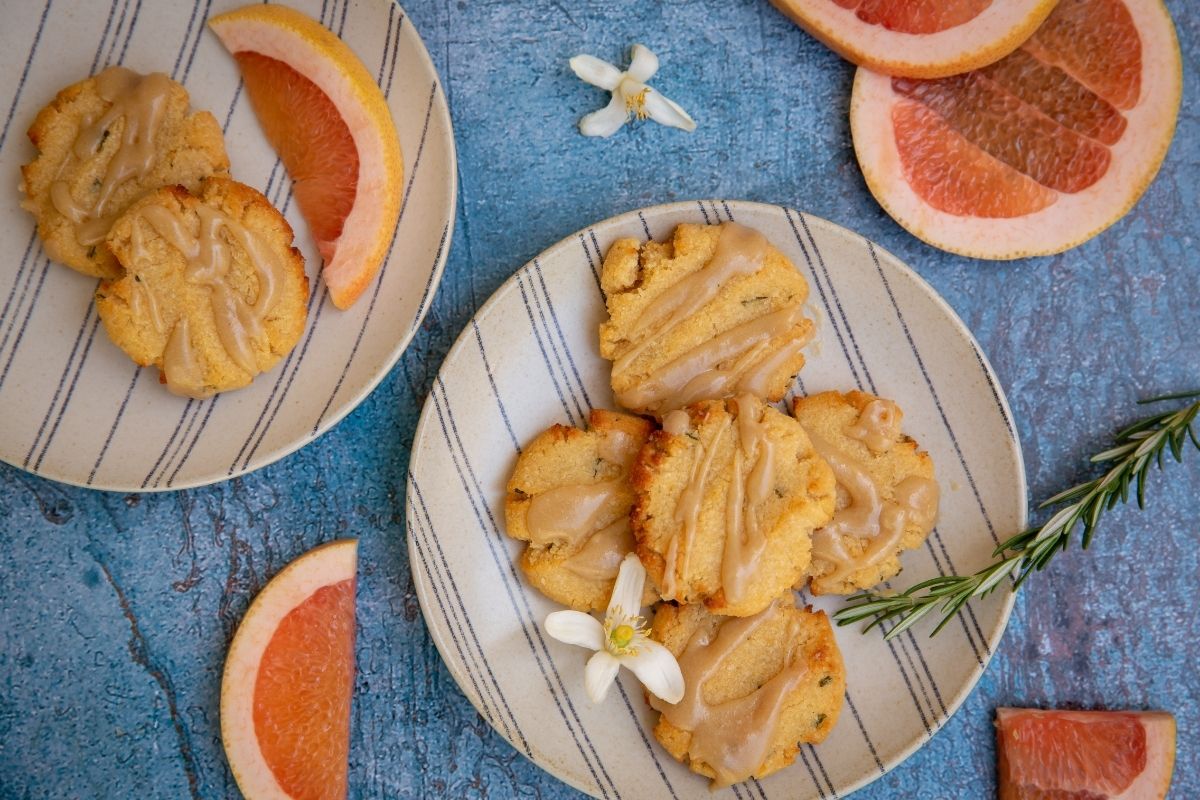 print
share with a friend
Ruby Star Grapefruit and Rosemary Cookie with Cashew Butter Glaze
With an abundance of beautiful Ruby Star grapefruit sitting on the test kitchen shelves, we set about to come up with a tangy, sweet, grain-free cookie. The rosemary is unexpected and adds a delightful earthiness to these citrusy treats. Ruby Star is a kind of grapefruit that is known for its bright red flesh and unique flavor that is both sweet and tart. If you can't find it, you can substitute with another variety or use an orange instead.
Ingredients
COOKIES

½ cup unsalted butter, melted

⅓ cup plus 1 tablespoon raw honey

2 teaspoons grapefruit zest (½ small grapefruit)

2 tablespoons grapefruit juice (½ small grapefruit)

2 teaspoons vanilla extract

1 medium egg

1 cup blanched almond flour

½ cup coconut flour

½ teaspoon baking powder

¼ teaspoon fine sea salt

1 teaspoon finely minced fresh rosemary

GLAZE

3 tablespoons raw cashew butter

1 ½ tablespoons raw honey

1 ½ tablespoons grapefruit juice (⅓ a small grapefruit)
Instructions
COOKIES — Preheat the oven to 350°F. Line two medium baking sheets with parchment paper.
In a medium bowl, combine the butter, honey, grapefruit zest, grapefruit juice, vanilla extract, egg, almond flour, coconut flour, baking powder, salt and rosemary. Stir well until combined.
Using a tablespoon measure, scoop up some dough, roll it into a ball, and put it on one of the prepared baking sheets. Using your finger tips, flatten the dough until it is about 1 inch thick. Repeat with the remaining dough, spacing the cookies about 2 inches apart.
Bake, rotating the baking sheets halfway through, until the cookies are slightly golden brown, about 8 to 10 minutes. Remove the baking sheets from the oven and let cool for at least 10 minutes.
GLAZE — In a small saucepan, combine the cashew butter, honey and grapefruit juice. Heat the mixture over a low flame, stirring constantly until it is smooth and thickens slightly, about one minute. Using a small spoon drizzle the glaze evenly over the cooled cookies.
Using a spatula, gently transfer the cookies to a serving platter. Refrigerate the cookies for at least 10 minutes to allow the glaze to set before serving.. The cookies will keep in an airtight container, arranged in a single layer, in the refrigerator for up to 3 days.
---
https://www.apricotlanefarms.com/recipe/ruby-star-grapefruit-and-rosemary-cookie-with-cashew-butter-glaze/
Copyright © 2022 Apricot Lane Farms. All rights reserved.