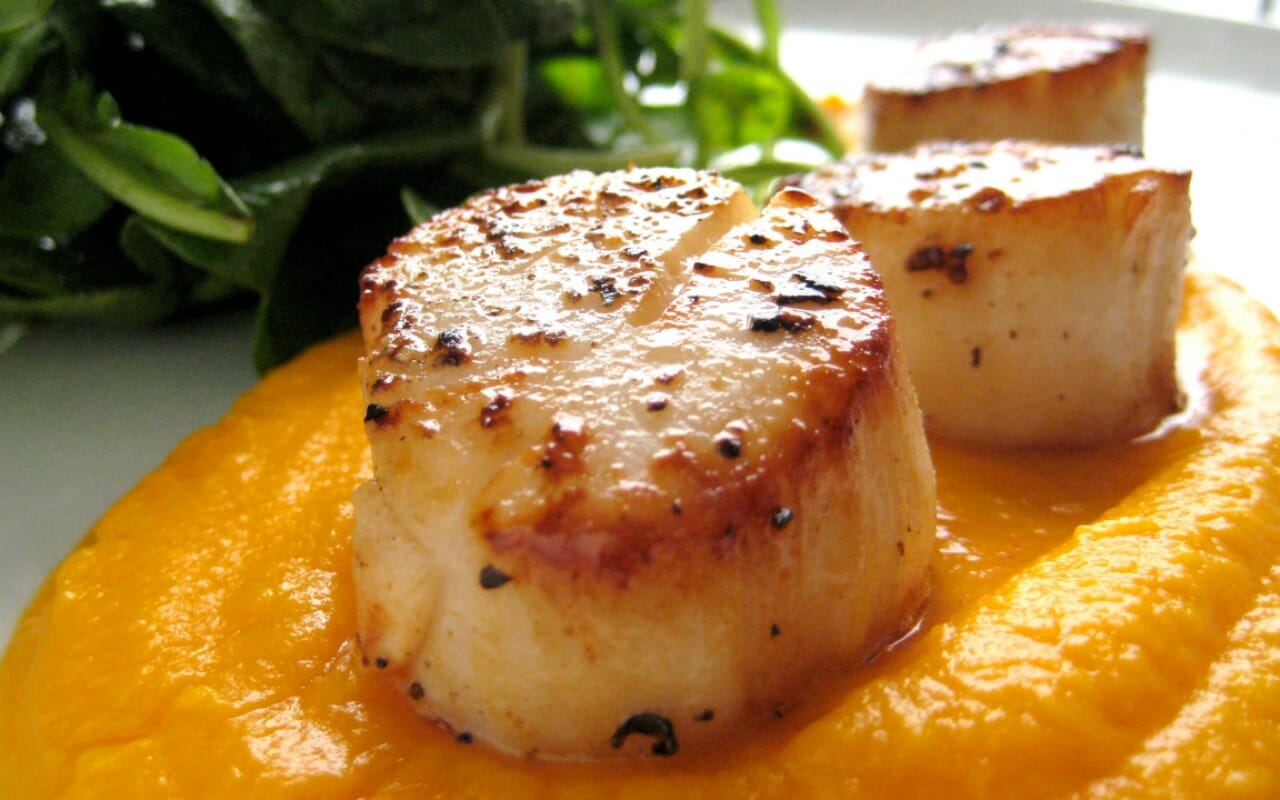 Yield: 4 Servings, with 1 1/2 Cups (355 ML) Carrot Purée
30 minutes
Easy
print
share with a friend
Seared Scallops with Creamy Carrot Purée
Scallops are delicious, fancy and take about 5 minutes to cook. Growing up a vegetarian in land-locked Atlanta, GA, Molly spent her first few carnivorous years hesitant to dive into seafood. But after taking the scallop plunge, she was hooked.
Like most seafood, just don't overcook them. A hot pan is very, very important, and they should come off when they are somewhat firm and bouncy, without being hard. Another key is to avoid crowding the pan. Cook in two batches, if necessary. Simply divide the scallops and cooking oil in half for each batch.
Try this recipe once or twice, and you will have this easy but upscale dish mastered. Its great for entertaining.
Ingredients
For Purée:

1 tablespoon (15ml) extra-virgin olive oil

1/4 cup (40 g) diced shallot

1 teaspoon minced garlic

2 cups (260 g) peeled and thinly sliced carrots

1/2 cup (120 ml) water

1/2 teaspoon sea salt, plus more to taste

A generous pinch of cayenne pepper

1/2 cup (120 ml) freshly squeezed orange juice

1 tablespoon (14 g) butter

For Scallops:

12 large sea scallops (about 1 pound [454 g]), thoroughly patted dried and brought to room temperature

1 teaspoon sea salt

1/2 teaspoon freshly cracked pepper

3 tablespoons (45 ml) ghee

1 clove garlic, peeled and smashed
Instructions
TO MAKE THE PUREE:
In a large cast iron skillet over medium heat, warm the oil until glistening, then add the shallots.
Sweat the shallots for 3 minutes, stirring occasionally, until softened.
Add the garlic and cook for 1 minute, until fragrant.
Add carrots, water, sea salt and cayenne. Raise the heat to bring liquid to a boil, then lower the heat to medium-low to maintain a rolling simmer.
Cover and cook for 10 minutes, until the carrots are softened.
Carefully pour the sauce into a blender. Add the orange juice and blend until creamy.
Pour sauce into a small-size saucepan (you'll use the cast-iron skillet for the scallops) over low heat and add the butter, stirring until melted.
Re-season with sea salt to taste. Keep over low heat while cooking the scallops.
TO MAKE THE SCALLOPS:
Wipe the cast-iron skillet with a paper towel.
Place the scallops in a bowl and toss, to coat, with salt and pepper.
Over warm the ghee and garlic, over medium-high heat, until the ghee is very hot but not smoking. The ghee will be glistening and the garlic will be sizzling fairly aggressively.
Add the scallops to the hot pan. Remove and discard the garlic clove, which has done its work by flavoring the ghee.
Sauté the scallops for 2 minutes.
After 2 minutes, flip the scallops with tongs. They should release easily. Sauté an additional 2 minutes, until firm and slightly opaque but not hard.
Spread the carrot purée onto 4 plates and top each with 3 scallops. Serve warm.
---
https://www.apricotlanefarms.com/recipe/seared-scallops-with-creamy-carrot-puree/
Copyright © 2021 Apricot Lane Farms. All rights reserved.