Sorta Raw Kale Salad
Kale is such a great thing to grow in a home garden, especially in California.  Leaves can be pulled from the plant without killing it, so the kale can literally be harvested from the same planting for nearly a year in our mild climate.  After a while, the aphids begin to find the plants, as they are getting a bit weak, so look for that as a sign to replant, but until that time, those plants will keep giving and giving.  This simple salad is a great answer for what to do with all that kale.  When Molly cooks for her family, she doesn't even wash the greens.  She knows there were no chemicals used in the growing process and eating vegetables without washing from time to time adds beneficial soil based organisms to the diet, just give it a once over for any bird droppings!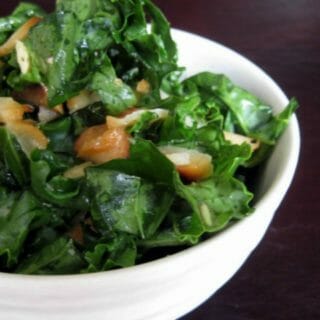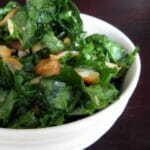 Sorta Raw Kale Salad
We enjoy toasting the macadamia nuts for flavor, which prevents this salad from officially being "raw."  Regardless, it's refreshing and energizing.
4 people
5 min active / 1 hr chill
Easy
Ingredients
1 bunch kale, rinsed, chopped and thoroughly dried

1/4 cup chiffonade basil *

1/2 cup toasted macadamia nuts, chopped

1/4 - 1/3 cup lemon juice, to taste

2 tbsp extra virgin olive oil

1/4 tsp sea salt, to taste

1/8 tsp black pepper
Instructions
In a large bowl, toss kale, basil and macadamia nuts to combine.
In a small bowl, whisk together lemon juice, olive oil, sea salt and pepper. Pour over kale and toss to combine.
Refrigerate for 1 hour before serving.
Recipe Notes
*Chiffonade is simply thinly sliced ribbons of kale.  To achieve this, line up several leaves of basil into a small stack.  Tightly roll the basil length-wise to form a long cigarette shape and slice, forming long ribbons.  Begin with 1/4 cup, and add to taste, based on the size of the kale bunch used.
---
https://www.apricotlanefarms.com/recipe/sorta-raw-kale-salad/
Copyright © 2019 Apricot Lane Farms. All rights reserved.