Spaghetti Squash Coins with Mascarpone & Roasted Tomatoes
Molly loves growing spaghetti squash in our summer garden.  A good spaghetti squash will be heavy for its size and free of any soft spots or cracks.  Find yourself a good one and try this appetizer at a future dinner party!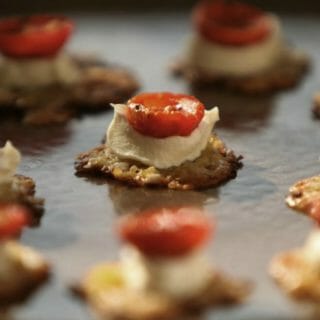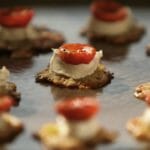 Spaghetti Squash Coins with Mascarpone & Roasted Tomatoes
For best results, be sure to shred Parmesan on the large holes of a box grater.  Also, it is important not to overcook the spaghetti squash. Noodles should be al dente to avoid becoming mushy.  See the Recipe Notes below for instructions on properly baking spaghetti squash.
12 pieces
45 minutes
Moderate
Ingredients
3/4 cup baked spaghetti squash*

1 cup shredded Parmesan

1/4 + 1/4 tsp sea salt

1/4 + 1/4 tsp fresh cracked pepper

1/2 tsp extra virgin olive oil, plus more for oiling pan

1 cup halved cherry tomatoes

Mascarpone cheese, approx 1/2 cup
Instructions
Roasted Cherry Tomato Instructions: Preheat oven to 350˚F. Prepare a sheet tray by brushing it with a thin layer of olive oil.
In a small bowl, combine tomatoes, 1/2 tsp olive oil, sea salt and pepper. Toss lightly with a spoon.
Arrange in a single layer, cut side up, on the prepared sheet. Bake for 25 minutes.
Cherry tomatoes will be nicely roasted without drying out completely. Set aside to cool.
Spaghetti Squash Coin Instructions: Preheat oven to 400˚. Line a baking sheet, lined with parchment paper.
Coarsely chop squash into 1/2" pieces. Place squash onto a kitchen cloth or a piece of paper towel and squeeze to extract the excess moisture.
Unwrap and place the squash into a medium bowl.
Add Parmesan, sea salt and pepper. Toss well with a fork to thoroughly combine.
Using clean hands, scoop tbsp-sized amounts of the squash mixture and place into little mounds 2 1/2" apart on the prepared baking sheet.
Bake for 7-9 minutes, until the bottoms are nicely browned and the centers are fully melted.
Remove the tray from the oven and allow the coins to rest for 2 minutes before removing with a flexible spatula onto a cookie rack to cool completely.
Once both the coins and tomatoes have fully cooled, place 1/2 tsp of mascarpone in the center of each coin.
Gently press a roasted tomato into the top. Serve at room temperature. They will sit out nicely for several hours.
Recipe Notes
*To bake squash, preheat the oven to 400˚.  Prepare a sheet tray by placing a rack set inside of it.  Cut the spaghetti squash from vine stump to butt-end.  With a spoon, scoop out the seeds.  Place squash on the rack, cut-side down, and fill pan with water until almost reaching the rack.  Prick the skin of the squash with a fork 10 times each.  Place squash in the hot oven for 1 hour, skin should be pierce-able with slight effort.  Skins may be browned.  It is important not to overcook the squash.
---
https://www.apricotlanefarms.com/recipe/spaghetti-squash-coins-with-mascarpone-roasted-tomatoes/
Copyright © 2020 Apricot Lane Farms. All rights reserved.