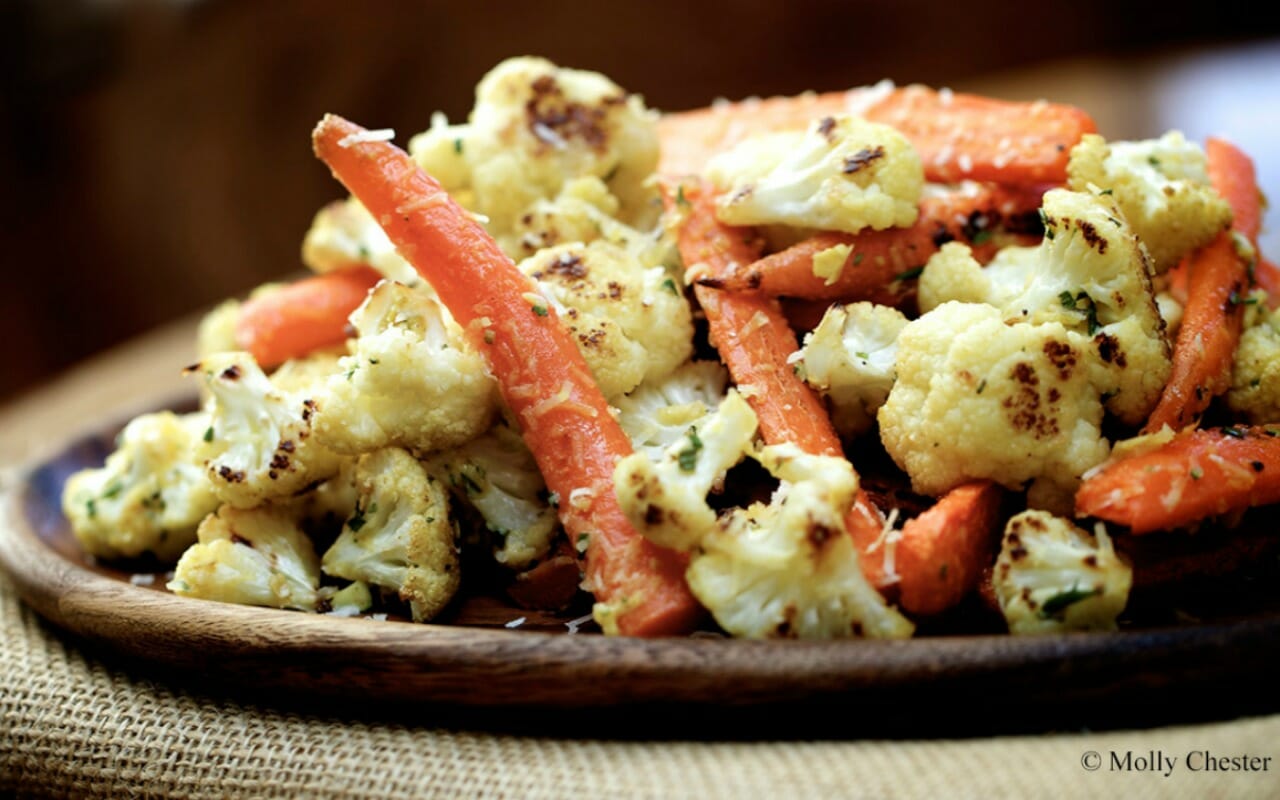 print
share with a friend
Sparky Carrots and Cauliflower
This odd, yet delicious, recipe sprung from Molly's first year on the farm, when the only fresh herb she had readily available was a huge rosemary plant outside her kitchen door.  The Chesters had a lot of rosemary-flavored dishes that year! Now, Gardener Joy maintains a beautiful herb island in our vegetable garden, yet we still like making Sparky Carrots and Cauliflower.
If nutritional yeast isn't in your regular rotation, you may consider giving it a try.  Filled with B vitamins, it has an addictive cheesy flavor that pairs so nicely with parmesan.  It is also fantastic on popcorn combined with extra virgin olive oil and sea salt.  We like to purchase the brands that avoid fortifying their brands.
Ingredients
1 small head cauliflower, cut into florets (approx. 5 cups)

1 bunch carrots, cut in half and half again (approx. 7 carrots)

4 tsp bacon renderings

1¼ tsp sea salt, divided

3 tbsp grass-fed butter

1 tsp finely chopped rosemary

1 tbsp minced garlic (approx. 3 cloves)

1 tbsp nutritional yeast

2 tbsp parmesan
Instructions
Preheat oven to 400˚.
Put florets and carrots on separate sheet pans and toss each in 2 tsp of bacon renderings.
Sprinkle each with ½ tsp of sea salt. Place in hot oven for 15 minutes.
Turn vegetables with a spatula and return to the oven, rotating the sheet pans as well. Roast for an additional 10 minutes. Remove from oven and set aside
In a small saucepan, combine butter, rosemary, ¼ tsp sea salt, ¼ tsp pepper.
Melt butter over low heat and continue to simmer for 3 minutes.
Add nutritional yeast, stir, and remove from heat.
Combine vegetables. Pour butter mixture over the top. Sprinkle with Parmesan, and toss to coat. Serve warm.
---
https://www.apricotlanefarms.com/recipe/sparky-carrots-and-cauliflower/
Copyright © 2021 Apricot Lane Farms. All rights reserved.