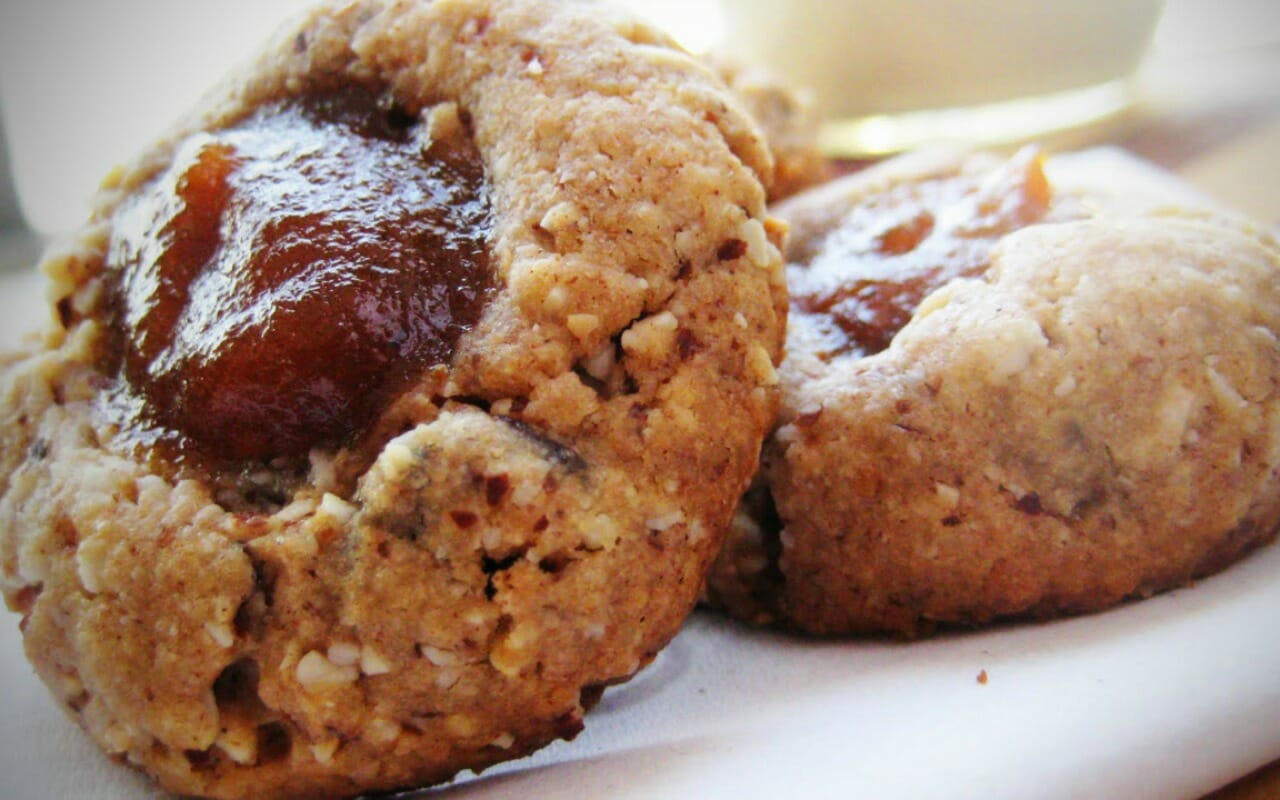 Yield: 20 Cookies
25 minutes
Moderate
print
share with a friend
Sprouted Apple Butter Dots
These cookies evolved from a recipe Molly learned in culinary school at the Natural Gourmet Institute of Culinary Arts in New York City. At every open house, the school serves their take on a classic Jam Dot Cookie. A friend of Molly's actually chose to attend the school because of those cookies!
Our Sprouted Apple Butter Dots are a bit different, with sprouted whole wheat flour and coarsely chopped raisins, but we're certain they still contain their own Jam Dot magic.
Remember that coconut oil is solid at room temperature.  Simply scoop into a small pot and heat on medium-low until melted.
Ingredients
Instructions
Preheat the oven to 350ºF (180ºc, or gas mark 4) and line 2 cookie sheets with parchment paper.
In a food processor, grind almonds into a coarse meal. Pour into a medium-size bowl and add the flour, cinnamon, and sea salt. Whisk to combine.
In a separate, small-size bowl, whisk together maple syrup and melted coconut oil.
Pour over the flour mixture and stir well to combine. Add the raisins and mix again to incorporate.
Form the dough into balls, slightly larger than a walnut, and place on the prepared cookie sheets, about 2 inches (5 cm) apart.
Using your thumb, press an indentation in the center of each cookie. The dough may crack, and if so, simply press to repair for a more uniform look, or leave cracked for a more rustic look.
Scoop 1 teaspoon apple butter into the center of each cookie.
Bake for 12 minutes, or until the bottoms are nicely browned.
Notes
*Both blanched and regular almonds are delicious in this recipe.  Blanched almonds result in a crisper cookie. You can also try pecans, which result in a richer taste and are slightly more moist.
---
https://www.apricotlanefarms.com/recipe/sprouted-apple-butter-dots/
Copyright © 2021 Apricot Lane Farms. All rights reserved.