Yaya's Homemade Strawberry Ice Cream
During the first few months of the farm, Molly's mom and dad came to California to support her and John.  Everyone worked so hard all day, every day, but in the evening, the work stopped and the cooking began!  Though the strawberries for the below recipe came from the local roadside stand and not yet our farm, this delicious ice cream recipe evolved from that hardworking time.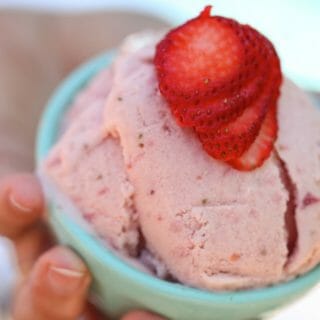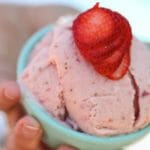 Yaya's Homemade Strawberry Ice Cream
The cashew butter adds a unique and unexpected creaminess to this rich, dairy-free ice cream.
6 Cups, 10-12 Servings
Prep Time: 10 minutes, Freeze Time: 2.5 hours
Easy
Ingredients
2 cups strawberries, cleaned and hulled

2 cans coconut milk (13.5 oz each)

1/2 cup raw honey

1/2 cup cashew butter

1/2 tsp vanilla extract

1/8 teaspoon sea salt

1 tbsp lemon juice
Instructions
In a blender, add all the ingredients. Blend on high for 2-3 minutes. Make sure all the cashew butter and honey are incorporated. Use a rubber spatula to scrape down the sides of the blender if needed.
Once blended, place the mixture in the refrigerator or an ice bath until fully chilled.
Once fully chilled, pour the mixture into the bowl of the ice cream maker. Run the ice cream maker for about 30 minutes, or until the consistency resembles a thick milkshake. Transfer the ice cream to a freezer proof container and allow to freeze for an additional 30 minutes to set.
Recipe Notes
*1/2 cup-1 cup of chopped nuts can be added to this recipe, if desired.
*Over time, the ice cream will begin to harden in the freezer. Set it out for 15-20 minutes prior to serving for optimal consistency.
---
https://www.apricotlanefarms.com/recipe/strawberry-coconut-milk-ice-cream/
Copyright © 2020 Apricot Lane Farms. All rights reserved.