Sweet Jalapeño Cornbread – Gluten Free
If it is summer and you have access to both corn and jalapeños, this is a heavenly recipe to try. We also love how flexible it is, using frozen corn, which is typically much more readily available.  The result is still extremely moist and delicious.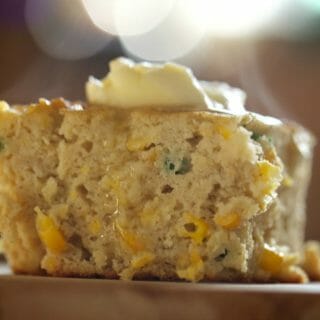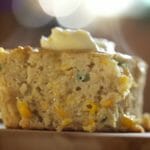 Sweet Jalapeño Cornbread – Gluten Free
This recipe uses 1/2 tsp baking soda to create the ultimate texture. However, if you like for your cornbread to have a more cake-like consistency you can use 1 tsp baking powder and 1/2 tsp baking soda.
12 pieces
Prep: 20 min Bake: 40 min
Moderate
Ingredients
2 cups frozen corn

12 pastured eggs

6 tbsp raw honey

1½ cups coconut flour

1½ tsp sea salt

1/2 tsp baking soda

1 cup melted butter, plus more to butter the pan

1½ cup homemade almond milk *

1/4 cup minced jalapeno
Instructions
Preheat oven to 350 F
Use a 9x13 baking pan, preferably glass. Grease the pan with a pat of butter. Place a 9x13 piece of parchment on the floor of the pan and set aside.
To the bowl of the food processor, add the frozen corn and process for 30 seconds. The texture should be grainy but not mush. Use a spatula to scrape the mixture into another bowl, and set aside.
In the same food processor, add the eggs, coconut flour, honey, baking soda, and sea salt. Scrape down the sides and re-mix, if necessary.
Add the egg mixture to the bowl with the corn, along with the melted butter, almond milk**, and jalapeno. Fold the mixture together until fully combined.
Spread the batter evenly into the lined pan and bake at 350 F for 40 minutes.
Cool for 10min and serve. Texture improves with cooling. ***
Recipe Notes
* To make homemade almond milk, combine 1 cup soaked almonds and 3 cup filtered water in a high-speed blender.  Process on high for 2-minutes.  Strain through a chinois or fine-mesh strainer lined with cheesecloth.  Unsweetened store-bought almond milk may be substituted.
**If using fresh corn, add 1 ½ cups corn to the bowl of the food processor.  Process until pureed.  Add remaining ½ cup.  Pulse 5 times to remain chunky.
***Like many gluten free baked goods, the texture will differ from cornbread prepared with wheat flour. The texture of this cornbread actually improves with time. It is best eaten the day after when it reaches a true cornbread like crumb.
---
https://www.apricotlanefarms.com/recipe/sweet-jalapeno-cornbread-gluten-free/
Copyright © 2019 Apricot Lane Farms. All rights reserved.