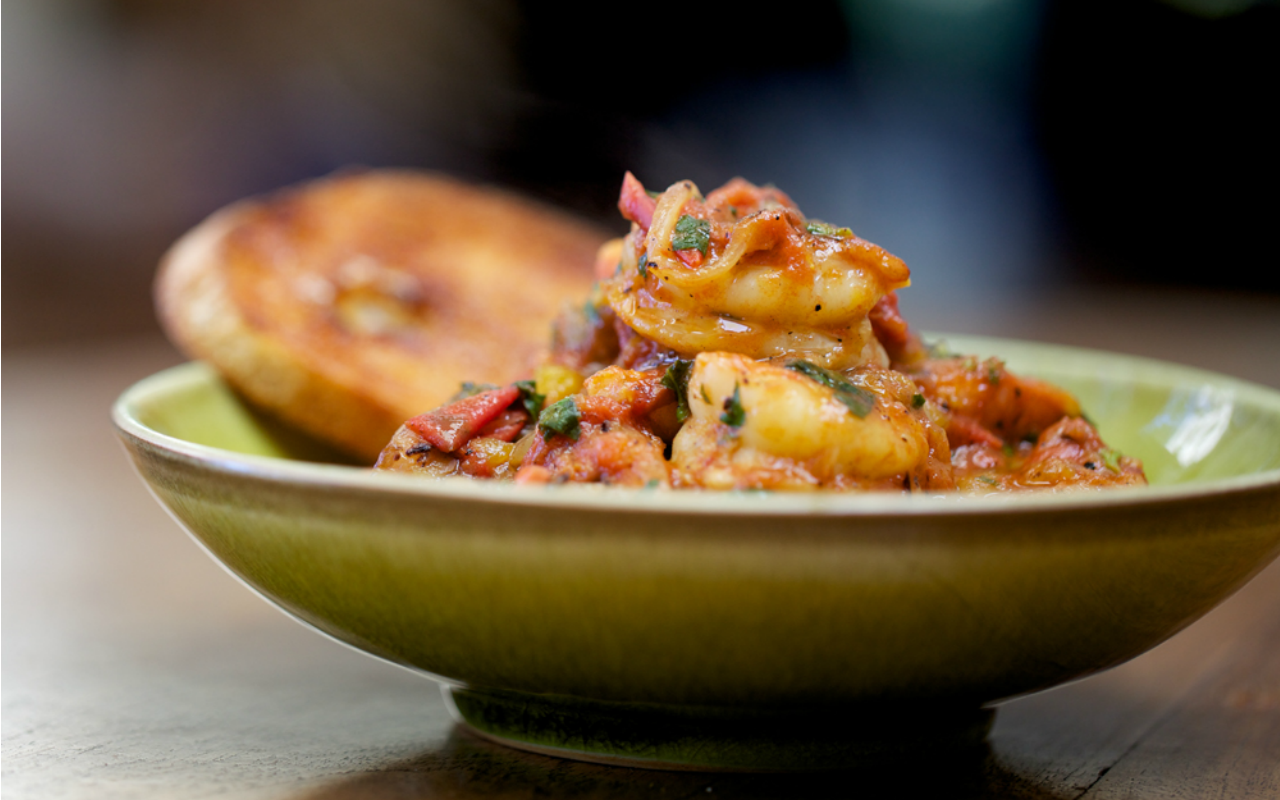 4 People
30 minutes
Moderate
print
share with a friend
Sweet Skillet Shrimp
When the farm first began the WWOOF program and long before we had another chef on the farm, Molly would have our WWOOFers down to her house once per week to prepare them a home-cooked meal.  The WWOOFers would fix the rest of their meals for the week with a food stipend provided by the farm, after John and Molly took them on Sundays to the grocery store.  Typically, John and Molly would pile them all in the farm truck, where some of the best conversations were had!
From those weekly meals, this skillet shrimp recipe became a favorite, regularly repeated through the summer, when the farm tomatoes were at their peak.
Typically, cast iron skillets aren't recommended when cooking with tomatoes, as it can affect the "seasoning" of your pan. A stainless steel pan is preferential for things like tomato sauce. However in this recipe, the cast iron skillet lends an exceptional browning to the shrimp and it should not be a problem for a well seasoned skillet. You can also use a stainless steel skillet with tall sides instead.
Ingredients
4 tsp bacon fat

1 lb peeled, deveined & tails-off 16-20 count shrimp

1 tsp sea salt

1 tsp fresh cracked pepper

2 cups (1/4 in) sliced sweet onion (approx. 1 medium onion)

1 tbsp minced garlic

1/8 tsp ground cayenne

5 cups 1" diced heirloom tomatoes (approx 3 large) *

1½ cups ¾" diced ripe mango (approx 1 large mango)

1 cup lightly packed fresh basil, roughly chopped
Instructions
In a small bowl, combine shrimp, salt, pepper, and toss to evenly coat.
In a wide cast-iron pan over high heat, melt the bacon fat. Allow the pan to become hot and the oil to cover the bottom of the cast-iron.
Lay the shrimp down in a single layer. Cook the shrimp for two minutes on both sides. Use tongs to easily flip the shrimp. Then, remove the shrimp from the pan and set aside.
Add the sliced onions to the pan, stirring frequently until the onions have softened, about 5 minutes.
Add the garlic and cayenne, and cook until the garlic is fragrant. Then, turn down the heat to low to keep the garlic from burning.
Add the shrimp and mango to the pan. Stir to combine. Turn up the heat to high and bring the contents of the pan to a boil. Stir frequently for 3-5 minutes to allow the sauce to thicken slightly.
Turn off the heat and stir in the basil. Taste and season as needed.
Notes
*Use firm tomatoes if you like a chunky and textured sauce. Ripe tomatoes will fall apart and give the sauce a smoother texture. Tomatoes do not need to be seeded.
---
https://www.apricotlanefarms.com/recipe/sweet-skillet-shrimp/
Copyright © 2021 Apricot Lane Farms. All rights reserved.