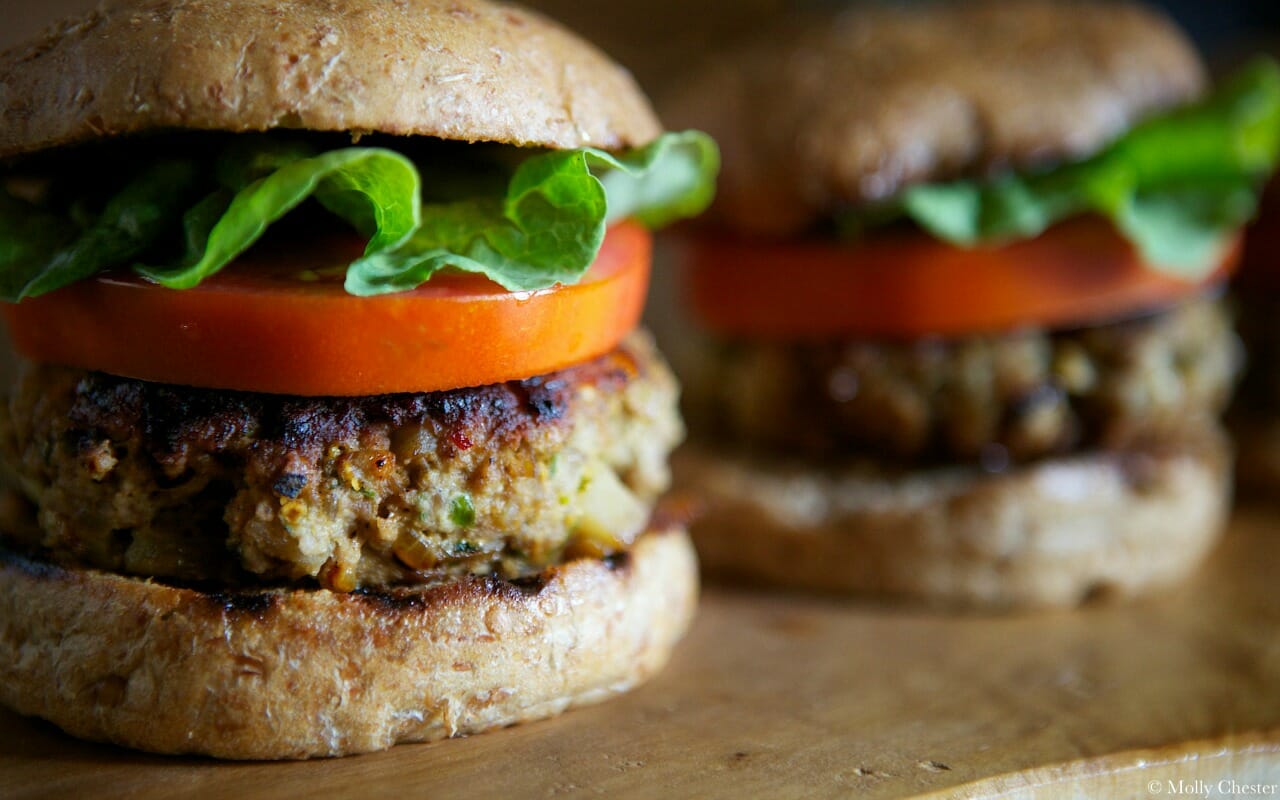 4 burgers
35 minutes
Moderate
print
share with a friend
Tart Apple Turkey Burger
Sweet onions, tart apples and salty bacon provide the perfect flavor and texture for to spice up a basic turkey burger. Granny Smith apples are typically harvested in our orchards in November but Pink Lady apples work nicely in the recipe as well.
To achieve a nice browning on the burger, we suggest using a cast iron skillet.  Cast iron is such a accessible indoor method for achieving a beautiful burger.
Ingredients
2 tbsp bacon renderings, divided

1/4 cup 1/4" diced sweet onions

3/4 cup peeled & 1/4" diced Granny Smith apple

1/2 tsp minced garlic

1/4 tsp paprika

1/4 tsp crushed red pepper flakes

2 tbsp chopped fresh parsley

1 lb. pastured ground turkey

1/3 cup cooked crumbled bacon

1 pastured egg yolk

2 tbsp coconut flour

1/4 tsp powdered mustard

1 1/4 tsp sea salt

1/2 tsp cracked black pepper
Instructions
In a large cast iron skillet over medium-low heat, melt bacon renderings.
Add onion and sauté for 10 minutes, stirring occasionally, until softened.
Add green apple and sauté for 10 minutes, stirring occasionally; until softened.
Add garlic. Sauté for 1 minute, stirring constantly; until garlic is fragrant.
In a large bowl, combine ground turkey, cooled apple mixture, cooked bacon, cayenne, paprika, parsley, egg yolk, coconut flour, mustard, sea salt & pepper.
Using clean hands, mix to combine. But, avoid over-mixing, which can make meat tough.
Divide meat into 4 equal portions and form each into a burger patty.
In the same large cast-iron skillet used for the green apple mixture, add the additional tbsp of bacon renderings and warm to medium heat.
Add burgers. Cook for 4 minutes.
Turn, reduce heat to low and cover. Cook for an additional 10 minutes. Serve warm.
---
https://www.apricotlanefarms.com/recipe/tart-apple-turkey-burger/
Copyright © 2022 Apricot Lane Farms. All rights reserved.