Tart Apple Turkey Burger
Ohh… this is a good one.  Both gluten-free and grain-free, the coconut flour, sweet onion and apple provide a lovely sweet flavor to our bland friend, turkey.  Plus our Granny Smith apples typically arrive to our orchards in November, perfect time for turkey to be readily available.  If Granny Smiths aren't quite ready yet, Pink Lady apples work well with this recipe, too.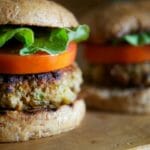 Tart Apple Turkey Burger
To achieve a nice browning on the burger, we suggest using a cast iron skillet.  Cast iron is such a accessible indoor method for achieving a beautiful burger.
4 burgers
35 minutes
Moderate
Ingredients
2 tbsp bacon renderings, divided

1 cup 1/4" diced sweet onions

1 cup peeled & 1/4" diced Granny Smith apple

1 tbsp minced garlic

1/2 cayenne pepper or 3 dashes powdered cayenne pepper

2 tbsp chopped fresh parsley

1 lb. pastured ground turkey

1 pastured egg yolk

2 tbsp coconut flour

1 tbsp powdered mustard

1 tsp sea salt

1/2 tsp cracked black pepper
Instructions
In a large cast iron skillet over medium-low heat, melt bacon renderings.
Add onion and sauté for 10 minutes, stirring occasionally; onions will be softened.
Add green apple and sauté for 10 minutes, stirring occasionally; apple will be softened.
Add garlic and cayenne. Sauté for 1 minute, stirring constantly; garlic will be fragrant.
Add chopped fresh parsley. Turn off the heat and set aside to cool for 5 minutes.
In a large bowl, combine ground turkey, cooled apple mixture, egg yolk, coconut flour, mustard, sea salt & pepper.
Using clean hands, mix to combine. But, avoid over-mixing, which can make meat tough.
Divide meat into 4 quarters and form each quarter into a burger.
In the same large cast-iron skillet used for the green apple mixture, add the additional tbsp of bacon renderings and warm to medium heat.
Add burgers. Cook for 4 minutes.
Turn, reduce heat to low and cover. Cook for an additional 10 minutes. Serve warm.
---
https://www.apricotlanefarms.com/recipe/tart-apple-turkey-burger/
Copyright © 2019 Apricot Lane Farms. All rights reserved.