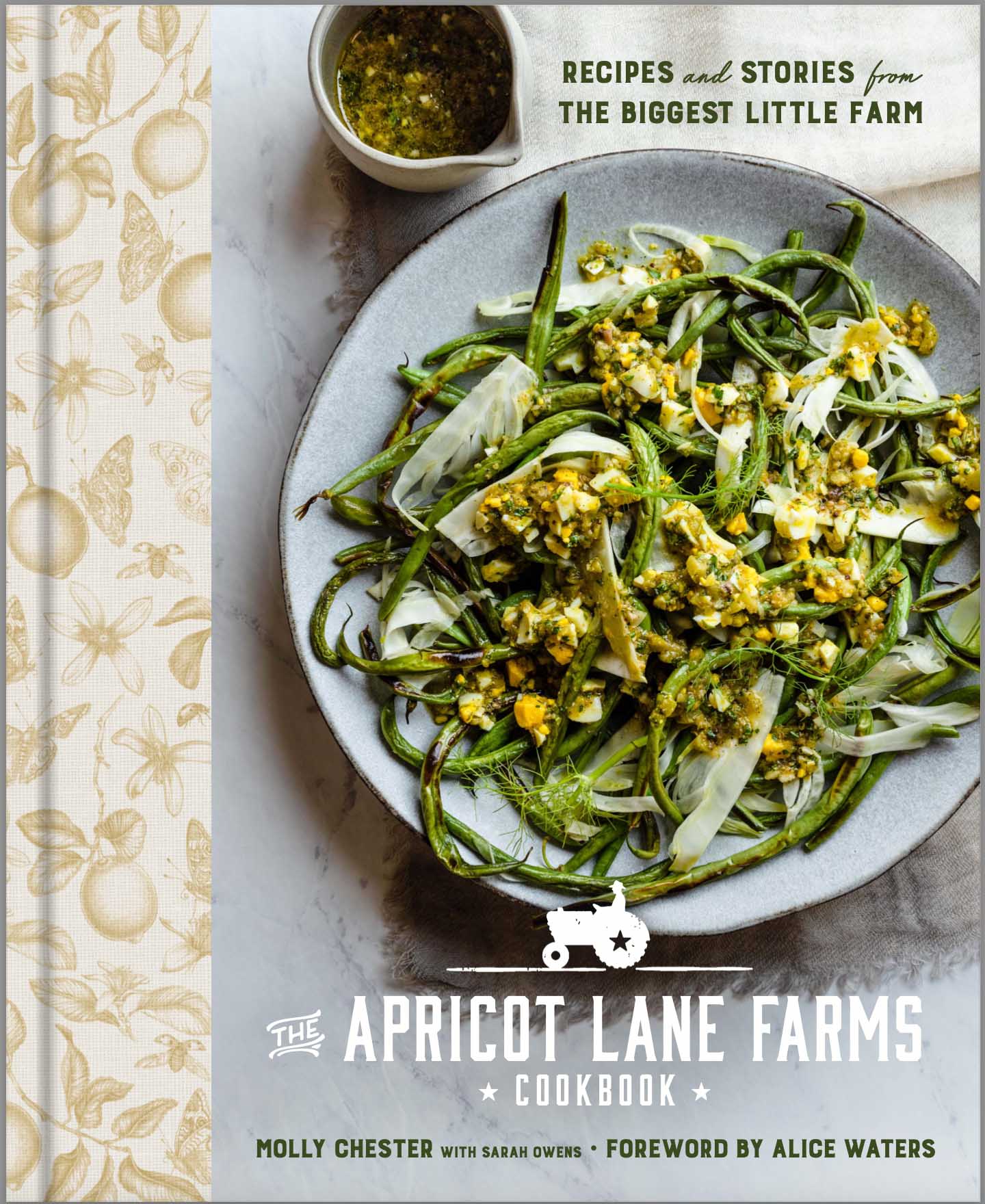 The Apricot Lane Farms Cookbook: Recipes and Stories from The Biggest Little Farm
Our debut cookbook is eleven years in the making, and brings the bounty of the farm to your kitchen with more than 130 seasonally inspired recipes. As a chef who has long understood that flavor and nutrition go hand in hand, our co-founder Molly Chester — an organic foods chef turned regenerative farmer— is passionate about farm-fresh ingredients, and her cooking celebrates the tree-ripened fruits, seasonal vegetables, pastured eggs, and grass-fed meats for which Apricot Lane Farms is known.
With sections divided by season, and insider tips for sourcing the best produce, this a must-have cookbook for home cooks looking for inspiration for their farmers' market hauls, and anyone looking to create a closer connection to their food. With enticing, preserved end-of-summer larder treasures like Tomato Raisins or a Dried Summer Stone Fruit Medley, comforting dinners like Slow-Roasted Pastured Chicken with Lemon-Fennel Crust or Spring Frittata with Fresh Peas, Arugula, Artichokes, Chevre, and Pesto, and bright, luscious salads like Avocado and Cara Cara Orange Salad with Jalapeño and Sesame-Miso Dressing, these nourishing recipes are a delicious guide to eating in connection with the land.
Purchase your Apricot Lane Farms Cookbook today!


PRAISE FOR THE COOKBOOK
"Apricot Lane Farm is not just a bucolic oasis. It is a generator of brilliant ideas,  guided by Molly and John. This book is a blueprint on how we can nourish ourselves  in a harried world. Follow the recipes, read intently, and cook yourself into a better  you." 
—HUGH ACHESON, chef, Top Chef host, and James Beard Award winning author
"It's impossible to leave a visit to Apricot Lane Farms and not be affected by Molly and  John's infectious audacity, deep commitment to the stewardship of their land, and  quality of their teeming harvest. It made my return to East Coast city life feel some- what lackluster. But now, with The Apricot Lane Farms Cookbook, my pastoral-inspired  kitchen daydreams can now run amok! Molly's simple, sumptuous recipes will lure  you in and inspire you to cook with a new rhythm, guided by the seasons and nature's  abundance. Every dish, every lesson and story, [is] sprinkled with a pinch of their  farm's fairy dust, ensuring the magic of this special place can be relished by all of us,  no matter where we call home." 
—GAIL SIMMONS, food expert, TV host, and author of  Bringing It Home: Favorite Recipes from a Life of Adventurous Eating 
"The Apricot Lane Farms Cookbook is equal to Molly and John's farm in every way. For  those who have a deep appetite for the blessings of the earth, it is a culinary master- piece. The extraordinary diversity of Biggest Little Farm comes to life in the recipes,  tips, taste, techniques, and teachings. You want to eat what's on every page. Regen- eration puts life at the center of every act and decision. This is what regeneration  looks and tastes like, and it is extraordinary." 
—PAUL HAWKEN, author of Regeneration: Ending the Climate Crisis in One Generation 
"There is no better guide to seasonal, organic, healthy eating than Apricot Lane  Farm's Molly Chester. This cookbook is a glorious inspiration and is sure to become  a dog-eared favorite in your kitchen. It is a gift to us all." 
—LAURIE DAVID, author of The Family Dinner and producer of An Inconvenient Truth 
"If you ever wondered what deeply embracing farm-scape stewardship looks like on  your dinner plate, this fabulous book has the answer." 
—JOEL SALATIN, sustainable farming educator and owner of Polyface Farm 
"The Apricot Lane Farms Cookbook is a must for foodies and cooks. Learn the basics  such as nourishing stocks and lacto-fermented foods, or indulge in delights like  rosti cakes and peach barbecue sauce from this beautifully illustrated tribute to fine  food and natural farming." 
—SALLY FALLON MORELL, president of the Weston A. Price Foundation