In loving memory of Emma the pig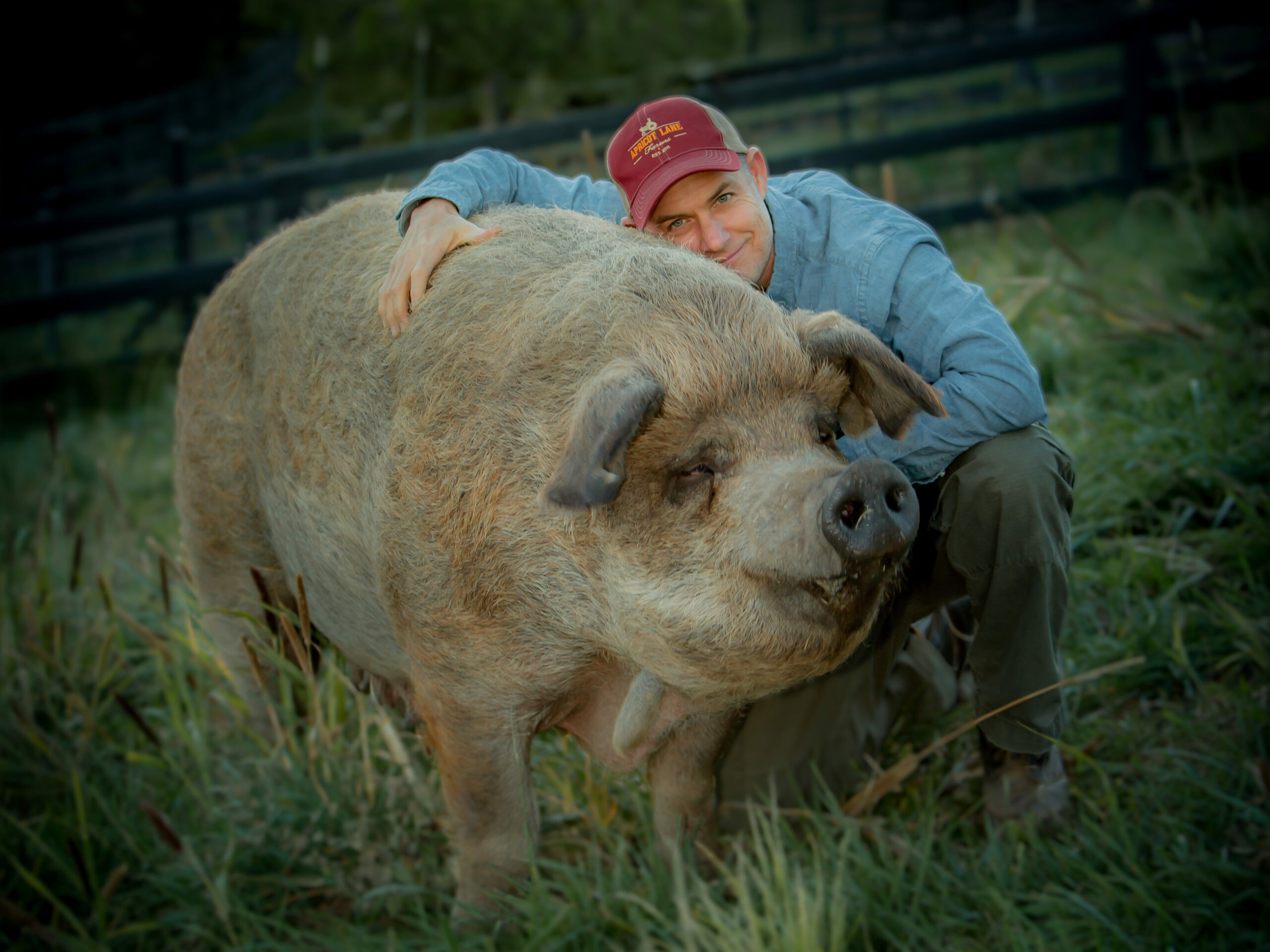 April 20, 2022
Dear friends of the farm,
I knew this day would come. Yet I never imagined it would go as it did (I thought it would be worse). However it doesn't change how heartbroken we are to share that just before the weekend, Emma the pig passed away. How? Why? That's what flooded into my head too.
As Emma aged, I feared how hard it might become to care for an older sow who may one day fall ill. I worried if I would struggle with how to help her, or worse: how to let her go. Yes, she is gone, back to the soil that breathed her into life. But the passing that broke all our hearts last week is a gift that I want to share with you. She left us with an image that has softened my sadness as if it were a wink, a nod…or maybe the grace of God.
Emma was 12 years old, a good full life for a pig. She wasn't sick, and passed with no discomfort nor struggle. It struck me how her last few nights here – specifically the one night just before she passed- her routines changed. I walked from the barn, to the house, passing Emma. It was past her normal bedtime but she pranced along the fence, calling to me. So I jumped over to spend some time with her. Maybe she knew something more, since she died that next morning, just before sunrise.
Our dear friend passed in her sleep, gently leaning against her fence, beneath her favorite tree, beside her favorite bowl, with a giant smile across her face. For a few minutes, I couldn't grasp that she was actually gone. Normally, you can take one look at a deceased animal and be certain the spark is out. But not Emma, appearing as if she had just discovered a tree of overripe apples falling to the ground, and was planning on keeping it a secret. This was the smile of an animal who felt adored by us all.
She was a gentle giant, weighing 700lbs by my estimation (I never dared to ask).. On some weekends I'd deliberately leave Emma's gate open, granting her complete run of the farm. She'd waddle over to the mulberry tree to devour every berry, then stroll to the oak to inhale all the acorns…before willingly returning to her pasture to put herself to bed. That signaled to me a content life.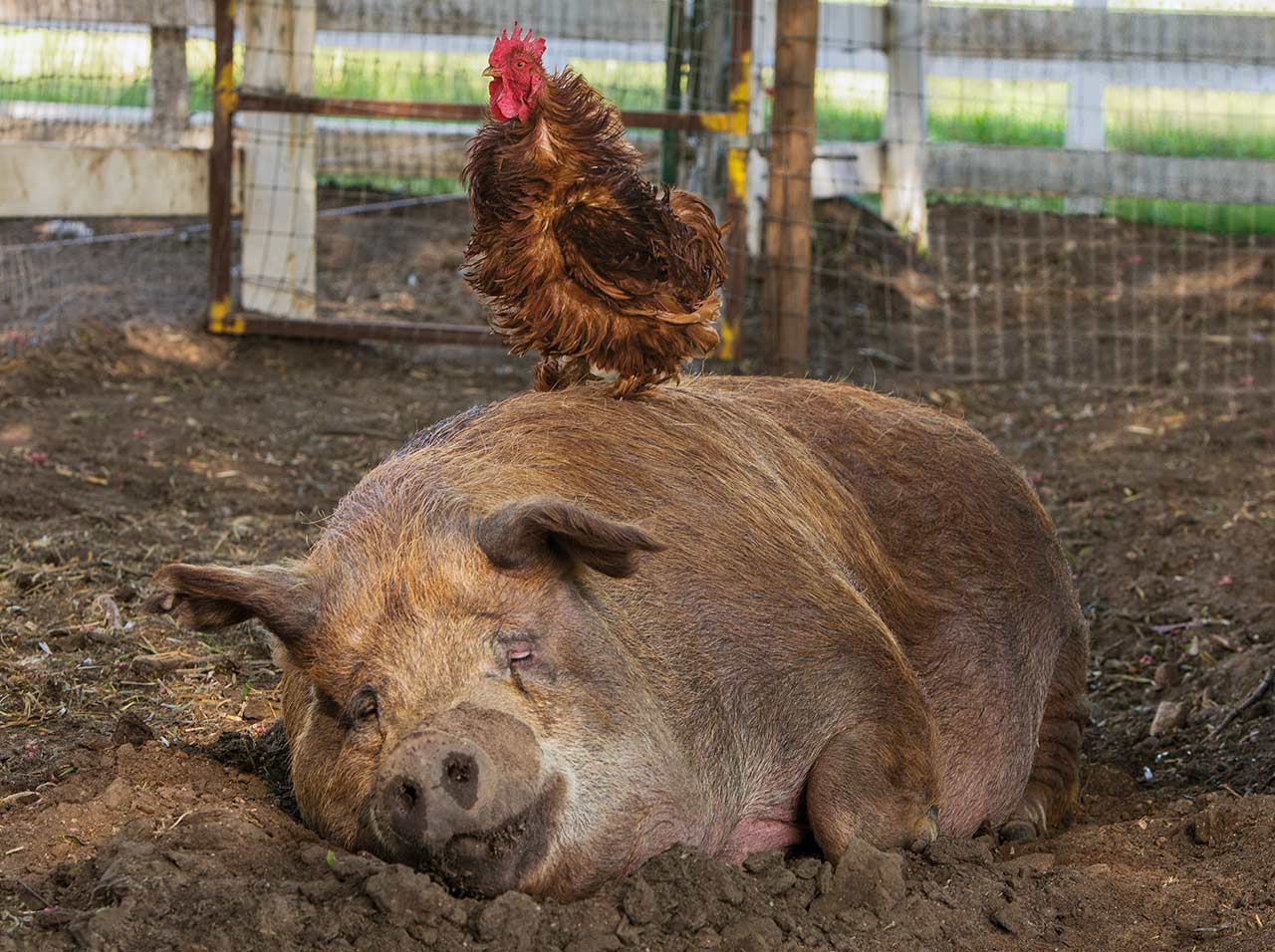 We fussed with each other over klutzy mishaps. If she stepped on my foot and I tried to push her off, she would freeze, as the bones in my toes shot searing pains to my brain. Or if she pinned me between her wiry coat and fence amidst her classic scratching session, she'd grate me until that itch was scratched, apologizing afterwards by making those deep, loving, rumbling pig sounds that thundered in my chest.
The timing of Emma's passing is especially bittersweet, as our whole team gathers on the farm this Friday to see her grace the screen again in our new Earth Day Special, "The Return". Emma was truly a magical being who will remain alive and well in the upcoming series of films I've yet to share about her, and in all of our hearts. Through the window of the barn I can see the pasture where we lowered her into the ground…. And through that portal known as soil, she will feed the trees that will grow the berries…to be gobbled by her granddaughter Bella.
So it's fair to say,
Emma the Pig… Lives.
Love,
John Molly Beaudie
& the whole ALF team