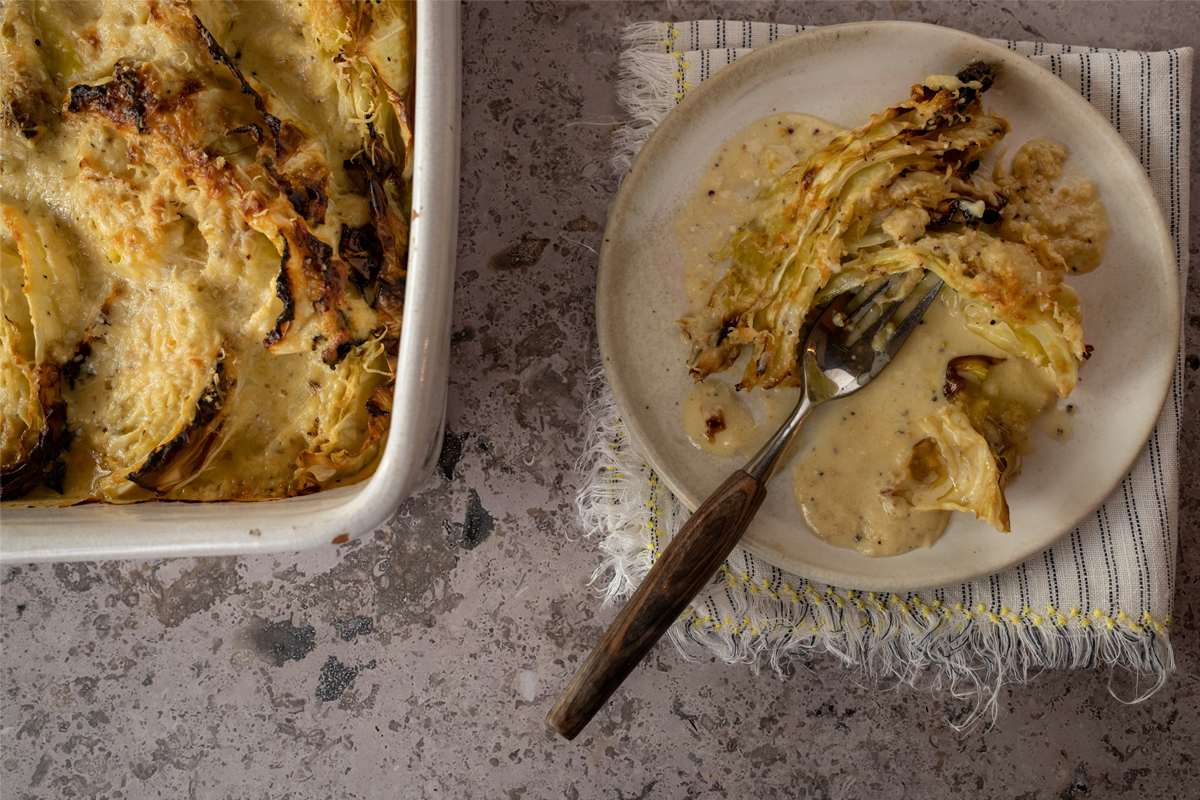 print
share with a friend
Cabbage Gratin with Horseradish Cream
Cabbage, horseradish, and mustard all belong to the Brassica family and go well together, naturally. In our Cabbage Gratin with Horseradish Cream, they come together to make an indulgent, nourishing winter veggie dish — cabbage wedges are baked with a rich cream sauce that has a delightful zing from homemade fermented mustard, horseradish and black pepper, plus a showering of parmesan.
Ingredients
One 4-pound cabbage (or two smaller cabbages of equivalent weight)

6 tablespoons cold pressed extra virgin olive oil

2 teaspoons fine sea salt

3/4 teaspoon freshly cracked black pepper

1 ½ cups heavy cream

2 tablespoons fermented mustard*

1 tablespoon prepared horseradish

1 teaspoon minced garlic (1 plump clove)

1 ½ cup finely grated Parmesan cheese
Instructions
Preheat the oven to 350F.
Quarter the cabbage and remove the inner core. Slice each quarter into thirds, resulting in 12 wedges, each about 2-inches thick.
Place the cabbage wedges on a medium size baking sheet. Drizzle with olive oil and season with 1 ½ teaspoons sea salt and ½ a teaspoon black pepper. Place the tray in the oven and roast until the cabbage softens and the outer leaves begin to turn slightly brown, about 40 minutes. Remove from the oven.
While the cabbage is roasting, prepare the horseradish cream. In a 3-quart pot, combine the heavy cream, mustard, horseradish, garlic, ½ teaspoon sea salt, ¼ teaspoon black pepper and 1 cup finely grated Parmesan. Transfer the pot to the stove and simmer over a medium heat, stirring frequently, until the cheese has melted and the cream is thickened to the point that it coats the back of a spoon, about 5 minutes. Set the cream aside.
When the cabbage is done cooking and cool enough to handle, gently transfer the wedges to a 9x12-inch baking dish. Pour the cream over the cabbage to evenly cover the surface. Top with the remaining ½ cup of grated Parmesan cheese and bake until it is golden brown and bubbling, about 15-20 minutes.
Serve Immediately.
Notes
*We use our homemade fermented mustard in this gratin. The recipe can be found in the Apricot Lane Farms Cookbook, 2022. A store bought whole grain mustard can be substituted in its place.
---
https://www.apricotlanefarms.com/recipe/cabbage-gratin-with-horseradish-cream/
Copyright © 2023 Apricot Lane Farms. All rights reserved.