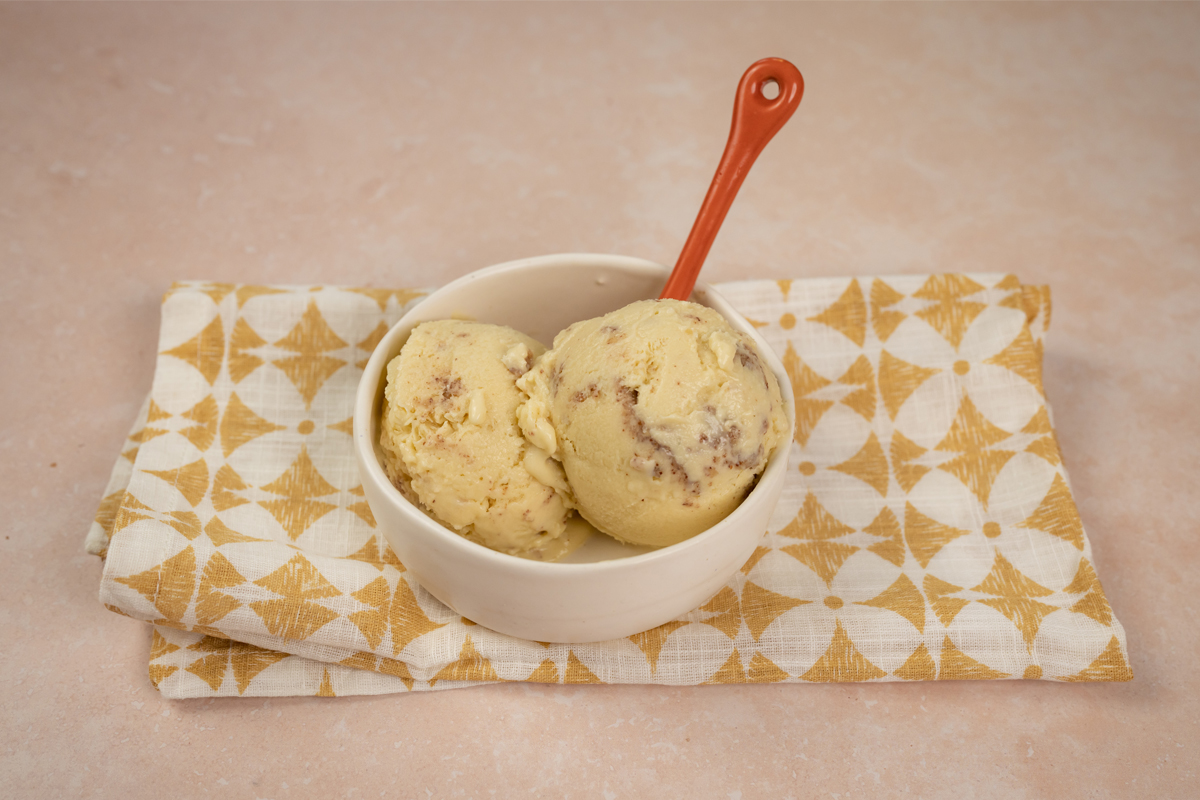 print
share with a friend
Cherimoya and Almond Butter Swirl Ice Cream
Cherimoya is an unusual green fruit with a custard-like interior. Though you'll detect hints of banana, pineapple, and even kiwi, its flavor is truly like nothing else. Given its luscious texture, we had a suspicion it would make an awesome ice cream, and it turns out that we were right! The almond butter swirl adds a nice crunchy texture to the creamy base. If you prefer a more uniform distribution of crunchy bits, simply blend the ice cream a little longer after adding the nut butter.
Ingredients
2 pounds ripe cherimoya (about 4 medium cherimoya)

3 tablespoons lime juice (about 2 medium limes)

1 13.5-ounce can full fat coconut milk

3 medium egg yolks

¼ cup plus 3 tablespoons raw honey

¼ cup raw almond butter

1 tablespoon melted virgin coconut oil

1/8 teaspoon fine sea salt
Instructions
Cut the cherimoyas in half and, using a small spoon, scoop the flesh into a medium bowl. Using clean hands, remove all the seeds from the fruit and discard them. Transfer the fruit to a fine mesh strainer and let some of the juices drain; discard the juice. Measure out 2 packed cups of cherimoya and transfer it to a blender.
To the blender, add the lime juice, coconut milk, egg yolks, and ¼ cup plus 2 tablespoons of the honey. Blend on high speed until smooth and creamy, 1 minute.
Pour the custard into the frozen bowl of a 2-quart ice cream maker and process according to the manufacturer's directions, or until it resembles a thick milkshake, 25 to 30 minutes.
Meanwhile, place the remaining 1 tablespoon honey in a small bowl. Add the almond butter, coconut oil, and salt. Stir until well incorporated.
During the last minute of processing, spoon the almond butter mixture into the ice cream and allow it to churn to your desired liking. Churning for a minute or more will result in a more uniform ice cream with a slight crunch, whereas churning 15 to 30 seconds will yield a chunkier effect with ribbons of almond butter swirled throughout.
Turn off the ice cream maker and transfer the contents to an 8x10-inch glass casserole dish. Cover and freeze until hard, 2 to 3 hours.
When ready to serve, remove the ice cream from the freezer and let it soften at room temperature for 5 to 10 minutes before scooping.
---
https://www.apricotlanefarms.com/recipe/cherimoya-and-almond-butter-swirl-ice-cream/
Copyright © 2023 Apricot Lane Farms. All rights reserved.