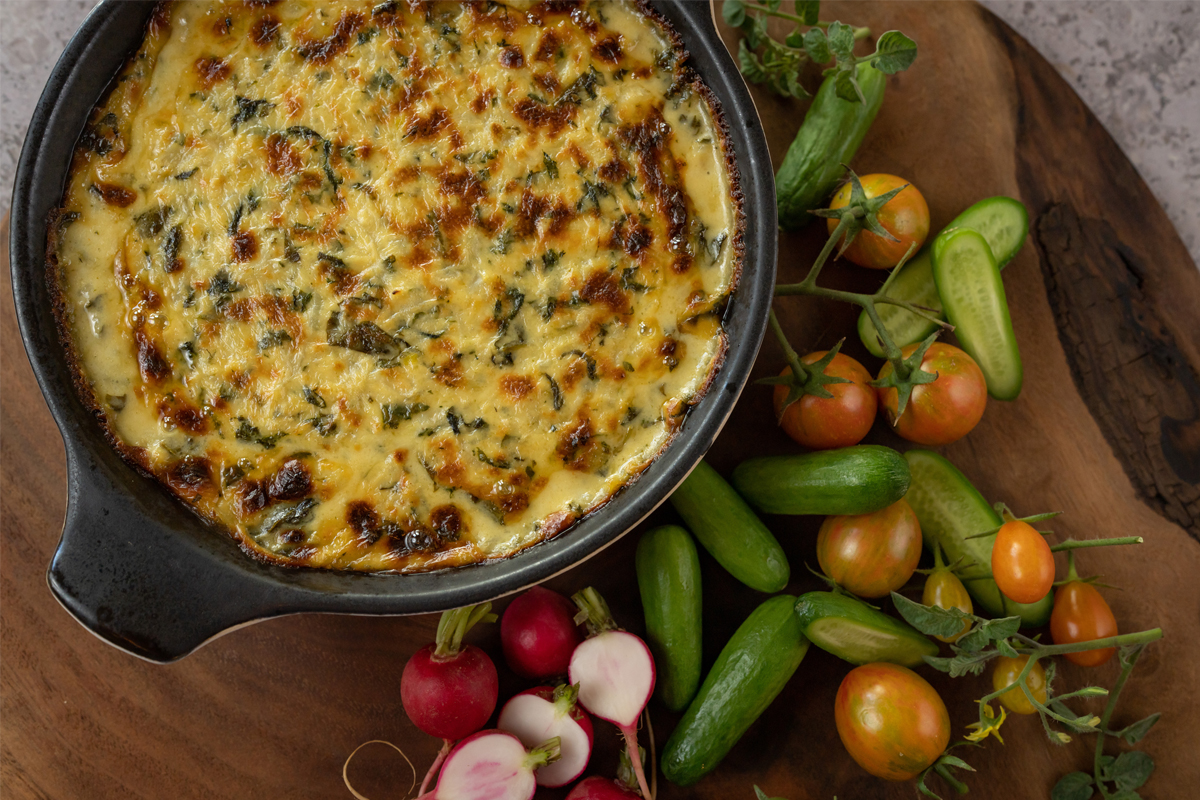 print
share with a friend
Creamy Fennel, Spinach, and Sorrel Dip
We love a classic warm, creamy spinach and artichoke dip, but when the garden is brimming with sorrel and fennel, we like to riff on the traditional recipe by swapping in fennel for the artichokes and lemony sorrel for some of the spinach. This dip is rich and indulgent. It's nice to pair it with sliced fresh vegetables to cut the decadence, as well as your favorite chips and crackers. Or you can hollow out the center of a sourdough loaf, fill it with the dip, and cut the remaining bread into cubes to serve on the side for dipping.
Ingredients
1 ounce unsalted butter

¼ cup extra-virgin olive oil

4 cups thinly sliced fennel, inner core removed (about 5 medium bulbs)

¾ cup small diced yellow onion (½ medium onion)

1 tablespoon minced garlic (3 large cloves)

2 teaspoon fine sea salt

1 teaspoon onion powder

1 teaspoon garlic powder

1 cup plus 3 tablespoons chicken stock

4 ½ teaspoons arrowroot powder

1 cup raw heavy cream

1 ½ cups shredded raw jack cheese (about 4.5 ounces)

4 cups chopped spinach

½ cup chopped sorrel

1 teaspoon hot sauce

¾ cup sour cream
Instructions
Preheat the oven to 375°F and position a rack in the middle.
Heat the butter and olive oil in a 6-quart Dutch oven over medium-high heat. Add the fennel, onion, garlic, salt, onion powder, and garlic powder. Cook, stirring frequently, until the vegetables begin to soften, 8 to 10 minutes. Add 1 cup of the chicken stock and bring to a simmer. Then reduce the heat to low.
In a small bowl, combine the remaining 3 tablespoons chicken stock with the arrowroot powder. Stir until no clumps remain. Slowly pour the arrowroot mixture into the simmering stock mixture and cook, stirring constantly, until it begins to thicken, about 2 minutes. Add the heavy cream and jack cheese. Stir until the cheese melts, about 1 minute. Add the spinach and sorrel and stir until they wilt, about 1 minute. Turn off the heat and stir in the hot sauce and sour cream. Stir until creamy and well combined. Transfer the dip to a 7.5 x 9.5- inch casserole dish.
Bake until golden brown and bubbly on top, 10 to 15 minutes. Remove from the oven and let cool for about 10 minutes. As it cools, it will thicken slightly. Serve warm.
---
https://www.apricotlanefarms.com/recipe/creamy-fennel-spinach-and-sorrel-dip/
Copyright © 2023 Apricot Lane Farms. All rights reserved.