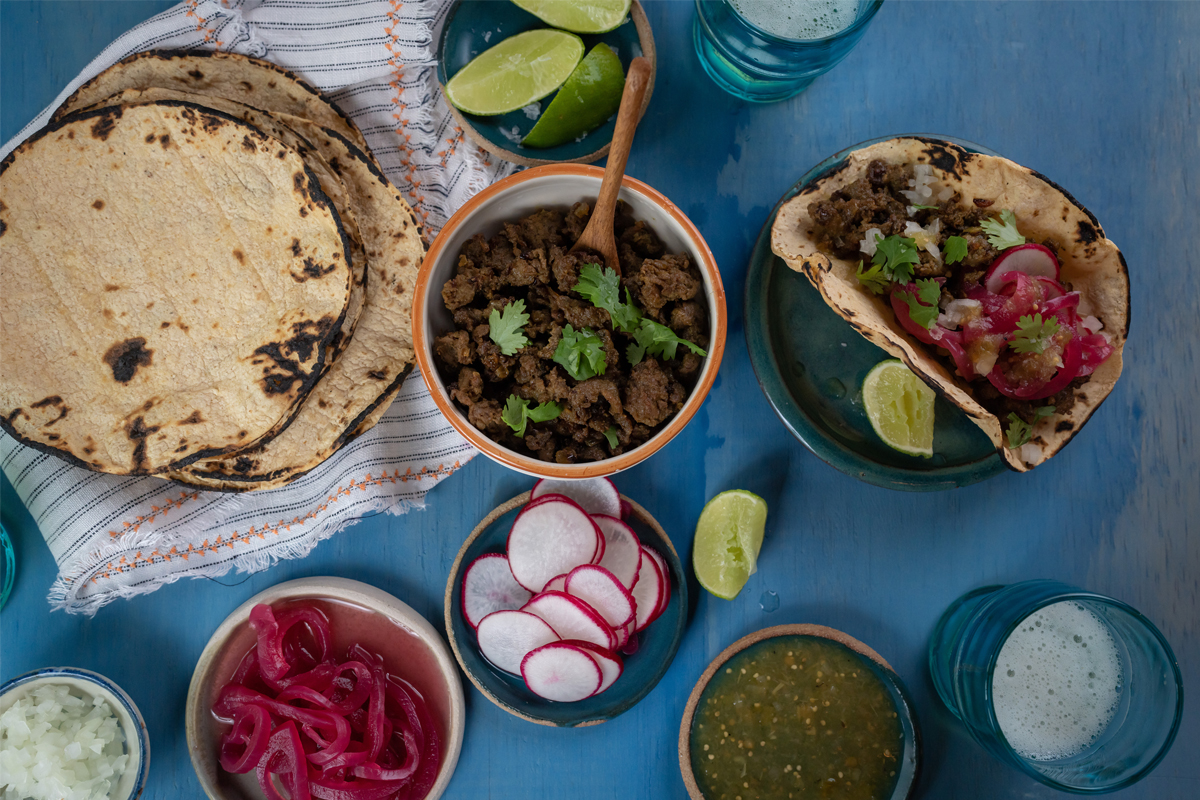 print
share with a friend
Lamb Korma Tacos
At the farm, we often find ourselves with a good inventory of ground lamb, which isn't everyone's favorite since it's pretty gamey. While searching for cooking inspiration, we came across lamb korma, a traditional Indian dish made with lamb shoulder that's marinated in yogurt and spices before being simmered in a cashew paste to create a wonderful stew. We used that dish as a jumping off point for this one, and now we have a real crowd pleaser. Here, we marinate ground lamb in coconut milk rather than yogurt to accommodate those with dairy sensitivities, and we opt for cashew butter since soaking and pureeing cashews to make a paste can be time consuming. We love to serve it rolled up in a warm tortilla or flatbread and garnished with minced onion, cilantro, sliced radish, and a squeeze of fresh lime juice.
Ingredients
LAMB KORMA

1 pound ground lamb

1 cup full-fat coconut milk

1 tablespoon garam masala

¾ teaspoon ground cinnamon

½ teaspoon sweet paprika

½ teaspoon ground cardamom

½ teaspoon ground turmeric

1 tablespoon minced fresh ginger (about a 1x 1 1/2–inch knob)

1 tablespoon minced garlic (3 large cloves)

2 teaspoons fine sea salt

½ teaspoon freshly ground black peppercorns

½ tablespoon ghee or unrefined avocado oil

1 cup finely chopped yellow onion (1 medium onion)

¼ cup raw cashew butter

TO SERVE

8 to 10 warm corn tortillas

2 limes, cut into wedges

4 radishes, very thinly sliced

¼ cup finely chopped yellow onion (1/4 medium onion)

¼ cup chopped fresh cilantro
Instructions
In a medium bowl, combine the lamb, coconut milk, garam masala, cinnamon, paprika, cardamom, turmeric, ginger, garlic, salt, and pepper. Stir with a spoon until well mixed. Cover and refrigerate for at least 1 hour or overnight.
Melt the ghee in a 6-quart Dutch oven over medium-high heat. Add the onion and cook, stirring occasionally, until the onion begins to soften, about 2 minutes. Add the marinated meat. Cook, stirring with a spoon, until the meat is browned and crumbled, 5-7 minutes. Add the cashew butter and cook, stirring occasionally, until the meat is cooked through and the cashew butter is fully incorporated, 6 to 7 minutes.
Set a fine mesh strainer in a medium bowl. Pour the cooked meat into the strainer and let some of the fat drain into the bowl. Transfer the meat to a serving bowl or platter.
Serve the lamb family style, with the warm tortillas, limes wedges, sliced radish, minced onion, and chopped cilantro alongside.
---
https://www.apricotlanefarms.com/recipe/lamb-korma-tacos/
Copyright © 2023 Apricot Lane Farms. All rights reserved.