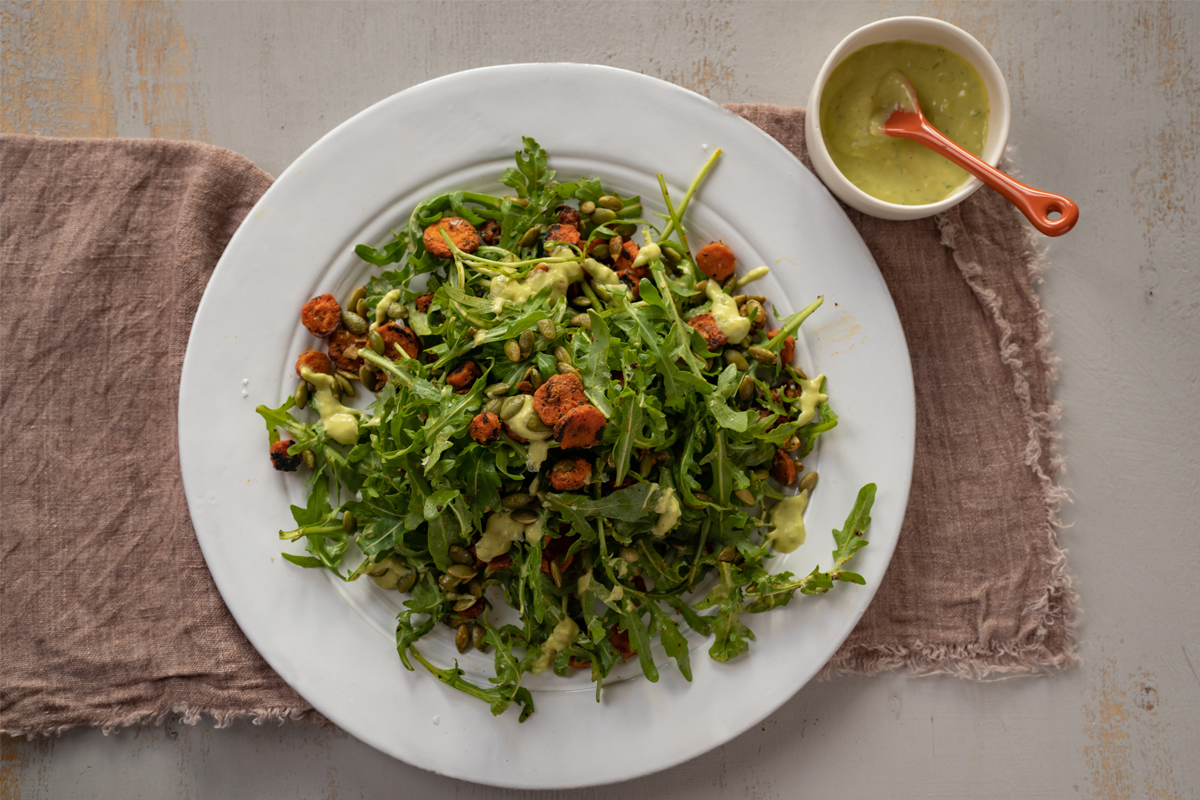 print
share with a friend
Blackened Carrot and Arugula Salad with Avocado Ranch Dressing
We love to coat our mild but sweet Nantes carrots in Cajun seasoning and roast them to a crisp in the oven. They are delicious as a side dish, but they also make an amazing addition to a salad. In this rendition, we blend up a decadent dairy-free avocado ranch sauce with cashew butter and lime juice. A portion of this thick and creamy sauce is spread underneath the salad, and we thin out some more of it with lime juice and olive oil and toss it with the arugula as a light dressing. You will likely have leftovers of the ranch sauce; try using it as a dip, a sandwich spread, or a topping for tacos. It won't last long!
Ingredients
CARROTS

2 pounds carrots, peeled and sliced into 1/8-inch-thick rounds (16 medium carrots)

3 tablespoons cold-pressed extra-virgin olive oil

2 teaspoons sweet paprika

1 ½ teaspoon fine sea salt

1 ½ teaspoons garlic powder

1 ½ teaspoons freshly ground black peppercorns

¾ teaspoon onion powder

¾ teaspoon dried oregano

¾ teaspoon dried thyme

¼ teaspoon cayenne pepper

SALAD

5 ounces baby arugula (about 8 cups)

½ cup toasted pumpkin seeds

¼ cup plus 2 tablespoons Avocado Ranch Dressing (recipe follows)

2 tablespoons cold-pressed extra-virgin olive oil

2 tablespoons fresh lime juice (about 1 lime)

¼ teaspoon fine sea salt

AVOCADO RANCH DRESSING

1 cup chopped avocado (1 medium avocado)

¼ cup minced shallot (1 small shallot)

¼ cup raw cashew butter

¼ cup plus 1 tablespoon filtered water

¼ cup fresh lime juice (about 2 medium limes)

½ teaspoon onion powder

¼ teaspoon garlic powder

½ teaspoon fine sea salt

¼ teaspoon dried dill or 1 teaspoon fresh dill

1 tablespoon thinly sliced chives (about 8 chives)
Instructions
CARROTS — Preheat the oven to 375°F and position a rack in the middle.
Place the carrots in a medium bowl and drizzle with the olive oil. Sprinkle with the paprika, salt, garlic powder, pepper, onion powder, oregano, thyme, and cayenne pepper and toss well. Spread the carrots out on a large baking sheet. Roast, stirring halfway through, until the carrots begin to caramelize and turn slightly brown, 20 minutes. Remove the baking sheet from the oven.
Preheat the broiler to high. Place an oven rack about 11 inches from the broiler.
Return the baking sheet to the oven and broil for 2-3 minutes. Stir the carrots and broil until the carrots are crispy and golden brown, 2-3 minutes. Let cool to room temperature.
SALAD — Assemble the salad: Place the arugula, pumpkin seeds, and cooled carrot coins in a large bowl.
In a small bowl, combine 2 tablespoons of the avocado ranch with the olive oil, lime juice, and salt. Stir well. Pour the dressing over the salad and toss to coat evenly.
Spread the remaining ¼ cup avocado ranch into the bottom of a large serving platter. Pile the salad on top and serve immediately.
AVOCADO RANCH DRESSING — In the bowl of a food processor, combine the avocado, shallot, cashew butter, water, lime juice, onion powder, garlic powder, and salt. Process until a smooth and creamy dressing forms. Transfer the dressing to a small bowl. Fold in the dill and chives. The dressing will keep in an airtight container in the refrigerator for up to 1 week.
---
https://www.apricotlanefarms.com/recipe/blackened-carrot-and-arugula-salad-with-avocado-ranch-dressing/
Copyright © 2023 Apricot Lane Farms. All rights reserved.