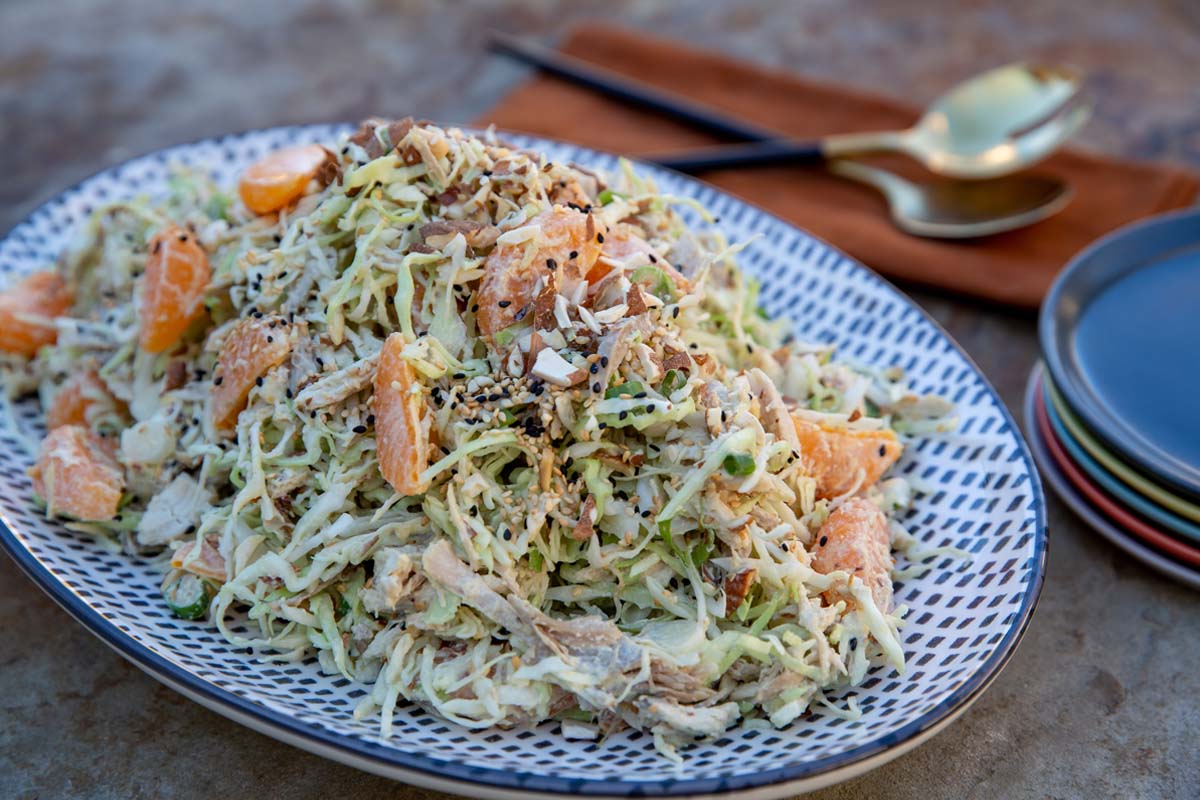 print
share with a friend
Chicken-Cabbage Salad with Satsuma Mandarins and Sesame Dressing
This salad is the convergence of so many of the great things that can be found on our winter market tables. Crunchy green cabbage, juicy mandarins and flavorful green onions are the perfect backdrop for a gingery sesame tahini dressing. This is a great way to utilize leftover roasted or boiled chicken.
Ingredients
DRESSING

2 teaspoons minced ginger (about a 1 ½-inch knob)

2 teaspoons minced garlic (2 large cloves)

¼ cup tahini paste

¼ cup rice wine vinegar

2 teaspoons coconut aminos

1/8 cup lime juice (juice of 2 medium limes)

1 teaspoon raw honey

1/8 cup unrefined avocado oil

SALAD

6 cups finely shredded green cabbage (about ½ a medium cabbage)

2 cups finely shredded cooked chicken

3 medium Satsuma mandarin oranges, peeled, pith removed and segmented

¾ cup thinly sliced green onion (white and green parts) (about 1 bunch)

1 cup chopped almonds

1 tablespoon toasted white sesame seeds

1 tablespoon toasted black sesame seeds

1 ½-2 teaspoons fine sea salt (to taste)
Instructions
MAKE THE DRESSING — In the bowl of a food processor or blender, combine the ginger, garlic, tahini, rice wine vinegar, coconut aminos, lime juice and honey. Pulse the mixture several times until incorporated. With the machine running, slowly stream in the avocado oil to emulsify. Turn off the machine and set aside.
MAKE THE SALAD — In a large mixing bowl, combine the cabbage, cooked chicken, mandarin oranges, green onion, almonds and white and black sesame seeds. Pour the dressing over the mixture and toss evenly to coat. Taste the salad and add additional salt, as desired. Serve immediately.
---
https://www.apricotlanefarms.com/recipe/chicken-cabbage-salad-with-satsuma-mandarins-and-sesame-dressing/
Copyright © 2023 Apricot Lane Farms. All rights reserved.