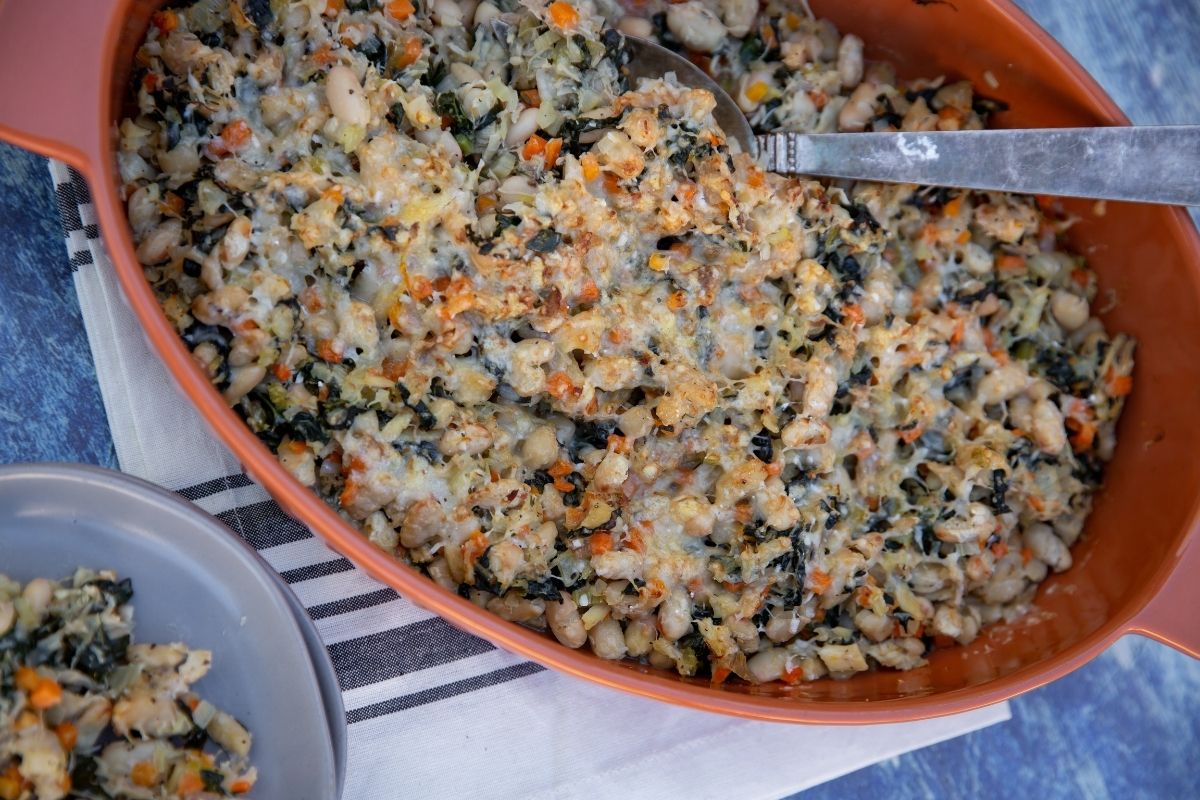 print
share with a friend
Chicken, White Bean and Kale Casserole
This hearty casserole is reminiscent of chicken and dumplings and is a satisfying meal when served alongside a simple green salad. Feel free to mix up the veggies, experiment with different beans, or omit the cheese topping for dairy-free eaters. You can make it in advance: simply transfer the chicken mixture to your baking dish, cover it, and refrigerate for up to 3 days. When ready to serve, stir in an additional ½ cup of chicken stock, cover, and reheat in a 350°F oven for 15 to 20 minutes until heated through. Then proceed with adding the cheese and broiling the casserole.
Ingredients
2 tablespoons cold-pressed extra-virgin olive oil

1 cup finely chopped carrot (2 medium carrots)

1 cup finely chopped fennel (½ large fennel bulb)

¾ cups finely chopped yellow onion (½ medium onion)

½ cup finely chopped celery (2 celery stalks)

2 teaspoons minced garlic (2 large cloves)

2 cups chicken stock

3 cups small-diced cooked chicken

2 packed cups finely chopped kale, stems removed (1/2 bunch)

2 cups cooked white beans

1 teaspoon dried thyme

2 teaspoons fine sea salt

½ teaspoon freshly cracked black peppercorns

1 teaspoon lemon zest (1 medium lemon)

1 tablespoon fresh lemon juice (about ½ lemon)

¾ cup finely shredded Parmigiano-Reggiano cheese (about 2 ounces)
Instructions
Preheat the broiler on high and position a rack about 11-inches from the broiler.
Heat the olive oil in a 6-quart Dutch oven over medium-high heat. Add the carrot, fennel, onion, celery, and garlic. Cook, stirring frequently, until the vegetables soften and release some of their liquid, 7 to 10 minutes. Add the stock, chicken, kale, white beans, thyme, salt, and pepper. Simmer until the kale softens and some of the liquid is absorbed, about 5-8 minutes.
Transfer the chicken mixture to a 9 x 12-inch baking dish. Sprinkle the Parmigiano-Reggiano evenly over the top. Place the dish in the oven and broil until the cheese is melted and golden brown, 4 to 5 minutes.
---
https://www.apricotlanefarms.com/recipe/chicken-white-bean-and-kale-casserole/
Copyright © 2023 Apricot Lane Farms. All rights reserved.