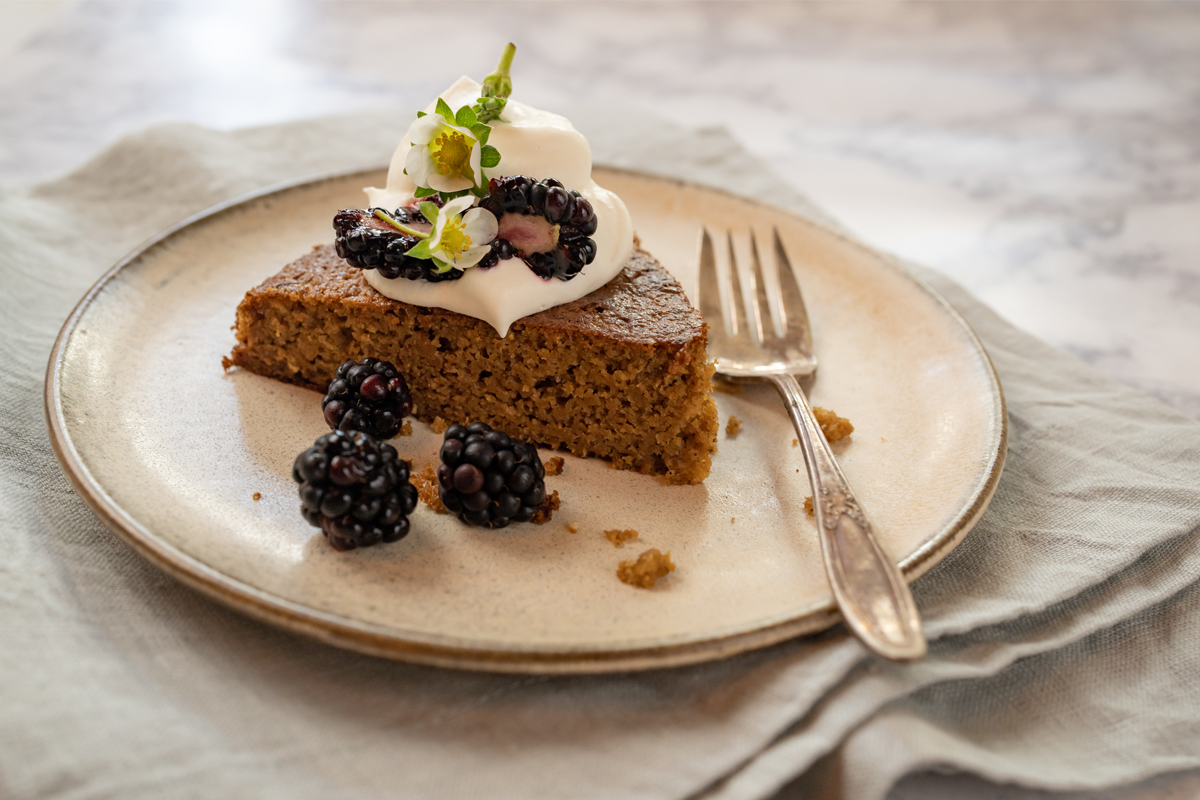 print
share with a friend
Ginger and Black Pepper Cauliflower Cake
This subtly spicy dessert is a play on the basic principles of a classic carrot cake using cauliflower and more unusual spices. The result is a wonderfully moist cake that holds up well even days after baking. Pair it with fresh whipped cream or vanilla ice cream for an after dinner treat, or eat a slice for breakfast the next day–it's healthy enough! It goes so well with a hot cup of tea or coffee.
Ingredients
¼ medium cauliflower, leaves and core removed (about 4 ounces)

¾ cup einkorn flour

½ cup plus 2 tablespoons coconut sugar

½ cup unrefined avocado oil

¼ cup whole milk (or substitute non-dairy)

¼ cup fresh orange juice (about 1 medium orange)

1 teaspoon orange zest (1/2 medium orange)

2 medium eggs

1 teaspoon baking soda

1 tablespoon ground ginger

1 tablespoon ground cardamom

½ teaspoon fine sea salt

¾ teaspoon freshly cracked black peppercorns
Instructions
Preheat the oven to 350°F and position a rack in the middle.
Line an 8-inch round cake pan with parchment paper: Place the pan on top of a piece of parchment paper, and trace the bottom of the pan to create a circle pattern. Cut out the circle and place it inside the bottom of the cake pan. Cut out 2 more 8 x 2-inch strips of parchment paper and run them along the inner wall of the pan.
Using the small holes of a box grater, grate the cauliflower. You should end up with about 1 packed cup of finely grated cauliflower. Transfer to a medium bowl. Add the einkorn flour, coconut sugar, avocado oil, milk, orange juice, orange zest, eggs, baking soda, ginger, cardamom, salt, and pepper. Mix well using a rubber spatula. Pour the batter into the prepared cake pan and evenly smooth the top.
Place the pan in the oven and bake, rotating the pan halfway through, until a toothpick or knife inserted into the center comes out clean and the cake is golden brown, 20 to 30 minutes.
Remove the pan from the oven and remove the side strips of parchment paper. Let the cake cool for 10 minutes before inverting it onto a plate or cake stand. Serve the cake at room temperature. The cake will keep well- wrapped in the refrigerator for up to 5 days.
---
https://www.apricotlanefarms.com/recipe/ginger-and-black-pepper-cauliflower-cake/
Copyright © 2023 Apricot Lane Farms. All rights reserved.