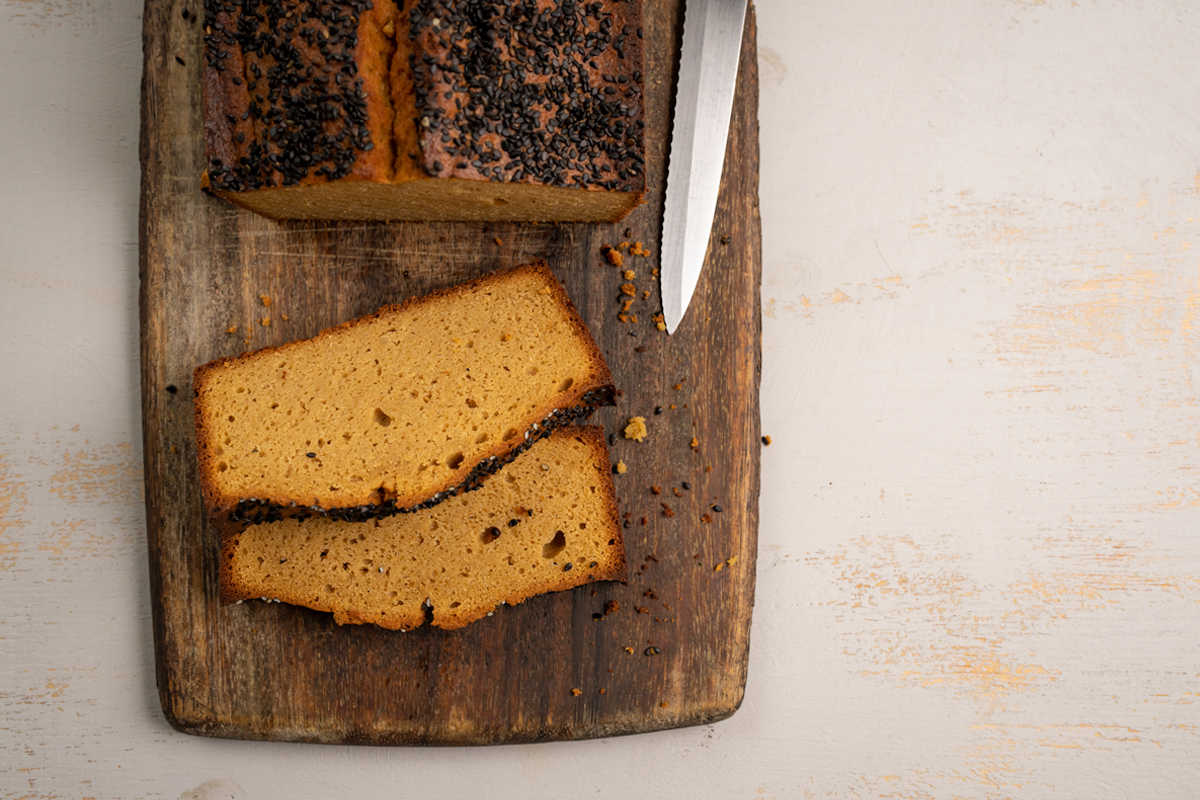 print
share with a friend
Lemon-Black Sesame Loaf Cake
This lovely grain-free cake works well with Lisbon or Meyer lemons, depending on what you have available. We love the tang that sour cream adds to it, but if you are dairy free, coconut yogurt will work very well in its place. Enjoy it toasted and slathered with butter for breakfast, or topped with homemade whipped cream and fresh berries for dessert.
Ingredients
½ cup plus 1 tablespoon melted virgin coconut oil

½ cup sour cream or coconut yogurt

1 cup coconut sugar

1 tablespoon lemon zest (2 medium lemons)

¼ cup fresh lemon juice (2 medium lemons)

2 teaspoons vanilla extract

5 medium eggs, at room temperature

3 cups blanched almond flour

¾ cup cassava flour

1 teaspoon baking powder

½ teaspoon baking soda

¼ teaspoon fine sea salt

1 ½ tablespoons black sesame seeds
Instructions
Preheat the oven to 325°F and position a rack in the middle. Grease a 5 x 10-inch loaf pan with 1 tablespoon of the coconut oil.
In the bowl of a stand mixer fitted with the whisk attachment, combine the remaining ½ cup coconut oil, the sour cream, and coconut sugar. Beat on medium speed until smooth and creamy, about 2 minutes. Add the lemon zest, lemon juice, and vanilla extract and beat on medium speed until incorporated. Reduce the speed to low and add the eggs one at a time, incorporating each fully. Next, add the almond flour, cassava flour, baking powder, baking soda, and salt. Gradually increase the mixer speed to high and beat until the batter is smooth, about 1 minute. Scoop the batter into the prepared pan and smooth the top. Sprinkle the sesame seeds evenly over the top of the cake.
Place the pan in the center of the middle rack. Bake, rotating the pan halfway through, until the top is golden brown and a toothpick inserted into the center comes out clean, 50 to 60 minutes.
Remove the cake from the oven and allow it to cool for 15-20 minutes before inverting it onto a cutting board. Slice the cake in even pieces and serve. Alternately, once fully cooled, the cake can be tightly wrapped in beeswax cloth or plastic wrap and stored at room temperature for up to 2 days or in the refrigerator for up to 5 days.
---
https://www.apricotlanefarms.com/recipe/lemon-black-sesame-loaf-cake/
Copyright © 2023 Apricot Lane Farms. All rights reserved.