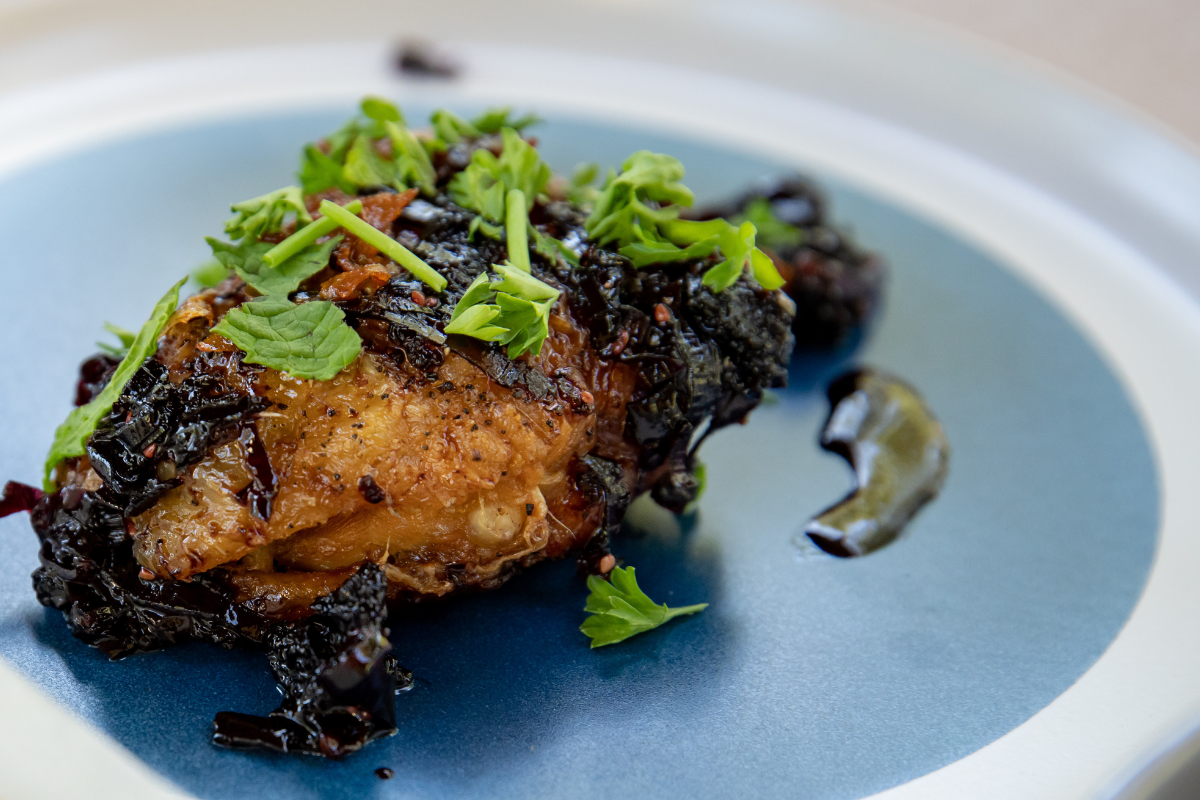 print
share with a friend
Mulberry and Leek Chicken
This sticky, sweet chicken is a favorite of ours during the month of May when the mulberry trees are laden with fruit and beautiful leeks are coming out of the garden. Essentially, we make a savory-tangy jam and then use it to coat perfectly crisp roasted chicken thighs. Topped with a sprinkling of fresh herbs, it is simple and delicious served over a bed of steamed rice or creamy mashed potatoes.
Ingredients
4 bone-in, skin-on chicken thighs (about 2 pounds)

3 teaspoon fine sea salt

1 ½ teaspoon freshly ground black peppercorns

2 tablespoons extra-virgin olive oil

2 cups thinly sliced leeks, white and light green parts only ( 4 to 6 small leeks)

½ teaspoon gochugaru or crushed red chili flakes

12 ounces mulberries, stems removed (about 2 cups)

3 tablespoons apple cider vinegar

½ cup raw honey

2 tablespoons torn fresh mint leaves

1 tablespoon roughly chopped fresh parsley leaves

1 tablespoon thinly sliced chives
Instructions
Preheat the oven to 300°F and position a rack in the middle. Line a baking sheet with parchment paper.
Put the chicken on the prepared baking sheet. Season both sides with 1 ½ teaspoons of the salt and 1 teaspoon of the black pepper. Roast until the skins are deep golden brown and nicely crisp, 2 to 2 ½ hours.
Meanwhile, heat the olive oil in a medium saucepan over medium-high heat. Add the leeks, remaining 1 ½ teaspoons salt, remaining ½ teaspoon black pepper, and gochugaru. Cook, stirring, until the leeks begin to wilt and turn slightly brown, about 5 minutes. Add the mulberries, apple cider vinegar, and honey. Reduce the heat to low and cook, stirring and mashing the mulberries occasionally, until the mulberries break down and the mixture thickens, about 20 minutes. Set aside.
When the chicken is done, remove the baking sheet from the oven. Spoon the mulberry sauce evenly over the chicken thighs, and return the baking sheet to the oven. Roast until the sauce sticks to the chicken, about 10 minutes.
Transfer the chicken and any additional sauce to a serving plate. Garnish with the mint, parsley, and chives. Serve immediately.
---
https://www.apricotlanefarms.com/recipe/mulberry-and-leek-chicken/
Copyright © 2023 Apricot Lane Farms. All rights reserved.