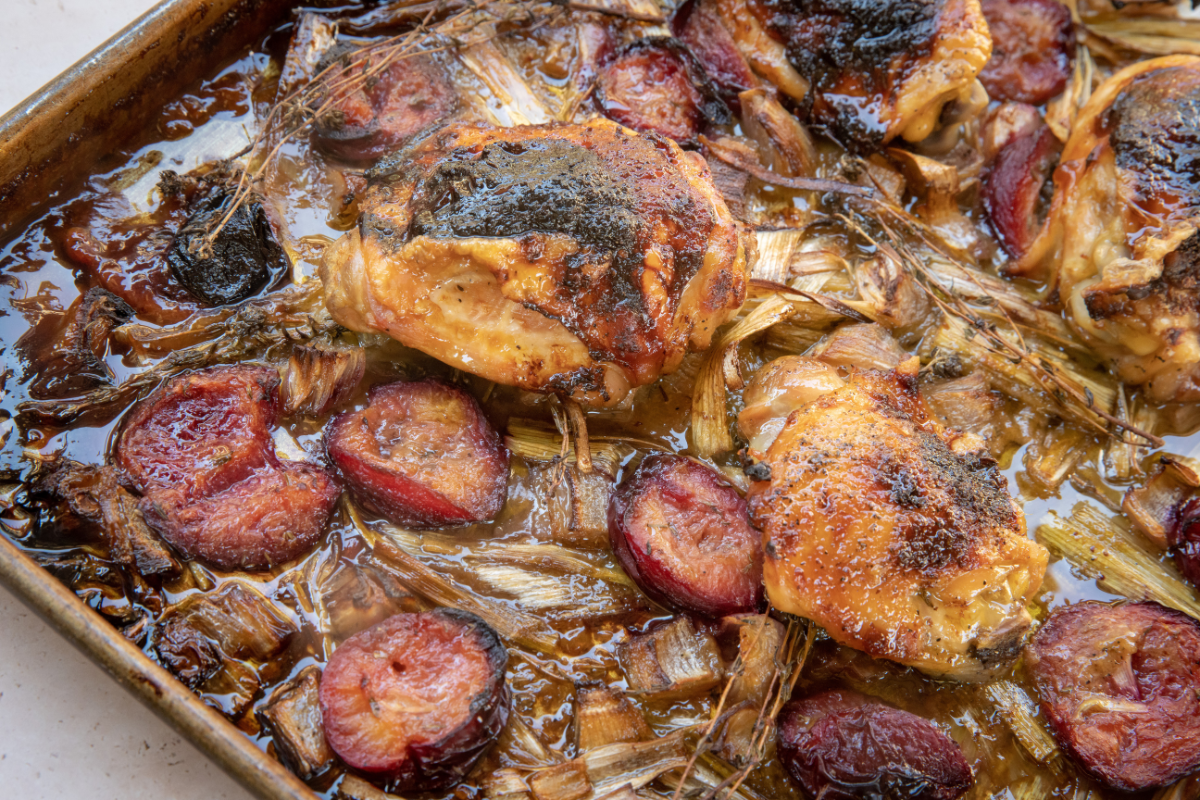 print
share with a friend
Roasted Chicken Thighs with Plums & Vinegar
We grow a variety of different plums at the farm, and we found that we enjoy the sweet and tart complexity of the Beauty plum in this recipe. It roasts very nicely, releasing juices that meld with the sherry vinegar based dressing that gets drizzled over the chicken as it roasts. If you prefer a little less tartness, try Burgundy or Mirabelle plums instead.
Ingredients
1 pound plums, halved and pitted (about 12 small plums)

3 medium leeks, halved lengthwise and cut into 2-inch pieces

3 medium shallots, roughly chopped

8 sprigs fresh thyme

½ cup cold-pressed extra-virgin olive oil

¼ cup sherry vinegar

2 tablespoons raw honey

1 tablespoon fermented mustard or whole grain mustard

2 teaspoons fine sea salt

4 bone-in, skin-on chicken thighs (about 2 pounds)

½ teaspoon freshly ground black peppercorns
Instructions
Preheat the oven to 325°F and position a rack in the middle.
Spread out the plums, leeks, and shallots on a medium baking sheet. Scatter the thyme sprigs over the top.
In a small bowl, combine the olive oil, vinegar, honey, mustard, and ½ teaspoon of the salt. Whisk until incorporated. Drizzle half of the dressing over the plum mixture and toss to coat.
Lay the chicken thighs on top of the plum mixture. Season the chicken with the remaining 1 ½ teaspoons salt and the pepper. Pour the remaining dressing over the chicken.
Roast for 40 minutes. Remove the baking sheet from the oven and use a spoon to drizzle the pan drippings over the chicken thighs. Rotate the pan and return it to the oven. Roast until the chicken is golden brown and cooked through, about 20 minutes more.
Remove the baking sheet from the oven. Transfer the chicken to a plate, and discard the thyme sprigs. Spoon the roasted plums, leeks, and shallots onto a serving platter, and pour the pan juices over everything. Place the chicken thighs on top and serve immediately.
---
https://www.apricotlanefarms.com/recipe/roasted-chicken-thighs-with-plums-vinegar/
Copyright © 2023 Apricot Lane Farms. All rights reserved.