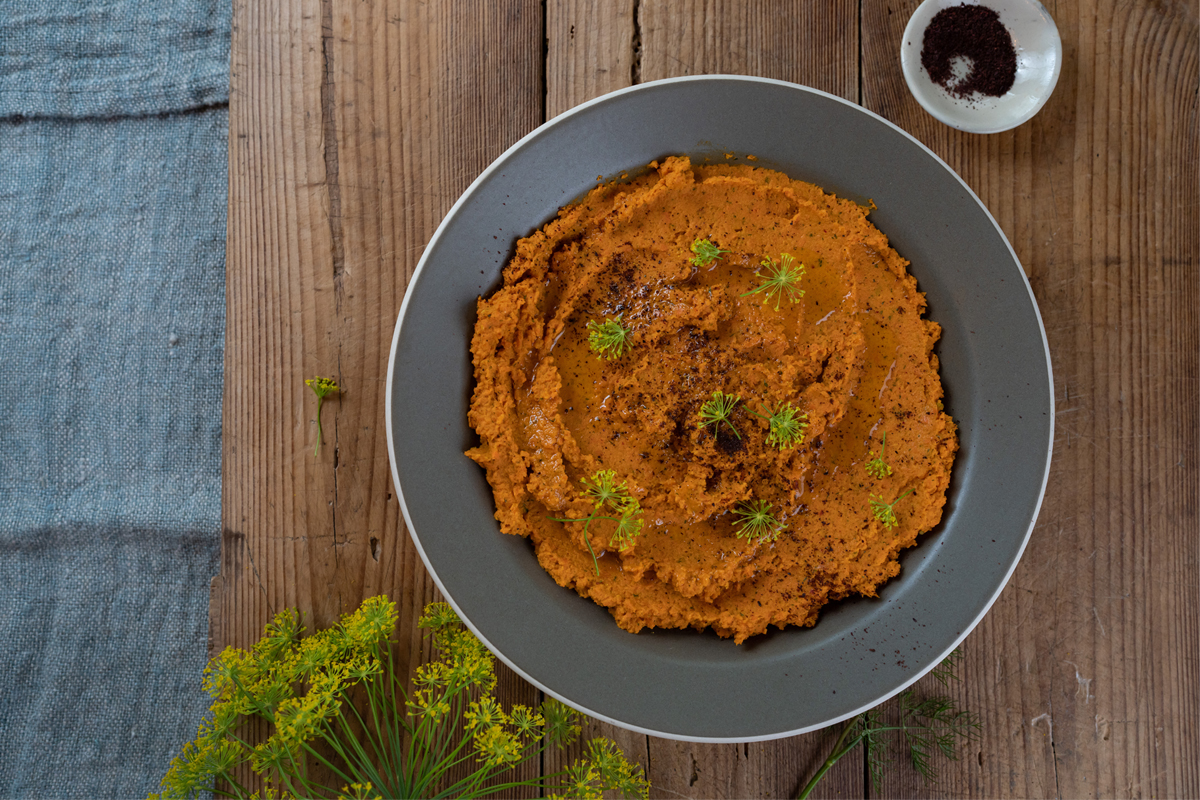 print
share with a friend
Roasted Nantes Carrot Puree with Tahini & Dill
This whipped puree stands in nicely for mashed potatoes, but it also makes a great dip or sandwich spread. We love roasting up some of our small Nantes carrots for this recipe, but regular carrots work as well–simply cut them into 2-inch pieces. You may need to adjust the cooking time, too; the carrots should be soft and slightly caramelized when they come out of the oven.
Ingredients
2 pounds Nantes carrots, uniform in size and stems removed (about 30 small carrots)

4 tablespoons cold-pressed extra-virgin olive oil

1 ½ teaspoons sumac

1 ½ teaspoons fine sea salt

1/2 teaspoon freshly ground black peppercorns

¾ cup filtered water

1/8 cup fresh lemon juice (about 1 medium lemon)

3 tablespoons tahini paste

1 teaspoon minced garlic (1 large clove)

½ teaspoon crushed red chili flakes

2 tablespoons chopped fresh dill

OPTIONAL GARNISH

1 tablespoon cold-pressed extra-virgin olive oil

1/8 teaspoon sumac

4 to 5 small sprigs fresh dill
Instructions
Preheat the oven to 375°F and position a rack in the middle.
Place the carrots on a medium baking sheet. Drizzle with 2 tablespoons of the olive oil and sprinkle with the sumac, 1 teaspoon of the salt, and pepper. Using a clean hand, massage the oil and seasoning into the carrots. Place the baking sheet in the oven and roast, stirring halfway through, until the carrots are soft and slightly browned, 20 to 30 minutes.
Transfer the carrots to a food processor. Add the remaining 2 tablespoons olive oil and ½ teaspoon salt, along with the water, lemon juice, tahini, garlic, and crushed red chili flakes. Puree until smooth, stopping to scrape down the sides of the bowl as needed, 2 to 3 minutes. Add the chopped dill and pulse a few more times until incorporated.
Transfer the carrot puree to a serving bowl. If desired, drizzle with the olive oil, sprinkle with the sumac, and arrange the dill on top. Serve warm. The puree will keep in an airtight container in the refrigerator for up to 1 week.
---
https://www.apricotlanefarms.com/recipe/roasted-nantes-carrot-puree-with-tahini-dill-2/
Copyright © 2023 Apricot Lane Farms. All rights reserved.