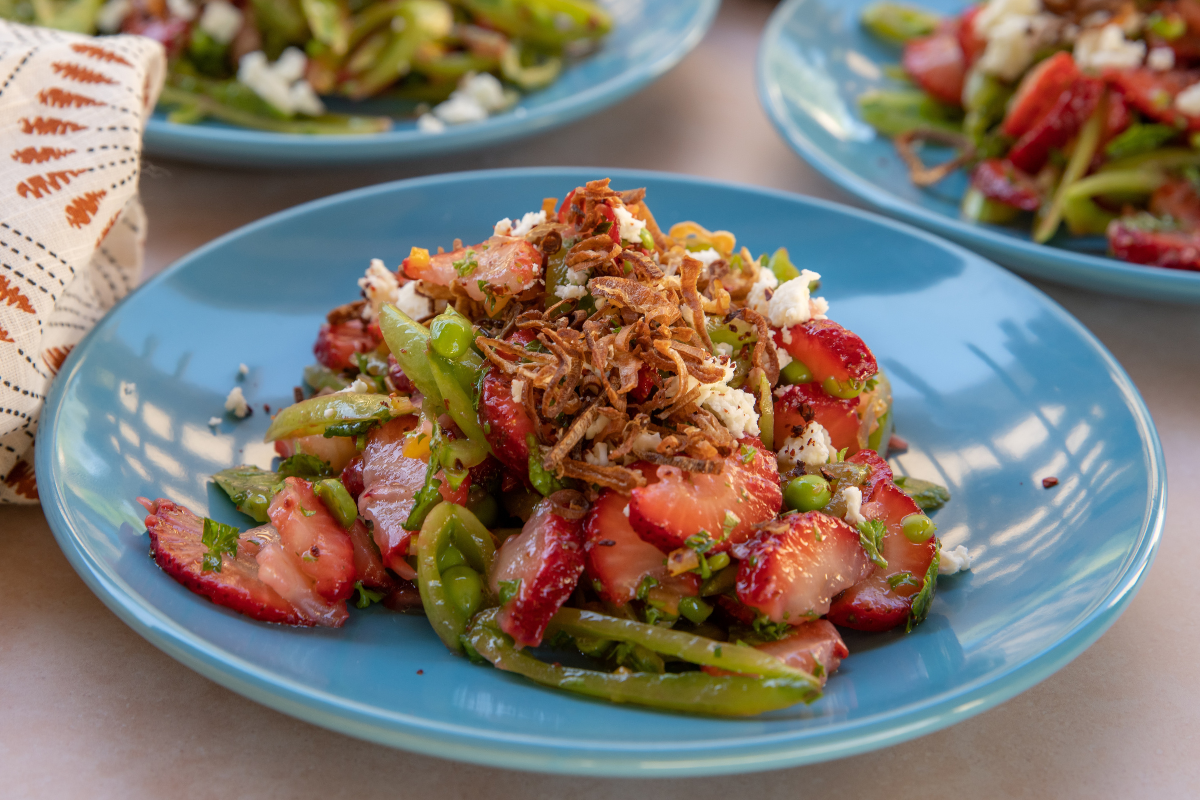 print
share with a friend
Smashed Strawberry and Snap Pea Salad with Ricotta Salata and Crispy Shallots
This salad is a salty, sweet, crispy treat in the spring and summer. Perfectly imperfect cutting and chopping is key here, since the variety of texture is what makes this dish sing. We start by slicing strawberries into thin circles and then tearing them up by hand while tossing the salad. Their juices release and mix into the dressing. As for the snap peas, we prep them based on where we are in the season. Young, tender snap peas can be left whole or sliced in half. Late in the season, when some pods are bursting with plump peas but the skin of the pod is rather tough, we throw the peas whole into the salad and then thinly julienne the pods. Play around by cutting a mixture of shapes and sizes for best results. If you don't have preserved lemon, you can substitute with lemon zest–although we do recommend checking out the Apricot Lane Farms Cookbook, where Molly has a great recipe for making your own preserved lemons at home.
Ingredients
SHALLOTS

½ cup virgin coconut oil

2 medium shallots, sliced into ⅛-inch-thick rings

¼ teaspoon fine sea salt

SALAD

8 ounces snap peas, cut into assorted shapes

8 ounces strawberries, sliced into ⅛-inch-thick circles

2 tablespoons finely minced preserved lemon peel

2 tablespoons fresh lemon juice (1 medium lemon)

3 tablespoons extra-virgin olive oil

1 ½ teaspoon fine sea salt

1 teaspoon Aleppo pepper (or crushed red chili flakes)

⅓ cup chopped fresh parsley leaves (about ¼ bunch)

⅓ cup torn fresh mint leaves

1 ounce crumbled ricotta salata cheese
Instructions
Prepare the shallots: In a small pot, heat the coconut oil over medium-high heat for at least 5 minutes. Test the oil by dropping a shallot ring into the pot. If it floats and tiny bubbles form around the ring, the oil is ready for frying. Remove the tester shallot from the pot once it has turned golden brown. Put the rest of the shallots in the oil and, using a fine mesh skimmer or slotted spoon, gently stir the shallots to break up the rings and keep them cooking evenly. Cook, stirring, until crispy and golden brown, about 10 minutes. Smaller shallots may cook more quickly than larger ones, so be sure to remove them as they turn golden brown. Transfer the shallots to a paper towel lined plate to drain. Season with the salt and set aside.
Prepare the salad: In a medium bowl, combine the strawberries, snap peas, preserved lemon peel, lemon juice, olive oil, salt, and Aleppo pepper. Using clean hands, toss the salad, tearing up and muddling the strawberries as you mix. Add the parsley and mint, and gently toss. Transfer the salad to a serving platter. Top with the crumbled ricotta salata and crispy shallots, and serve immediately.
---
https://www.apricotlanefarms.com/recipe/smashed-strawberry-and-snap-pea-salad-with-ricotta-salata-and-crispy-shallots/
Copyright © 2023 Apricot Lane Farms. All rights reserved.