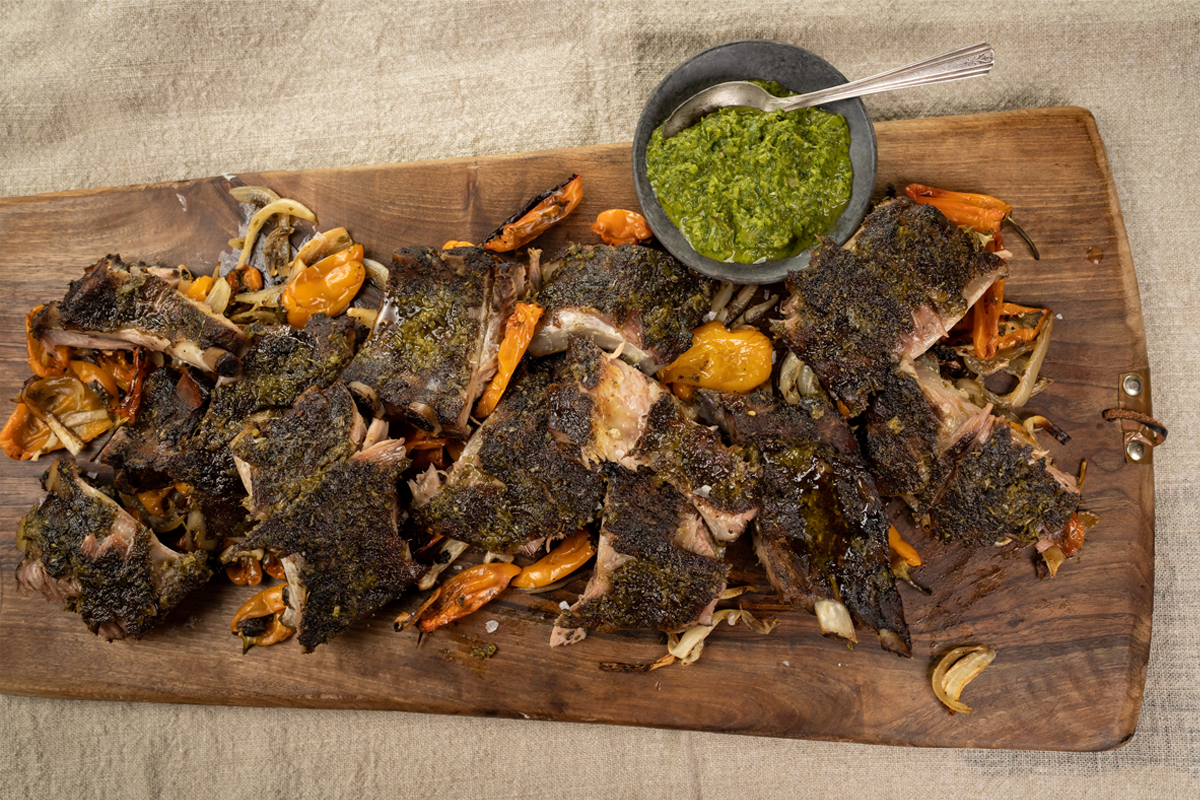 print
share with a friend
Spicy Ribs With Picnic Peppers, Onions, & Green Sauce
Ingredients
SPICE RUB (makes 1/2 cup)

1 tablespoon onion powder

1 tablespoon garlic powder

1 tablespoon dried thyme

1 tablespoon ground allspice

1 teaspoon ground ginger

1 teaspoon ground cinnamon

2 teaspoons fine sea salt

1 tablespoon ground black pepper

½ tablespoon coconut sugar

¼ teaspoon cayenne pepper

½ teaspoon ground nutmeg

¼ teaspoon ground clove

GREEN SAUCE (makes 1 ⅓ cup)

⅔ cup mint leaves

1 cup basil leaves

1 cup green onions, roughly chopped (about 1/2 bunch)

½ cup shallot, small diced (about 1 large)

¼ cup sherry vinegar

¼ cup extra-virgin olive oil

1 teaspoon fine sea salt

RIBS

4 pounds baby back pork ribs (about 2 racks)

4 tablespoons spice rub

2 medium yellow onions, sliced 1-inch thick

1 pound picnic peppers (about 16 large) cut in half lengthwise and seeds removed

1 teaspoon fine sea salt

8 tablespoons green sauce
Instructions
SPICE RUB
In a small bowl, combine all ingredients and mix until incorporated. Store in an airtight container for up to 6 month.
GREEN SAUCE
Combine all ingredients in the bowl of a food processor and process until incorporated, about 1 minute. Stop to scrape down the sides of the bowl if needed. Transfer the sauce to an airtight container and refrigerate until ready to use.
RIBS
Preheat the oven to 275F and position a rack in the middle.
Lay each rack of ribs on a separate piece of 16 x 21-inch parchment paper. Season each side of each rack with 1 tablespoon of the spice rub. Make two enclosed parcels by folding up the sides of parchment and covering the racks before laying each parcel on a 16 x 12-inch piece of foil and folding again. Place both parcels on a large baking sheet.
Transfer to the oven and roast for 2 hours. Remove from the oven. Open up the parcels and temporarily transfer the ribs to a new baking sheet using a large spatula and tongs. In a medium bowl, toss the peppers and onions with the salt. Divide the peppers and onions between the packets. Season with salt and toss to coat well. Carefully set the ribs back in the packets, nestling them over the peppers and onion. Reseal the packets and return the tray to the oven for another 2 hours.
Remove the tray from the oven. Fold back the sides of the packets to expose the ribs. Rub each rack with 2 tablespoons of the green sauce. Leave the packets open and return the tray to the oven for 20 minutes.
Remove the tray from the oven, flip the ribs over and brush the other sides with an additional 2 tablespoons of green sauce per rack. Return the tray to the oven and cook for another 20 minutes. After a total of 4 hours and 40 minutes, the ribs should be slightly crispy on the exterior and the meat should be tender and falling off the bone.
Remove the ribs from the oven and let cool for 15 minutes. Transfer the racks to a cutting board, bone side up. With a sharp knife, portion the ribs. Spoon the cooked peppers, onions and pork juices from the baking sheet onto the bottom of a serving platter. Place the ribs on top. Serve warm with extra green sauce on the side.
---
https://www.apricotlanefarms.com/recipe/spicy-ribs-with-picnic-peppers-onions-green-sauce/
Copyright © 2023 Apricot Lane Farms. All rights reserved.