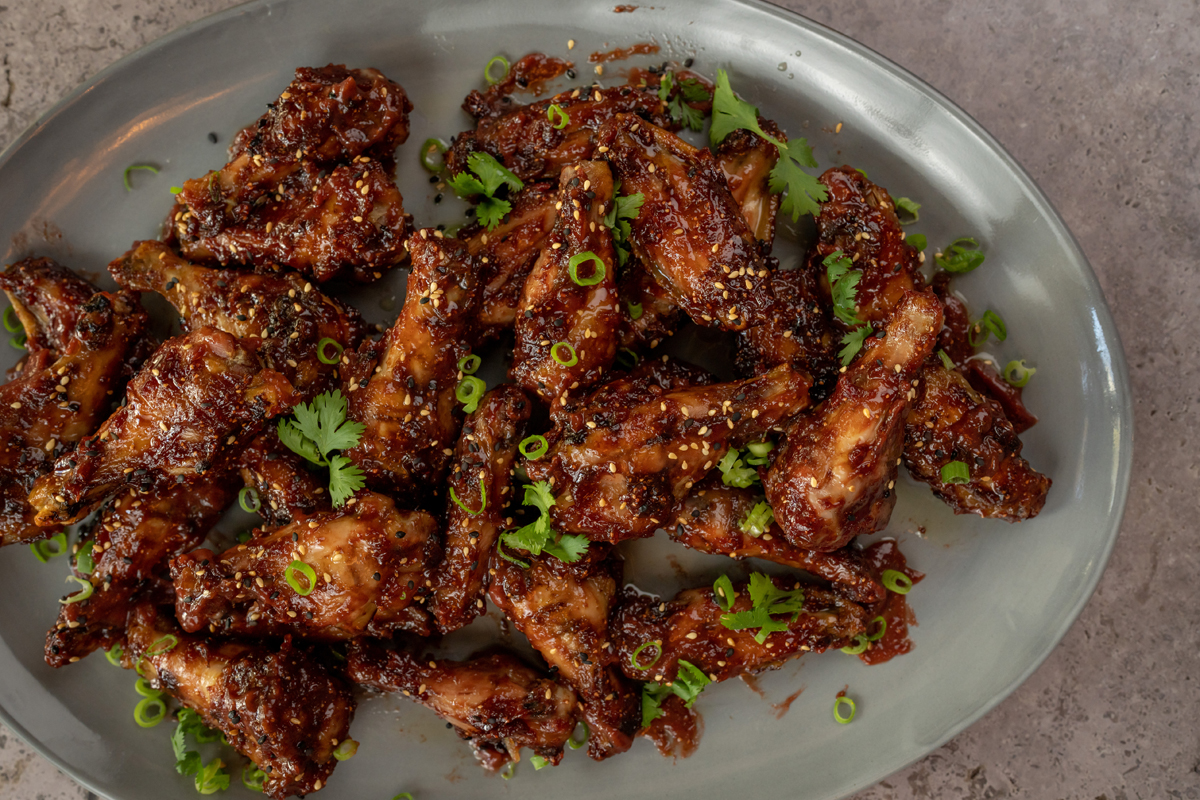 print
share with a friend
Strawberry-Balsamic Glazed Chicken Wings
There's nothing like crispy, sticky chicken wings for a summer barbeque. Here, we make an unusual glaze using honey-sweetened strawberry jam (you can find our recipe here or use your own) and tangy balsamic vinegar. We roast the wings at a high temperature and turn them frequently to ensure they are juicy on the inside and crispy on the outside. The glaze recipe makes a generous amount, so you may have leftovers; it's wonderful on a whole roasted chicken or barbeque pork ribs.
Ingredients
WINGS

3 pounds chicken wings

2 ½ teaspoons fine sea salt

GLAZE

2 tablespoons unrefined avocado oil

¼ cup minced shallot (1 small shallot)

3 tablespoons finely chopped jalapeno, seeded (1 medium jalapeno)

2 tablespoons minced fresh ginger (about a 2-inch piece)

1 ¼ cup Strawberry-Honey Jam or strawberry jam

¼ cup balsamic vinegar

½ teaspoon fine sea salt

GARNISH

1 tablespoon toasted sesame seeds

2 tablespoons thinly sliced green onion (1 green onion)

2 tablespoons chopped fresh cilantro
Instructions
Preheat the oven to 400°F and position a rack in the middle. Line a medium baking sheet with foil and fit a wire rack inside the baking sheet.
Season the wings with salt and arrange them, skin side down, on the prepared baking sheet. Roast for 20 minutes. Remove the baking sheet from the oven and flip the wings over. Return the baking sheet to the oven and roast for 20 minutes more.
Meanwhile, prepare the glaze. In a medium saucepan over medium-high heat, heat the oil. Add the shallot, jalapeno, and ginger, and cook, stirring, until the shallot begins to turn translucent, about 2 minutes. Add the jam, vinegar, and salt. Cook, stirring, until the glaze thickens slightly, about 5 minutes. Remove the pan from the heat. Transfer the contents of the pan to a blender or food processor and pulse to break up the strawberries, about 30 seconds. Set aside.
Remove the wings from the oven. Flip them over again and brush each one with some of the glaze. Return the pan to the oven and roast for 10 minutes. Remove the baking sheet from the oven again, flip the wings once more, and brush each wing with more glaze. Roast until the sauce begins to brown and the wings are nicely crispy, about 10 minutes more.
Remove the wings from the oven and let cool for 5 minutes. Transfer to a serving platter and garnish with the sesame seeds, green onion, and cilantro. Serve immediately.
---
https://www.apricotlanefarms.com/recipe/strawberry-balsamic-glazed-chicken-wings/
Copyright © 2023 Apricot Lane Farms. All rights reserved.