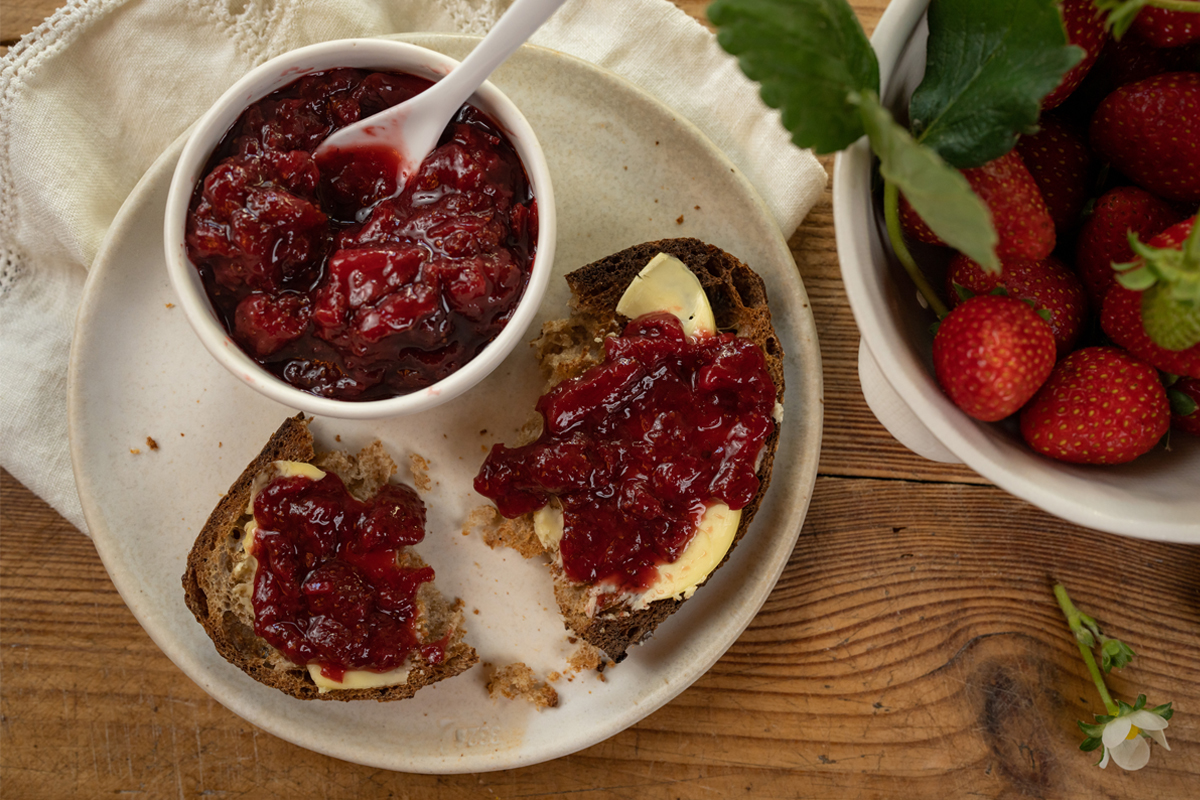 print
share with a friend
Strawberry-Honey Jam
This is a quick and easy refrigerator jam that is naturally thickened with lemon peel. It is sweet and tart- delicious slathered on sourdough toast or folded into a bowl of yogurt. This jam also shows up in a number of our other recipes. We use it to sweeten our Strawberry-Harissa Vinaigrette and it is the base of the sauce for our Strawberry-Balsamic Glazed Chicken Wings. The beauty of this recipe is that it yields a small batch of jam that can be used in a reasonable amount of time. No need to sterilize jars like you would with a water bath canning method. The finished jam can be stored in a clean container in the refrigerator for up to 2 weeks or in the freezer for up to 3 months.
Ingredients
2 pounds strawberries, hulled and sliced

2 tablespoons finely minced lemon peel, white pith removed (1 medium lemon)

½ cup raw honey
Instructions
In a 6-quart Dutch oven over medium heat, combine the strawberries, lemon peel and honey. Stir and crush the strawberries until they release their juices and the mixture begins to simmer, about 10 to 15 minutes. Reduce the heat to low and continue cooking, string frequently, until the jam thickens, about 25-30 minutes. You will know it is ready when you drag a spoon through the jam and it creates a trail that doesn't close up right away.
Transfer the finished jam to a clean heat proof glass jar and store in the refrigerator for up to 2 weeks or cool the jam and freeze it for up to 3 months.
---
https://www.apricotlanefarms.com/recipe/strawberry-honey-jam/
Copyright © 2023 Apricot Lane Farms. All rights reserved.