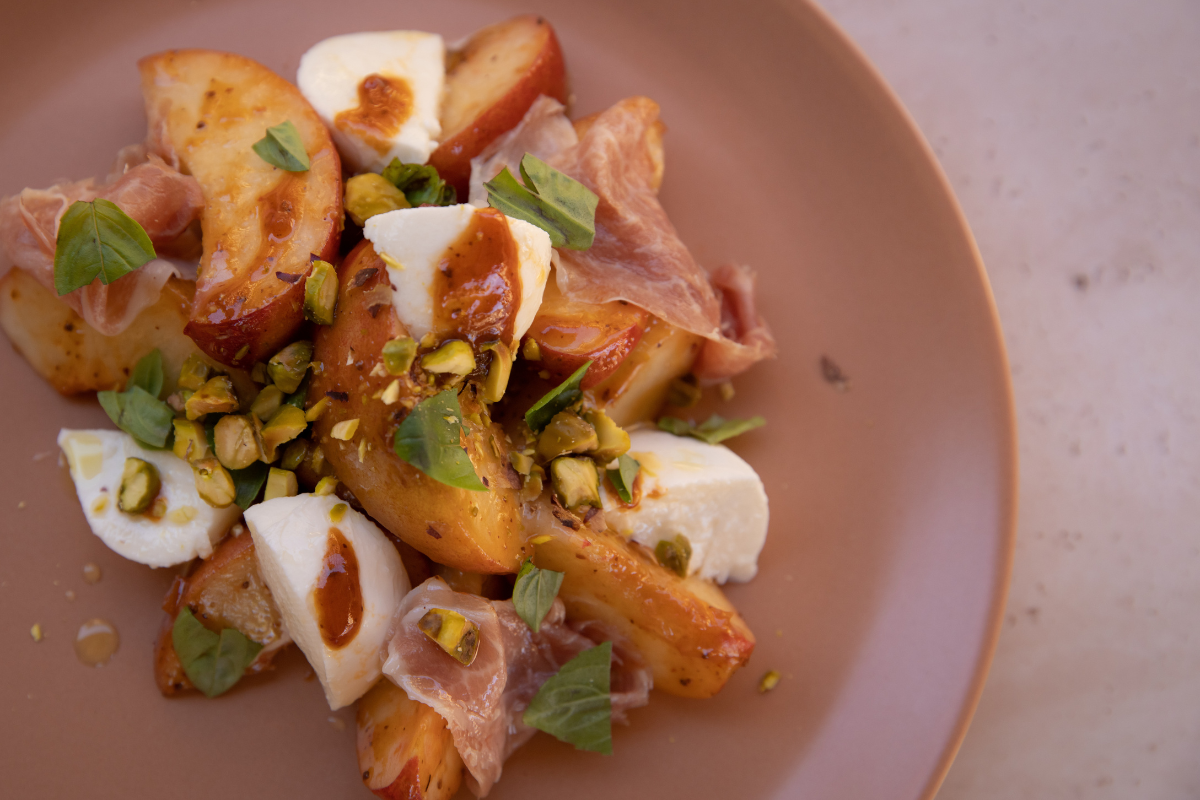 print
share with a friend
Peach, Prosciutto, and Fresh Mozzarella Salad with Strawberry-Harissa Vinaigrette
Full of ripe peaches, salty prosciutto and creamy mozzarella, this beautiful summer salad has an unusual sweet and smokey dressing that makes it a real showstopper. We love to make our own Strawberry-Honey jam to use in this dressing but feel free to substitute with your favorite store bought strawberry jam to keep things simple. 
Ingredients
SALAD

1 pound peaches (6 to 7 small peaches)

1 teaspoon fine sea salt

Strawberry-Harissa Vinaigrette (recipe follows)

8 ounces fresh Bocconcini mozzarella cheese

1 ½ teaspoons extra-virgin olive oil

½ teaspoon freshly ground black peppercorns

3 ounces thinly sliced prosciutto

2 tablespoons finely chopped pistachios

STRAWBERRY-HARISSA VINAIGRETTE (makes about 1/2 cup)

2 tablespoons fermented mustard (or whole grain)

2 tablespoons strawberry jam (see Note)

1 tablespoon harissa

¼ cup red wine vinegar

½ teaspoon fine sea salt

¼ cup extra-virgin olive oil
Instructions
Make the salad: Cut the peaches in half and remove the pits. Cut each peach half into thirds, creating three wedges. Place the peach wedges in a medium bowl and season them with ½ teaspoon of the salt. Drizzle 2 tablespoons of Strawberry-Harissa Vinaigrette over the peaches and toss well.
Cut the mozzarella balls in half. Cut each half into thirds, creating three wedges. Place the mozzarella wedges in a small bowl. Drizzle with the olive oil and season with the remaining ½ teaspoon salt and the black pepper. Toss to evenly coat.
Lay half of the prosciutto slices on the bottom of a serving platter. Gently arrange three-quarters of the peaches on top of the prosciutto. Tuck the mozzarella wedges into the nooks and crannies of the peaches. Top with the remaining peaches. Tuck the remaining prosciutto into the nooks and crannies of the salad. Drizzle more dressing over the top, as desired. Garnish with the fresh basil and pistachios. Serve immediately.
Make the vinaigrette: In the bowl of a food processor, combine the mustard, jam, harissa, vinegar, and salt. Process until well combined, about 30 seconds. With the machine running, gradually pour in the olive oil and blend until well incorporated, about 1 minute. The vinaigrette will keep in an airtight container in the refrigerator for up to 1 week.
Notes
Our homemade Strawberry-Honey Jam is fantastic in this dressing.
---
https://www.apricotlanefarms.com/recipe/peach-prosciutto-and-fresh-mozzarella-salad-with-strawberry-harissa-vinaigrette/
Copyright © 2023 Apricot Lane Farms. All rights reserved.