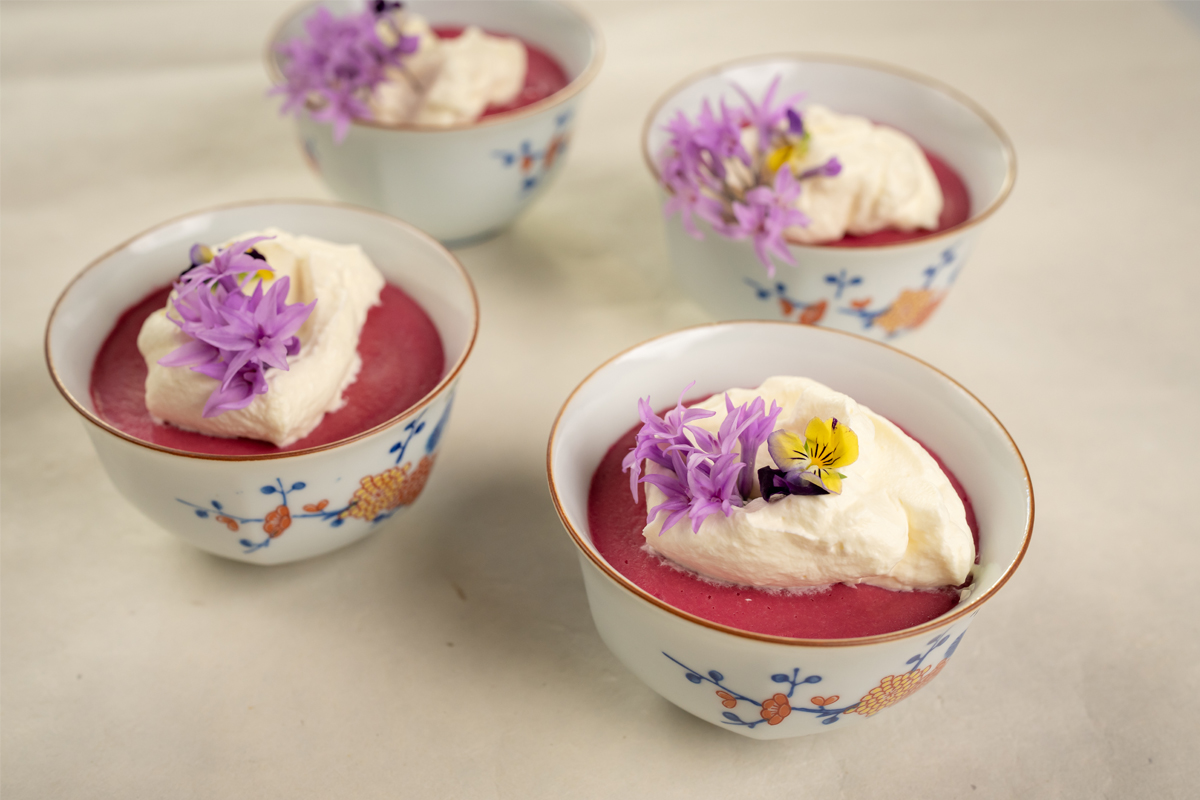 print
share with a friend
Beet Pudding with Yuzu Cream
A citrus fruit that's a bit like a mix of lemon, lime, and grapefruit, but with wonderful floral notes, yuzu is in season for a fleeting window of time in January. If you don't catch it, you'll miss out on the many delicious ways you can cook with it. In this recipe, we fold a rich yuzu curd into whipped cream and use it to balance out an earthy beet pudding. If you can't find yuzu, substituting with lemon or orange will work as well.
Ingredients
YUZU CREAM

2 medium egg yolks

1/4 cup raw honey

1/8 cup yuzu juice (2 to 3 medium yuzu)

2 tablespoons unsalted butter, cut into 2-inch cubes

1/2 cup heavy cream

BEET PUDDING

12 ounces beets, peeled and small-diced (7 to 8 small beets)

1 cup heavy cream

½ cup full-fat coconut cream

¼ cup raw honey

A pinch of fine sea salt

¼ cup fresh yuzu juice (4 to 5 medium yuzu)

4 medium egg yolks

2 tablespoons arrowroot

1 teaspoon vanilla extract
Instructions
YUZU CREAM — Fill a medium saucepan with 2 inches of water. Bring the water to a simmer over medium-high heat.
In a medium metal bowl, combine the egg yolks and honey. Set the bowl over the simmering pot of water. Whisk for 1 minute. Add the yuzu juice and continue whisking until the curd begins to thicken, 5 to 6 minutes.
Remove the bowl from the pot and whisk in the butter, one cube at a time, until it is all incorporated. Transfer the curd to a small glass bowl. Cover with a small square of parchment paper or beeswax cloth, pressing it to the surface to prevent a skin from forming. Refrigerate until completely cool, at least 1 hour.
When the curd is completely cool, put the heavy cream in the bowl of a stand mixer fitted with the whisk attachment. Beat on high speed until stiff peaks form, 2 to 3 minutes. Remove the bowl from the stand mixer. Using a rubber spatula, gently fold in the cooled yuzu curd. Cover the whipped yuzu cream and refrigerate it until ready to serve.
BEET PUDDING — Place the beets in a medium saucepan and cover them with about 2 inches of water. Bring to a boil over high heat. Reduce the heat to medium-high and simmer until the beets are fork tender, 15 to 20 minutes.
Drain the cooked beets and transfer them to a blender. Add the heavy cream, coconut cream, honey, and salt. Blend on high speed until smooth and creamy, 1 to 2 minutes. Transfer the beet mixture back to the saucepan, set it over medium heat, and bring it to a simmer. Cook, stirring frequently, until the mixture thickens slightly, about 5 minutes.
While the beet mixture is simmering, in a small bowl, whisk the yuzu juice, egg yolks, arrowroot, and vanilla. Set aside.
Ladle about a 1/4 cup of the hot beet-cream mixture into the egg yolk mixture, and whisk well. (This process is called tempering; you slowly warm up the eggs so that you don't curdle them with the hot cream mixture.) Slowly pour the warmed egg yolks back into the beet cream. Cook, whisking constantly, until the pudding is thick, 2 to 3 minutes. Remove the pan from the heat.
Divide the pudding among eight 4-ounce glasses or ramekins. Cover each ramekin with a small square of parchment paper or beeswax cloth, pressing it to the surface to prevent a skin from forming, and refrigerate for at least 2 hours.
When ready to serve, remove the parchment or cloth from the ramekins and top each with 2 tablespoons of yuzu cream.
---
https://www.apricotlanefarms.com/recipe/beet-pudding-with-yuzu-cream/
Copyright © 2022 Apricot Lane Farms. All rights reserved.