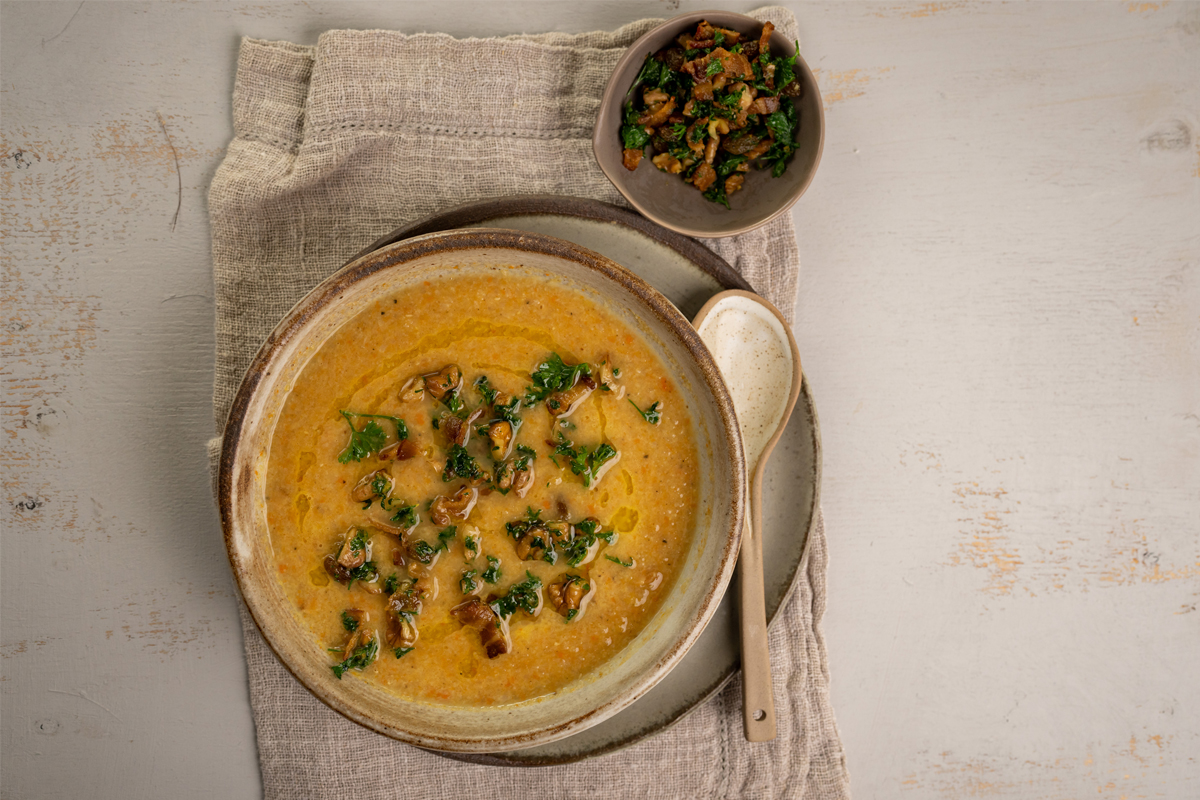 print
share with a friend
Spiced Lentil, Bacon, and Cauliflower Soup with Fried Walnuts and Parsley
This is a delightfully hearty and well-spiced soup that has an unexpected touch of sweetness from the addition of honey. We love to make it during the winter when our cauliflower is in season and we're craving something warm and satisfying. You can blend it to a smooth and creamy consistency or leave it slightly chunky if you prefer a little texture. Either way, it is truly delicious.
Ingredients
SOUP

1 cup dried red lentils

8 ounces bacon, small-diced (4 to 5 slices)

1 cup small-diced yellow onion (1 medium onion)

1 cup small-diced carrot (2 medium carrots)

1 tablespoon minced garlic (3 large cloves)

1 tablespoon ground cumin

1 ½ teaspoons ground coriander

½ teaspoon ground cinnamon

½ teaspoon crushed red chili flakes

1 medium cauliflower (about 2 ½ pounds), stems and core removed and cut into 1-inch florets

1 tablespoon plus ¼ teaspoon fine sea salt

1 teaspoon freshly ground black peppercorns

5 ½ cups chicken stock

1 dried bay leaf

2 tablespoons raw apple cider vinegar

1 tablespoon raw honey

FRIED WALNUTS AND PARSLEY

¼ cup cold-pressed extra-virgin olive oil

½ cup roughly chopped fresh parsley

¼ cup chopped walnuts

3 tablespoons golden raisins

2 teaspoons lemon zest (1 medium lemon)
Instructions
SOUP — Place the dried lentils in a medium bowl and cover with water in excess of 2 inches. Soak overnight, or 8 to 10 hours in advance of preparing the soup. Drain through a fine mesh sieve, rinse well, and set aside.
In a 6-quart Dutch oven over medium-low heat, cook the bacon, stirring frequently, until it is crispy and the fat is rendered, about 10 minutes. Using a slotted spoon, transfer the cooked bacon to a paper towel-lined plate. Measure out 3 tablespoons of the cooked bacon for the garnish and set it aside in a small dish. Place a small mesh strainer over a 1-quart jar. Carefully pour the fat through the strainer and into the jar. Measure out ¼ cup of bacon fat and add it back to the Dutch oven; reserve any remaining bacon fat for another use.
To the Dutch oven, add the onion, carrot, garlic, cumin, coriander, cinnamon, and red chili flakes. Cook, stirring over medium heat until the onions begin to sweat, 4 to 5 minutes. Add the cauliflower, lentils, salt, and pepper and cook, stirring, for an additional 5 minutes.
Add the chicken stock and bay leaf to the pot. Bring the soup to a boil and then reduce to a simmer. Cook, stirring occasionally, until the lentils are soft and the cauliflower easily falls apart when mashed with a spoon, 25 to 30 minutes.
Remove the pot from the heat and discard the bay leaf. Transfer to a blender (if your blender is small, puree the soup in two batches). Start with the blender on the lowest setting, pulse several times to get it started. (Blending hot liquids on high too quickly can result in the blender top popping off due to steam pressure building up in the bowl. It is important to start out slow and low and then increase the speed.) Increase the speed to high and puree until the soup is smooth and creamy, 1 to 2 minutes.
Transfer the soup back to the pot. Add the apple cider vinegar, honey, and all the bacon that wasn't set aside for the garnish. Stir the soup and cover the pot to keep warm.
FRIED WALNUTS AND PARSLEY — Heat the olive oil in a small skillet until it begins to shimmer, about 2 minutes. Remove the pan from the heat and add the parsley, walnuts, raisins, lemon zest, and the reserved 3 tablespoons of bacon. Stir until well to incorporate.
To serve, ladle the hot soup into six serving bowls. Garnish each bowl with the fried walnut and parsley mixture and serve immediately.
---
https://www.apricotlanefarms.com/recipe/spiced-lentil-bacon-and-cauliflower-soup-with-fried-walnuts-and-parsley/
Copyright © 2023 Apricot Lane Farms. All rights reserved.