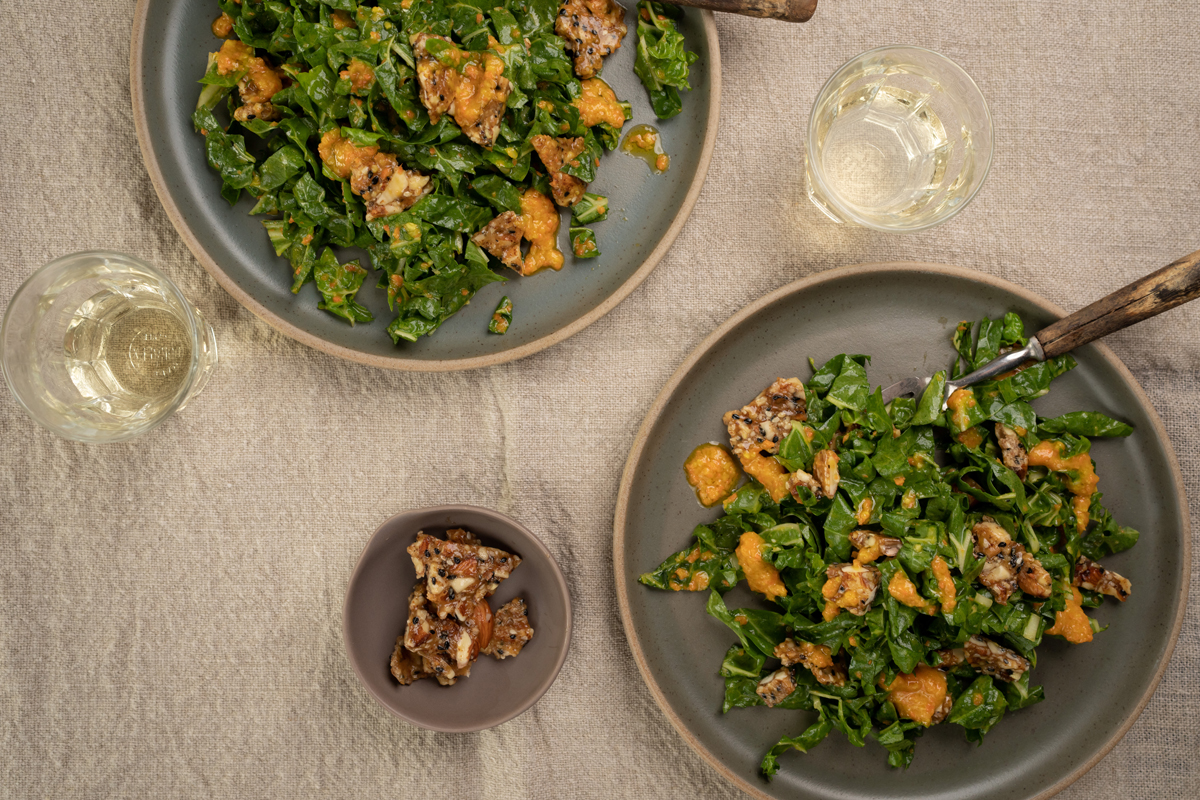 print
share with a friend
Swiss Chard Salad with Carrot-Miso Dressing and Almond Butter Brittle
Salads have had an interesting evolution in our culture. Through the years, we've become more adventurous, swapping out standard greens like iceberg or green leaf for mesclun mix and baby arugula. For a while now, kale has been receiving a lot of attention–mostly, you see it getting massaged with lemon and olive oil or standing in for romaine in a classic Caesar. At the farm, we've come to love Swiss chard. Its leaves are packed with nutrients, and it stands up nicely to an acidic vinaigrette. Here, we've paired it with a tangy miso dressing that uses some of our fresh Bearrs lime juice and shredded Nantes carrots. The almond brittle adds a pleasant crunch and is delicious enough to eat for dessert–you might want to double the recipe!
Ingredients
BRITTLE

4 tablespoons mild raw honey

2 tablespoons virgin coconut oil

2 tablespoons raw almond butter

¾ cup chopped almonds

1 ½ teaspoons white sesame seeds

1 ½ teaspoons black sesame seeds

DRESSING

1 cup shredded carrots (about 1 large carrot)

¼ cups chickpea miso (or white miso)

¼ cup unrefined avocado oil

¼ cup fresh lime juice (about 4 medium limes)

1 tablespoon raw honey

1 tablespoon peeled and finely minced ginger (1 x 1 1/2-inch knob)

2 teaspoons minced garlic (2 large cloves)

SALAD

2 bunches Swiss chard, stems removed and finely chopped (about 8 cups)

¾ cup Carrot-Miso Dressing (or more as desired)

1 cup crumbled Almond Butter Brittle
Instructions
BRITTLE — Line a large baking sheet with parchment paper and set aside.
In a 1-quart saucepan over medium-high heat, combine the honey, coconut oil, and almond butter. Warm the mixture, stirring constantly, until it begins to thicken and bubble rapidly, 4 to 5 minutes.
Remove the pan from the heat. Stir in the chopped almonds and both sesame seeds. Pour the mixture out onto the prepared baking sheet, spreading into a thin layer with the back of a spoon. Transfer the baking sheet to the refrigerator and let it chill for at least 20 minutes before serving.
DRESSING — In the bowl of a food processor, combine the carrots, chickpea miso, avocado oil, lime juice, honey, ginger, and garlic. Process until thickened and well combined, about 1 minute. Set aside.
Place the chopped Swiss chard in a large bowl. Add the dressing, as desired, and toss until the dressing evenly coats the greens. Add the crumbled brittle and toss again. Serve immediately.
---
https://www.apricotlanefarms.com/recipe/swiss-chard-salad-with-carrot-miso-dressing-and-almond-butter-brittle/
Copyright © 2023 Apricot Lane Farms. All rights reserved.